'American Idol' Recap: Top 5 Perform Fan Selections, Who Stood Out?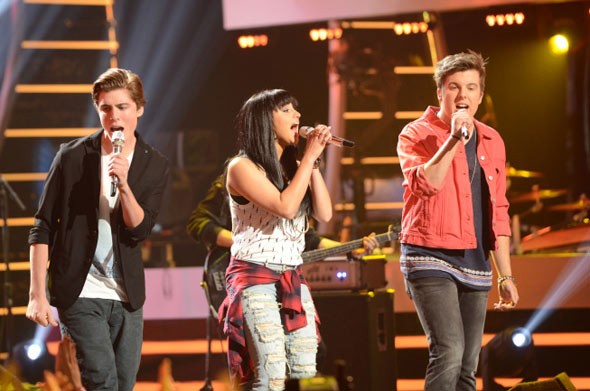 America provided the song choices for our 'Idols' last night and Jason Mraz provided the mentorship to, I suppose, teach the kids how to wear weird hats and write terrible songs.
Needless to say, I didn't watch any of the mentor sessions, nor was I particularly floored by the song choices for the contestants. At least they brought back the duets and group performances that I didn't watch while they rushed judgment of the actual performances.
No. That's a bad thing too, isn't it?
Let's break down the actual performances.
Alex Preston sang "Sweater Weather" by The Neighbourhood
Keith Said: Your unique style was so present in that song.
J-Lo Said: I wish you would have pushed it a bit more and made it a bit more exciting.
Harry Said: I could hear you on the radio. I thought it was a strong opening to the show.
The Verdict:
Alex Preston has an uncanny ability to make horrible songs tolerable with the way he reinvents them and injects his offbeat brand of passion into them.
Here, he's made a terrible song even worse. He ditches melody for a rhythm-heavy arrangement and it feels very disjointed, especially vocally as there are gaps in his phrasing that make very little sense. Alex actually appears lost in this performance whereas he's usually in complete control.
This is a week-one stage fright performance that Alex shouldn't have in the top five. His worst in awhile.
GRADE: C-
Caleb Johnson sang "I Don't Wanna Miss a Thing" by Aerosmith
Keith Said: You need to figure out how to get to the next level.
J-Lo Said: I think you did a really beautiful job. I got goosies.
Harry Said: You need to preach to the people in this room rather than into the camera.
The Verdict:
Caleb tries to restrain himself here and the reigns appear drawn too tight.
There's just no Caleb here. I've been complaining for weeks about his lack of range, but there's something to having a signature sound – especially an arena-ready voice like his.
On this song, Caleb sucks the air out of himself as he tries to go quiet and proves that he needs to belt if he really wants to sell a song.
He creates a few nice moments as the melody grows and he switches back into his normal Caleb gear, but overall this was a downer.
GRADE: C
Pink Hair sang "Human" by Christina Perri
Keith Said: Don't let those real moments go.
J-Lo Said: You got lost in what you were saying and how you felt and it made a great moment.
Harry Said: It's obvious that you really listen and want to get better.
The Verdict:
Pink Hair is in the No Fun Zone on this performance as she's about as dead set serious on delivering the downcast emotion of this song as she possibly can be.
It feels very forced as she becomes so earnest in what she's trying to do that she's almost rigid. Like a singing robot set on "emo".
That focus on forced connection affects her vocals her normally pure voice is wrought with pitch issues and sour notes as she climbs her way to the end of this grey storm of a song.
Sad on a lot of levels.
GRADE: C-
Sam Woolf sang "Sing" by Ed Sheeran
Keith Said: That's a tough song.
J-Lo Said: I felt you relax. I thought it was actually good.
Harry Said: You need to be in the groove. Instead, you were defusing the funk that was going on behind you.
The Verdict:
The only thing worse than Ed Sheeran's insane career shift into acoustic funk-rap is watching Sam Woolf attempt to ape it in a fedora and tie-dye shirt.
Somewhere, I feel like George Clinton just got a little less funky because Woolf's performance created some sort of funk anti-matter that sucked funk from out of the Universe, diminishing those with a surplus. That's how bad it was. Just a boring kid doing a boring rendition of faux-funk. Faux-faux-funk.
The only thing it wasn't was faux-terrible. That was straight on.
GRADE: D-
Jena Irene sang "My Body" by Young the Giant
Keith Said: You've got that as well as that (?).
J-Lo Said: It was exciting to watch.
Harry Said: I like watching you have fun.
The Verdict:
Jena Irene is almost Karen O all over this tune. She brings out an effortless indie-rock-pop vibe that's totally outside the norm of the belting divas we normally see this far in the competition – this is a distinctive sound that absolutely needs to be in a recording studio.
Jena's gone from screamer to singer to full-fledged artist in the last few weeks. This performance was just an absolute triumph on every level as she made the song her own and just sang it to death with not just an excellent technical vocal but a vocal that's a total Jena signature.
GRADE: A