'American Idol' Recap: Top 11 Contestants Tackle Movie Night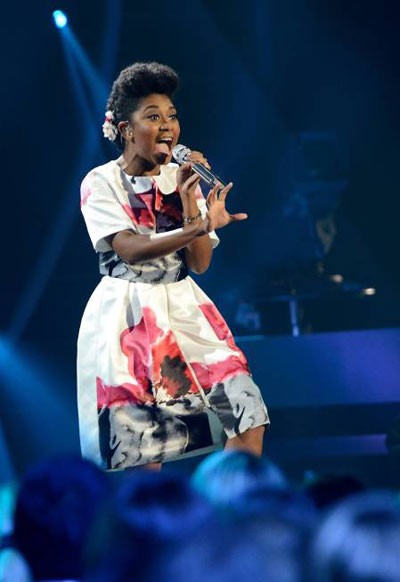 Majesty Rose sang "Let It Go" by Idina Menzel
Keith Said: You've gotta ease into it a little bit more.
J-Lo Said: You can do anything.
Harry Said: I think you're on the right track. I think that was strong.
The Verdict:
A total theatrical performance of a very theatrical song. A great song, but a tough one not to make sing like it's from a musical on this stage.
Majesty's in full-on sing-acting on this tune complete with stagey hand movements and some sort of odd walking choreography that saw her turning right at the real dramatic hits of the song. Summer Stock for those who can't dance.
Plus she was unable to hit most of the big notes and struggled to stay on pitch at times. This is an incredibly difficult song just to sing and she didn't hit solid where she need to.
Add that to the theatricality and this was her weakest performance.
GRADE: C-
Caleb Johnson sang "Skyfall" by Adele
Keith Said: A great restrained performance of that song.
J-Lo Said: It was great.
Harry Said: That was fantastic.
The Verdict:
This is a cool song choice for Caleb - breaking away from his arena rock comfort zone, he takes on a Adele and tries to turn her into something from classic rock radio.
It works pretty well for him here. This sounded almost nothing like the original record. It was like Deep Purple went a little more prog. The dark side of Caleb. Complete with scarf. I like it.
Suddenly, Caleb is full of range and seems like he could have a limitless ceiling. Or at least as high as his voice.
GRADE: B+
MK Nobilette sang "To Make You Feel My Love" by Bob Dylan
Keith Said: There was little glimpses of who you can be.
J-Lo Said: There's a beautiful subtlety to what you do.
Harry Said: I like the performance, but be careful singing runs.
The Verdict:
It's an endless same-story with MK. Her voice is clearly magnificent. As clear, pure and warmly unique as any that's ever been on this show.
But the voice is only half the story.
The rest is a scared youngster who comes off as impossibly nervous to be performing in front of a live audience. There's this uncomfortable moment of hesitation that disconnects her from the song and limits her ability to lose herself in the performance.
At least she finally embraced her New Wave voice and went full-on Flock of Seagulls with the outfit tonight.
GRADE: C+
Alex Preston sang "Falling Slowly" by The Swell Season
Keith Said: The authenticity always holds me. I love your artistry.
J-Lo Said: It was beautiful.
Harry Said: It's just really nice to see something simply stated and elegantly done.
The Verdict:
A perfect performance of a perfect song choice for Alex. There really wasn't another song for this Damien Rice clone with the better voice to .
GRADE: D+
Jena Irene sang "Decode" by Paramore
Keith Said: It's exhilarating the way you perform.
J-Lo Said: You have one of the best voices here with the most dynamics.
Harry Said: It was very very strong.
The Verdict:
It's Jena doing a Hayley Williams impression here. That's really all this is. The song is a dead-on clone of the record and Jena tries to make her voice sound as much like the original as she possibly can.
She does a startlingly good job of that. Closed eyes turn this into a Paramore concert as she has every tone, pitch and idiosyncracy of Williams' voice coming from her throat - it's a brilliant sound-a-like, but that's really all it is. We didn't get any Jena out of this performance - just a really good tribute performance.
But it was really good.
GRADE: B
Malaya Watson sang "I Am Changing" from "Dreamgirls"
Keith Said: What you've got in you is just magnificent.
J-Lo Said: That was killer. You have an amazing voice.
Harry Said: You just keep getting bigger and bigger and it's a pleasure to watch.
The Verdict:
This is good. It's not great. Malaya's got a big voice and she tries to fill this song with it, but she can't. Her voice is too young. It just sounds like a high school musical kid singing the song on a Friday night. She doesn't have the maturity and experience to take on a song like this.
This is why kids shouldn't be on this show.
GRADE: C+
Final Thoughts:
The judges said it all night: This was the best performance night so far this season by a large measure. Nobody gave a full-on dud of a performance (at least according to the judges) and most hit their high notes with a very liberal theme night.
With so much love going around, it's much more difficult than usual to choose the last one out before the tour group is selected, so it's a wild stab for this week's prediction:
MK is going home.
She's been in the bottom three every week and she's still yet to leave a real impression with any of her performances. Movie night was her last.