'American Idol' Recap: Tim Says Goodbye On Idol Gives Back Night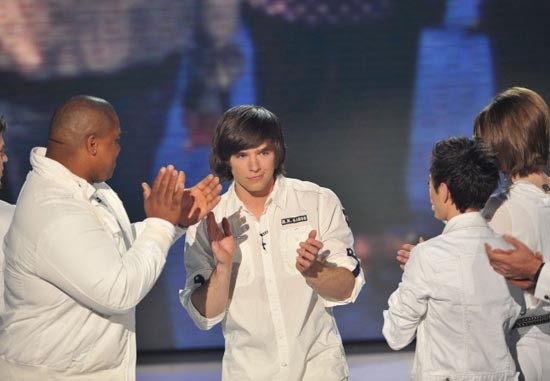 I just can't be snarky on "Idol Gives Back" night.  There's just no way to mock anything that's for a good cause.  So you'll have to forgive my relatively straightforward recap.
Of course, there were many performances tonight, and may fell flat.  Particularly the Jonah Hill/Russell Brand Phone Bank sketch.  There were more awkward silences and nervous bouts of laughter than you'd find on a bad first date.
We also saw the Black Eyed Peas continue to make us wonder why they are so popular and the Lopez/Sykes comedy duo prove that Fox and TBS made the right moves by wooing Conan.  Then there was Mary J. Blige looking like Anna Wintour for a karaoke performance of "Stairway to Heaven" that was more confounding than anything else, though her "All-Star" band was pretty rock 'n' roll.  Plus, they were all there for a good reason – so I find it hard to really fault anything they did.
The rest of the night was pretty rock solid.  Alicia Keys was her usual spectacular self, Carrie Underwood continues to be incapable of being less than great, the Joss Stone/Jeff Beck combo absolutely wailed on "Put a Spell on You", and Elton John was, well, Elton John – and that's always a good thing.
The filmed pieces were the real show stoppers of the evening.  From Morgan Freeman's trip to Mississippi to Annie Lennox's absolute heartbreaker in Africa (and show-stopping performance to boot), it was hard to not want to empty your bank account at every step the packages made.
A great night overall, and I'm sure a lot of good was done.
But this is still "Idol" and that means we got results.  Ordinarily, an exit as big as we got last night would lead this column, but all the spectacle surrounding it, made Tim's departure something of an afterthought.  It's a shame, because Tim really deserved a grand send-off.  After all, he's arguably been the most buzzworthy contestant so far this season.  Whether he was sliding all over the stage or creepily singing a ballad off-key, Tim's performances were always high in entertainment value, if not in musicality.
Plus, his departure means we no longer have the small chance that he sings "Man, I Feel Like a Woman" on Tuesday for Shania Twain week.  Curse you, voters!
And with that, here are the power rankings (no song suggestions this week: I don't know Shania's music well enough). . .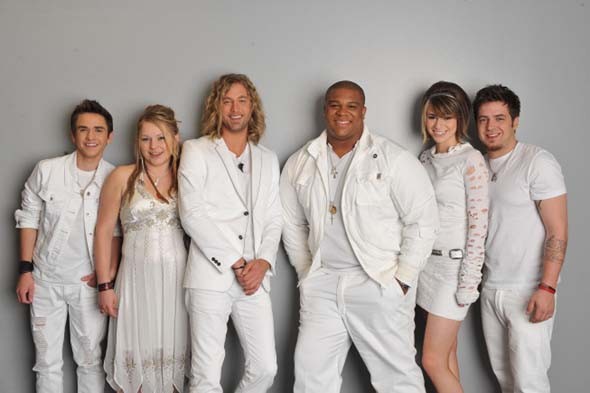 1 (Rank Last Week: 1) – Lee Dewyze
As much hype as there is surrounding Crystal, it's not going to do a thing to unseat Lee, who's getting better every week.  After all, Adam Lambert enjoyed way more hype last year and couldn't topple Kris. Expect a similar result this year.
2 (3) – Crystal Bowersox
It's time for Crystal to move on up.  After many pundits have (wrongly) called her performance last night one of the best in the history of the show, it's hard to ignore the hype.  Plus, the judges are absolutely in the bag for her – which is likely to sway the voters quite a bit.
3 (2) – Big Mike
I'm not so sure I believe in Mike so much anymore.  His performances are becoming a bit predictable and his voice just doesn't have that wow factor.  I think he'll have a hard time keeping up.
4 (4) – Siobahn Magnus
It's clear the judges are no longer on the Siobahn bandwagon and make their displeasure increasingly clear each week.  That's bound to do her in eventually if her increasingly dreary song choices don't do it first.
5 (5) – Casey James
It's clear now that "Jealous Guy" was his peak.  It's only a matter of time before he sleepwalks his way out of the competition.
6 (7) – Aaron Kelly
And then there's Aaron.  While he's probably going to knock off one of the top four next week (it's a country theme, after all – his wheelhouse) there's no reason whatsoever to think he'll stick around after that.