'American Idol' Recap: Thia And Naima Go Home On A Revamped Results Show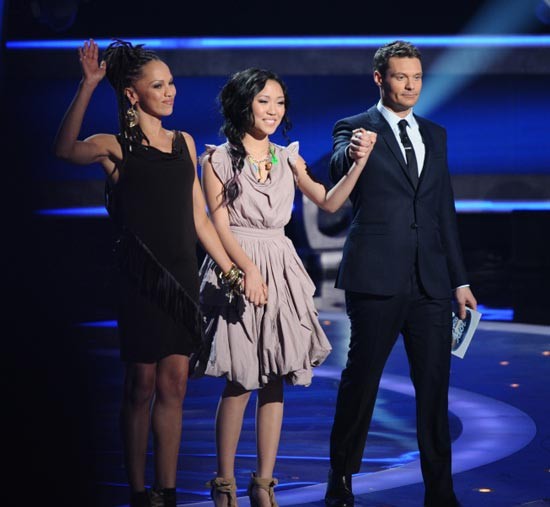 It only took them ten seasons, but the 'Idol' producers finally got it right.
Last night's results show was the first in the show's history that didn't seem forced; didn't seem like two-thirds filler, and didn't feel like we were just sloughing through the hour while we waited for the 90 seconds we actually want to see. This was a results show that moved through swiftly with segments we actually wanted to watch.
And it was so simple: Just divide the group performances into several parts. Instead of trotting all the contestants out for one lame lip-synched choreography train, just put them into their little elimination groups for some solid performances and break up the show that way.
This change allowed for something interesting in every segment of the show, and the elimination of those endless 10-minute blocs that consisted of nothing more than Ryan reading names or overblown product advertisements masquerading as "looks inside The Idols' lives." This was a results show that I could look forward to watching every week. Even if there's the chance the show could include Fantasia looking and sounding alarmingly bad and Jamie Foxx and Will.I.Am singing what may be the worst song of all time.
Of course, this wasn't just another 'Idol' performance night and there were results (and eliminations) to be had. Two eliminations in fact and, as I predicted yesterday, Thia and Naima were the unlucky duo to be serenaded by David Cook's recorded voice.
I never really got a feel for either of these two contestants, and never thought either were suited to the show. Naima's overblown "any-culture-is-good-culture" attachments just don't fit in the world of pop. In fact, the only place they don't seem annoying would be to a few of the characters on 'Portlandia'. She had a good voice, but wasn't really interested in using it to win this competition.
Thia may have been more intent on a triumph, but she just wasn't ready. She definitely has chops and a lot of talent, but she was just too inexperienced to figure out how to harness those gifts, and it showed in her lack of improvement as the show went on.
Neither of the eliminated two had any real shot at winning, meaning we're that much closer to a seven-way showdown between this season's real contenders topping this week's power rankings.
But before we get to the power rankings, as always, I must remind you to follow me on Twitter @paynehumor before we get to the power rankings. So here we go!
Power Rankings:
1 (Rank Last Week: 1)  Scotty McCreery
According to 'Dial Idol' Scotty came in first in the voting this week, and that was after giving one of his weaker performances out of the one-hole. Clearly he's got the biggest following right now.
2 (4)  Pia Toscano
Recent history has me reticent to put a female this high, but Pia is just so consistent and has such a radio-ready voice that I'm willing to go against my conventional wisdom and seriously consider her as a contender.
3 (2)  Jacob Lusk
This drop isn't so much a damning of Jacob as it is a praising of Pia. Jacob's still a very solid contender.
4 (8) Lauren Alaina
With Thia gone, Lauren now has the "young girls voting for young girls" vote all to herself. Plus, she's improving every week and the judges absolutely adore her.
5 (4)  James Durbin
He puts on a show better than anyone, I just can't help but think his act is going to wear thin after awhile, since he seems to do the same thing every single night.
 6 (6)  Casey Abrams
The producers and the judges clearly love this guy even though I continue to not get it. He definitely got a bump this week after his surprising elimination last week, but that will soon fade, just as I predict he will.
7 (7)  Paul McDonald
I still think Paul has a shot, but that trip to the bottom three is certainly worrisome – even though I think that was more a product of the judges' extremely misguided disliking of his performance. He could definitely bounce-back, but he's a dark horse at best right now.
8 (5)  Stefano Langone
I thought Stefano had it, now I think we're just waiting around to watch him hit some wrong notes, blow a performance, and be on his way.
9 (11)  Haley Reinhart
She's improving, but I don't think she has the chops to go the distance. Though I'm getting sick of predicting her to get voted off every week and watching her hang on. It's tiring me out.