'American Idol' Recap: The Top Ten Takes On The Top Ten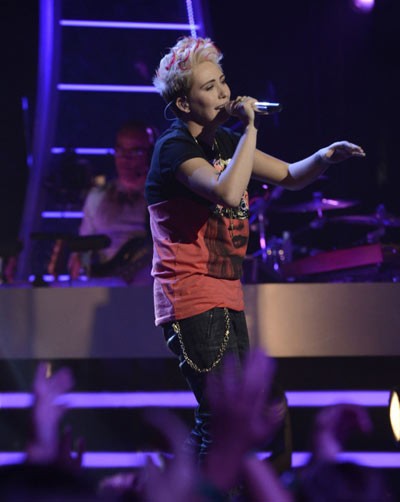 Last night, it was the Idols turn to get modern as they took on top ten hits released since 2010?
So did any of the top ten give a performance worthy of the charts? Read on to find out...
MK Nobilette sang "Perfect" by Pink
Keith Said: I think you need to work on opening up and owning it more.
J-Lo Said: At the beginning of the song  was great, but when you got thrown you didn't recover.
Harry Said: I did not think that was one of your stronger performances.
The Verdict:
An odd change for MK here: For once she doesn't see petrified to take the stage, but her newfound confidence appeared to sap some of the strength from her voice.
She was perpetually off-pitch throughout the entire song. Her voice is normally so pure and here it was as inconsistent as it gets with about 45 different keys employed. And it went far beyond the quality of her singing: She seemed to forget words at times, and couldn't find the rhythm of the song either.
This was easily MK's worst vocal despite being her most confident appearance onstage. But more than that, it was one of the worst vocals of the whole season.
GRADE: D-
Dexter Roberts sang "Cruise" by Florida-Georgia Line
Keith Said: It ends up being a karaoke version.
J-Lo Said: You gotta keep the crowd with you on a song like that.
Harry Said: You didn't do anything different with the song. It came across as being generic.
The Verdict:
Dexter's first performance without the guitar is pretty much the same as all of his performances with the six string.
It's just middle-of-the-road country for Dexter every single time. He does nothing new with any song he chooses - it's essentially right on the record each time. It's country karaoke is really what it is. When he had his guitar he was able to seem better than that as he was sorta playing an instrument rather than just singing along to the track.
But that's really all he's ever done and all he seems capable of doing. He's just a country karaoke artist. And not that great of one either.
GRADE: D+
Jena Irene sang "Clarity" by Zedd featuring Foxes
Keith Said: You felt like a star up there.
J-Lo Said: You gotta own the stage more, but it was a great job.
Harry Said: I think you're a really strong singer. You made it exciting.
The Verdict:
Wow! The horrible performances just don't stop on 'Idol' tonight. This worse than the first two.
Jena sounds like she's got sandpaper in her larynx as she's completely unable to hit any of the notes she tries to, eventually abandoning her attempts in favor of yelling nonsense to hype of the crowd and skipping out on her phrasing. Plus, she got everybody to hold up glow sticks. Somehow that's even worse as it just seemed poseur.
Altogether, this was just Kidz Bop karaoke sung by somebody with a cold and a wannabe pop star.
GRADE: F
Alex Preston sang "Story of My Life" by One Direction
Keith Said: It was great. You made it your own.
J-Lo Said: You evoke greatness.
Harry Said: You just hit the bull's-eye on the artistry target.
The Verdict:
Leave it to Alex to stop the parade of awful with an exclamation point. He turns a pop ballad into a pub ballad and just pours the tears into the beers.
Yet while he strips it down, he doesn't lose the song's pop. His version is a hit record yet is completely authentic. The type of tune that starts on the college rock station and ends up cracking the top 40 about a year later. It's a finished product as a record yet he's singing it on a talent competition after a few days rehearsal.
Alex has got the goods like nobody else this season.
GRADE: A
Malaya Watson sang "When I Was Your Man" by Bruno Mars
Keith Said: I'm hearing more control in your voice.
J-Lo Said: It was awesome. Beautiful.
Harry Said: You were completely present on every single word.
The Verdict:
These flashes from Malaya are why it's so frustrating that she didn't wait a few years to audition for this show.
The inconsistency of youth births that frustration. Malaya absolutely slays a song like "When I Was Your Man" with a voice that would make the greatest pop diva a bit green one night, and then other nights she can't seem to get through five measures without finding a sour note.
I imagine that a nineteen-year-old Malaya would come on this show and just steamroll to the finals on the back of dozens of performances like this one. Instead, we have to relish the entirety of her vocals when she hits it right on like this.
Because it probably won't happen again.
(Plus, bonus points for not reverse-gendering the song. My biggest pet peeve.)
GRADE: A-