'American Idol' Recap: The Top 9 Rock Out As They Sing With The Band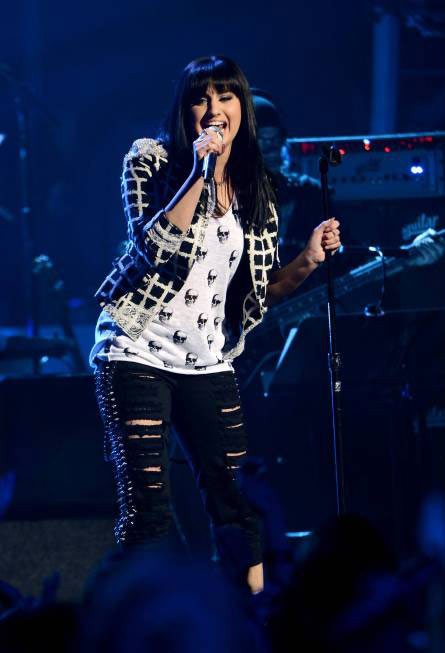 'American Idol' brought the musicians out from the shadows last night and put them right next to the contestants in a night called 'I'm with the Band'.
It's an  interesting concept.  At least it would be if it didn't make any difference whatsoever where the band was located. Moving them five feet forward doesn't exactly make for a whole new 'Idol'.
Though it did result in some pretty good performances...
Alex Preston sang "Don't Speak" by No Doubt
Keith Said: I wish you'd give it a little more edge.
J-Lo Said: That was the soft version of the song. It kind of sucked the energy out of it.
Harry Said: I would love to see you do something more physical.
The Verdict:
Alex turns the ska/rock/pop anthem from No Doubt into a Peter Frampton record with a bit of island feel behind it.
In other words, it's a completely different song.
The steel drums, the smooth flow of the melody, there's no hint of the source material on this performance beyond the lyrics. It's a completely original take and may as well be an original.
Preston's voice is as spot-on as ever and he continues to prove he's easily the best musician on this show with his guitar playing and that aforementioned arrangement.
Another A for Alex.
GRADE: A-
Majesty Rose sang "Shake it Out" by Florence + The Machine
Keith Said: You need to control your energy better. It's a little out-of-control.
J-Lo Said: Vocally, a little all over the place, performance-wise, a 10.
Harry Said: This is the closest I've seen to you owning the stage.
The Verdict:
This is the night when Majesty Rose became the eighties pop diva befitting her name.
This is a classic 80s adult-contempo arrangement and Rose's vocals are made for one of those soft rock stations. Subtle-yet-powerful, Rose sneaks up on the song and avoids belting it out. Instead, she controls the song with a perfect little vocal that felt like the kind of throwback we need.
Plus, the 'Working Girl' pantsuit just worked.
GRADE: A-
Dexter Roberts sang "Boondocks" by Little Big Town
Keith Said: That would have been a hit on country radio.
J-Lo Said: I liked it. I thought you did a great job.
Harry Said: It feels generic.
The Verdict:
If I copied and pasted my review of every Dexter performance, would anybody notice? I mean, he seems to be copying and pasting the same performance each week, so why not?
Even Scotty McCreery showed hints of variety and range on this show. Dexter's just the same country song every single time. He's the band whose every song sounds the same except he doesn't have a band or any original songs.
He also has no original takes on the songs. They're all right on the record and just mundane.
Yes, he's a very solid country singer and there's nothing wrong with his vocal here at all. It's just the same thing every week.
GRADE: C
Malaya Watson sang "The Long and Winding Road" by The Beatles
Keith Said: Gosh, that was beautiful, baby.
J-Lo Said: I hear hints of a young Michael Jackson.
Harry Said: You get the award for most consistently improving.
The Verdict:
This has been coming for a few weeks and now here it is: Malaya's youth getting the better of her and causing her to deliver a substandard vocal and performance.
Malaya's flat and dull vocally throughout. She's unable to really connect to the song and feels like a scared a 12-year-old forced to show her distant relatives how good she is at singing.
Her performance is reminiscent of a sign language interpreter with a bunch of nonsense gesticulations that seemed like they had to mean something lest she be mistaken for possessed.
She ended with a flourish, but it was just too weak throughout to really make an impact.
GRADE: C-
Sam Woolf sang "Hey There, Delilah" by Plain White T's
Keith Said: Sing it to somebody.
J-Lo Said: That's the exact music I expect you to be doing and you sounded great doing it.
Harry Said: I wish you would let yourself out with the lyrics. It felt one-dimensional.
The Verdict:
This song choice from this dude is ripe for hatred, but Sam's actually quite solid here. Again.
As much as I keep expecting this kid to be the object of my scorn, his voice just sounds great every week and he delivers a pure vocal every single time.
Still, as good as he can be, he's just a bit boring. A bit dull. A bit good-but-not great.
But he's still good.
GRADE: B-