'American Idol' Recap: The Top 8 Tackle The 80's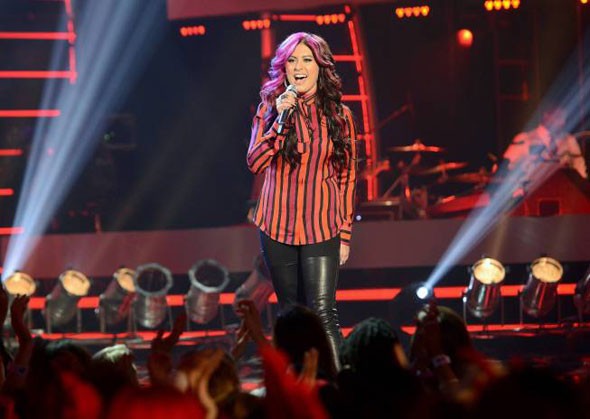 After the save, the top eight got a second crack at America's votes, this time with songs from the eighties.
So who was super-cool and tubular and all the other good eighties' slang? Read on to find out...
Jena Irene sang "I Love Rock 'N' Roll" by Joan Jett
Keith Said: I love the originality you bring to all your performances.
J-Lo Said: It languished a bit in the middle.
Harry Said: I wasn't a fan of the arrangement. It felt very choreographed.
The Verdict:
Jena picks the most excruciating of all worn-out karaoke songs and makes it about as boring and karaoke as she can.
She tries to do something "different" with it at the beginning by just slowing the tempo down a bit which only succeeds in making it more boring. By the time she got to the meat of the song, it was basically just Jena singing like an annoying girl standing on a bar until it mercifully ended.
Shut the jukebox off.
GRADE: D
Dexter Roberts sang "Keep Your Hands to Yourself" by Georgia Satellites
Keith Said: Do something unexpected next time.
J-Lo Said: Today you had personality and made it your own.
Harry Said: I thought it was fine. You did a nice job.
The Verdict:
Dexter picks the most obvious song he could for eighties night and gives the most obvious performance he could.
This is animatronic-animal country karaoke again that seemed much more like a theme park attraction that it did the work of an actual musician. Though Dexter at least proved he knows half a chord on his Telecaster.
This really was annoying rabble-roused nonsense. His audience totally dug it, I'm sure.
GRADE: D+
Malaya Watson sang "Through the Fire" by Chaka Khan
Keith Said: Just coast through it. You can do it.
J-Lo Said: Relax up there.
Harry Said: It sounded like the entire performance was geared for that final note.
The Verdict:
It's strange to see a young kid so full of spunk turn into such a boring performer as she digs into the adult contemporary.
Nothing about this performance worked for Malaya. The song choice was awful as it took away so much of what makes her fun. The vocals were miserable at points until she finally connected near the end. Up to that point, it was very pitchy and flat. Mostly, this was dull as Malaya went full elevator music without any soul.
GRADE: D+
Pink Hair sang "Call Me" by Blondie
Keith Said: It feels almost there.
J-Lo Said: If you can't deliver the message of the song, you shouldn't choose that song.
Harry Said: You need to sing the groove.
The Verdict:
Country may have seemed her element when we first met Pink Hair, but it's become clear that she's much more at home doing the eighties rocker chick, and this is right down her lane.
It's nothing much beyond solid karaoke as Pink Hair chooses the record for her arrangement, but at least there's some life to it and at least Pink Hair feels connected to the tune unlike the first three contestants.
More than half-way, Pink Hair's the best of the night mostly by default: She did nothing great, but nothing bad either.
GRADE: C+