'American Idol' Recap: The Top 13 Sing Stevie Wonder And Whitney Houston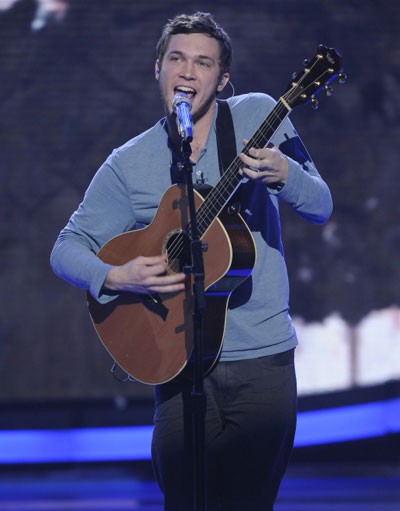 Last night was 'American Idol's' 400th show, and in honor of that, I'm going to list the top 400 contestants of all time. In order.
No. That's not going to happen. But I am wondering where this cast of characters fits in with the other contestant pools from year's past. There's kind of a smattering of everything here. You've got some soul, some country, some rock/alternative, a nice mix. Normally we've seen a lot of pop or rock or something as a bit of a theme throughout the contestants. This year, it's almost a clash of styles as much as it is singers. Something I think will be very interesting as the season wears on.
Just as it was last night for Whitney/Stevie night.
Random Thoughts Waiting for the Actual Show to Start:
What are the odds at some point after the show, Steven Tyler got really loopy and started hitting on his pants? I guess it would depend on if they're under a size 18.
Ryan shouting, "Here are the girls!" really sounded like a soccer mom introducing the attendees at her daughter's birthday party. A little weird there, Seacrest.
I'm kind of surprised that 'Idol' chose a half-Whitney tribute rather than dedicating an entire night to her. I assumed there'd be between 5 and 15 Whitney nights this year. Only a half? I don't think we've seen the last of her.
The whole bottom guy vs. bottom girl thing is a little X-Factor-y to me. I imagine they'll sing a save-me song tomorrow too. I don't know why 'Idol' feels a need to rip off its little cousin, but here we are.
And…on with the show!
Joshua Ledet sang "I Wish" by Stevie Wonder
Steven Said: You keep getting better and better.
J-Lo Said: I love that I felt your performance and felt your music.
Randy Said: You just blew it out!
The Verdict:
Joshua remarked that this song was a little out of his comfort zone. I didn't think it was possible for him to have any problem with soul or funk – he's just such a natural, so you wonder what he was getting at.
This was certainly not the world-beater performance from the first live show, but he seems very comfortable with tune. More than that, he's right at home on stage. There's none of that typical 'Idol' stuff of kids running all over the place and trying to look in every camera. He just owns it on this one and his presence is a very compelling thing to see. It's not his best work vocally, but it's solid enough. There's not a whole lot to do with this song, so it kind of handcuffed him to some extent. What was there, though, he did a good job with.
Grade: B
Prediction: Always tough in the lead-off, but with those raves it shouldn't be too much trouble for Joshua.

Elise Testone sang "I'll be Your Baby Tonight" by Whitney Houston
Steven Said: I missed that connection with the song.
J-Lo Said: I don't think was your best. You felt a little unsure.
Randy Said: It felt like you were boxing with the song.
The Verdict:
This is just one of those nothing performances. It's not a good song for her and it didn't fit her very well at all. She seemed lost in the melody and didn't really have much of an idea of what to do with this song. It was jazzy at points, soulful, a bit rock, just everywhere. None of it was interesting though. It was a well-sung quick trudge through the song without any flavor or real charisma from Elise. She seemed confused and the result was just kind of dull. Nothing demonstrably bad, just nothing interesting going on.
Grade: C-
Prediction: We have our first nominee for bottom girl. Bad marks in the second spot is a situation too tough to overcome.

Jermaine Jones sang "Knocks Me Off My Feet" by Stevie Wonder
Steven Said: That song fits you like an Armani suit.
J-Lo Said: I'd like to see you connect a little bit more and relax.
Randy Said: I love the verses, but when you hit the chorus I didn't love it.
The Verdict:
I worried earlier that being the second best soul singer in this competition was going to be a severe handicap for Jermaine. Well, tonight he went second, so that didn't matter much. Also relieving my fear was the fact that Jermaine made a case for being the best soul singer on the show with this performance. He's extremely old-school for sure. He seems like he should be one of those 45-year-old guys in a turtleneck and suit singing like butter on an old 'Soul Train' episode. He's definitely got the chops and this was one of his best. He just performed like a total pro tonight.
Grade: B+
Prediction: I think he's too likeable to go home at this point.

Erika Van Pelt sang "I Believe in You and Me" by Whitney Houston
Steven Said: It was perfect. I think you're great.
J-Lo Said: I had goosies before you even started singing and you held them the whole time.
Randy Said: You have an amazing voice and an unbelievable tone.
The Verdict:
Sultry. Sultry sultry sultry. Sultry.
Jen Hirsch went, and suddenly Erika takes the sexy singer mantle with this low-throated take on pop soul. She attacked the song from underneath which felt very clever right out of the gate. It was just a brilliant move to rework the song in that way as it fit her voice so well that it seemed like it was written for her.
Even more, it allowed those moments where she rose up to the original breadth of the record to see all the more remarkable by comparison. She sat low for so long that when she reached it was like a dolphin cresting above the surf. You don't know it's there and then: Bang! Huge notes that really captivate the moment. I didn't think she had this type of performance in her, but I was wrong because that was world-class.
Grade: A-
Prediction: This was definitely one of those big moment performances that allows her to make the leap. She should cruise through.

Colton Dixon sang "Lately" by Stevie Wonder
Steven Said: That was great. Well done.
J-Lo Said: You showed your rock roots with that song which is why it was great.
Randy Said: The song started shaky but by the end you were flawless.
The Verdict:
Hey everyone! It's 'My Chemical Romance' singing Stevie Wonder. How…out of context.
Yeah, this didn't really work for me. I understand what Colton's trying to go for here with his whole emo thing, but there's a time and a place. Not every song can be reworked the way he's trying to do it. There was still too much soul underpinning in there that he couldn't really get rid of. The melody was too similar. He needed to either completely eviscerate it or not try to be all emo rock god on it.
The result, to me, was just kind of confusing and not very well sung. Especially at the beginning where he came out very flat. I understand what he was doing and I appreciate the effort, but it just seemed to strange to me.
Grade: C-
Prediction: He's going to last awhile in this competition. Certainly no danger yet.

Shannon Magrane sang "I Have Nothing" by Whitney Houston
Steven Said: I think the nerves got the best of you. You kind of crashed and burned on the turnaround.
J-Lo Said: I think the thinking got the best of you on that song.
Randy Said: Everything you went for, you didn't quite hit it.
The Verdict:
The whole performance was almost good. Each point where it seemed like she was really going to dig in, she came up a bit short. It was like, "Wow, she almost hit that note", "She almost made that transition well", "She almost got through the verse". There were a lot of good moments but she kept seeming to reach for something more than just mediocrity and didn't have that extra gear available to really slay the song. It all just felt a bit short to me. You can see the potential, but she never got to where she should have with this performance.
Grade: D
Prediction: Lots of backtalk, lots of poor reviews. She's in big trouble.

DeAndre Brackensick sang "Master Blaster (Jammin')" by Stevie Wonder
Steven Said: You got a different flavor than everyone else and I love that.
J-Lo Said: I love what you did with that song.
Randy Said: You came out tonight in perfect rhythm. I didn't want it to stop.
The Verdict:
I almost didn't care about this performance. I was ready to give him an A just based on his reactions to the video of him crying. He's giving Heejun a run for his funny money there.
Unfortunately for DeAndre, I have to grade him on the performance and it was kind of a mess. Between the spastic dancing and even more spastic vocals it just seemed out of control the entire time. He sounded like the lead singer of Fine Young Cannibals had a bad case of gas and was burping at odd times throughout the song. There were moments where he seemed very capable but they were undone by an all-over-the-place take on the melody where it sounded like he was singing about 900 different songs in 900 different genres. I just don't get it with this guy.
Grade: D+
Prediction: The judges love this guy, but based on his not being in the top 10 last week, I think America agrees more with me. Maybe he sounds different in the arena than he does on TV. Either way, I think he's less than safe.

Skylar Laine sang "Where Do Broken Hearts Go?" by Whitney Houston
Steven Said: That was a thing of beauty.
J-Lo Said: You are like the definition of composure. Best moment of the night.
Randy Said: You just proved you can sing any song. That was hot!
The Verdict:
This was always going to be hard for somebody who's pure country to go after a Whitney song. She could have cheaped out and just sang the Dolly Parton version of 'I Will Always Love You', but you gotta give her credit for taking on the big soul ballad.
She handled it pretty well too. This was certainly not a blowaway by any measure, but I liked the slowed-down country song of Skylar much better than the running from camera-to-camera version of this little country chick.
By the end, she hit some really big notes and made a major connection to the song. The crowd was brought to its feet and with good reason. Skylar took on a difficult assignment and did about as well as could be expected. Kudos.
Grade: B+
Prediction: When you have the country market cornered, you're usually going to be safe. When you have that voting bloc to yourself and you nail it, you're super safe.

Heejun Han sang "All in Love is Fair" by Stevie Wonder
Steven Said: There's something about your voice that's special.
J-Lo Said: I love you from the first time you sang for me and I love you now.
Randy Said: It wasn't perfect but it was REALLY good.
The Verdict:
I have to say, for as entertaining a guy as Heejun is, this performance was a kind of boring. It seemed like he was just waiting for the moments where his rest was over and he could sing his next stanza. He felt like he was doing the singing equivalent of reading his speech off a teleprompter. There just wasn't a connection there. A few nice flourishes near the end, but mostly this was just kind of a dark trudge through a slow muddled song. He needed to let go and connect more because this seemed just a little spacy.
Grade: C-
Prediction: He'll be around awhile. At last, my favorite won't be cast aside so quickly.