'American Idol' Recap: The Top 13 Go Live!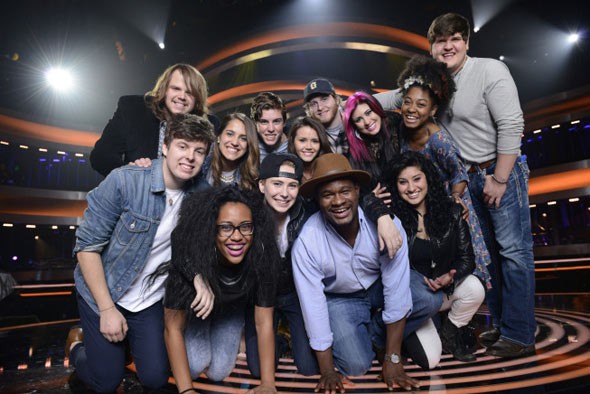 It's thirteen Singers. It's three Judges. It's one Seacrest. It's one Dawg. Yes, it's the first 'American Idol' live show and there's no sense waiting around. Let's get to the recap!
Dexter Roberts sang "Aw Naw" by Chris Young
Keith Said: Figure out how to make it a Dexter Roberts performance.
J-Lo Said: Figure out how to take it to the next level.
Harry Said: You're singing out of tune. Use your personality more.
The Verdict:
There's a rumor going around that Dexter was singing during this performance.
That rumor remains aurally unsubstantiated as it was impossible to hear Dexter over his poor guitar playing, the clapping of the audience and the rest of the band. He was totally lost on the big stage with only a hint of a twang peeking through the rash of noise drowning him out.
The audience seemed to dig it though. Maybe the in-house speakers worked better.
GRADE: D+
Malaya Watson sang "Runaway Baby" by Bruno Mars
Keith Said: Your energy is contagious, but you need to use it to get on top of a song instead of floating around it.
J-Lo Said: This was not your best vocal.
Harry Said: You seemed nervous and you need to sing in tune.
The Verdict:
Horrible. Absolutely devastatingly horrible. It would be very easy to criticize her singing, except she neglected to sing at all. Instead she just kind of talked along to the song as though she was sight reading the lyrics just to memorize it on the way to her high school musical rehearsal.
There's just nothing positive to say about this. She was annoying on stage, she looked like a joke and she didn't just sing poorly, she didn't sing at all.
Maybe she should head back to the high school rehearsal.
GRADE: F
Kristen O'Connor sang "Beautiful Disaster" by Kelly Clarkson
Keith Said: I thought it was a good song choice to you.
J-Lo Said: You need to stop thinking a little bit.
Harry Said: I didn't feel like you were telling the story of the song.
The Verdict:
Kristen at least gets credit for being the first person of the night that actually sang. Unfortunately, she wasn't able to claim the honor of being the first to sing well.
She's not bad, but that's about all she is. Her voice is all right, she creates a few nice moments in the song, but she's just not bad. Half-decent. Use whatever pejorative compliment you like, it all applies to Kristen.
Of them all, though, the most damning is that she's completely not memorable.
GRADE: C-
Ben Briley sang "Folsom Prison Blues" by Johnny Cash
Keith Said: Don't sacrifice your artistry for entertainment.
J-Lo Said: You took a song that everyone knows and made it more your own.
Harry Said: Unquestionably the best performance of the night.
The Verdict:
An unexpectedly fun and downright cool performance from Ben. The half-talented dope suddenly looks like a real road warrior with a fast-paced country sound that totally reinvents this down-home standard into something more fun and oddly hip in its own right.
Ben isn't much of a singer in the traditional sense, but he is very distinctive and unique: Certainly not the standard singing talent show fare.
Suddenly, I want to see what Ben's going to do next week
GRADE: B
CJ Harris sang "Radio" by Darius Rucker
Keith Said: That was good to hear that side of you.
J-Lo Said: We feel your energy. I think that was really good.
Harry Said: I felt like that was one of 20 songs in a concert. Just an OK choice.
The Verdict:
After several weeks of the Ray LaMontagne's more depressed brother, CJ breaks out with something upbeat and is just as good happy as he sad.
From somebody who seemed like he had nothing more than a blind blues musician inside him, this is a musical fresh breath from CJ - a new dimension that was exuberant, light and, most importantly, sound just as good as he had when he's been wailing on the bluegrass soul.
CJ's proved to be more than a one-type singer with a go-to move. He looks to have a lot in repertoire and it will be fun to see what other layers he reveals as the show goes forward.
GRADE: B
MK Nobilette sang "Satisfaction" by Alan Stone
Keith Said: There was patches of deer-in-the-headlight, but your voice never fails you.
J-Lo Said: It was really smart for you to do a song like that.
Harry Said: I enjoy watching you grow each week.
The Verdict:
MK's got a great voice, but there's something that's just not believable about this performance. The song seems to require a bigger voice than hers and hearing her sing it just sounds off - like if Robert Smith sang country or something.
The incongruity also comes from her minimal stage presence. She looks like somebody who's never stepped in front of an audience before and is forcing herself to make some movements to not just seem like a singing mannequin onstage - the performance equivalent of a game show contestant acting excited because their forced to do so by the producers.
So a lot of bad, but with MK's voice, it's hard to give her a really bad grade.
GRADE: C+