'American Idol' Recap: The Top 12 Girls Mostly Disappoint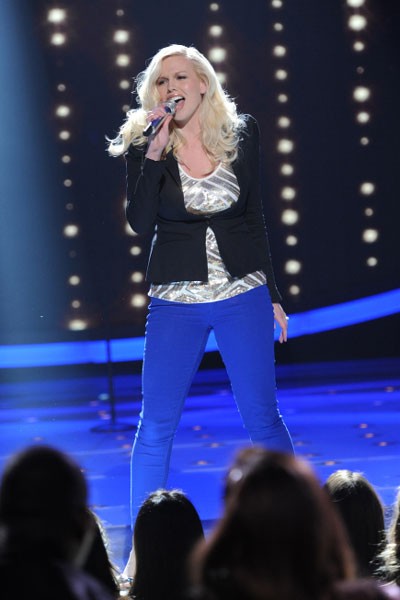 Welcome back judges! After last night, I was worried they were gone. Based on their commentary, there was no difference between any of the guys. If you didn't watch the show, and just read my breakdown of the judges' comments, you'd have sworn that Eben and Reed were every bit as good as Joshua. That's how unopinionated the judges were on the first show.
Last night, they finally came back. It could be because the girls were so horrible. It could be because the producers said, "Hey, this isn't 'The X-Factor,' start actually judging."
Whatever the case, I'm glad to have them back, because I couldn't have taken a whole season of "Everybody's great and nobody deserves to go home."
So who did they criticize the most? Read on to find out.
Random Thoughts Waiting for the Actual Show to Start:
Ryan just referred to 'Idol' as the only show that can take a High School student and turn him into a platinum selling artist overnight. If "overnight" means four months on the top-rated show in the country, then I guess that's right. Though I feel like if you don't go platinum after that kind of exposure, it's a bit of a failure.
Hey! It's the most buzzed about people in America! The top 12 girls! Like…what's her name…and whozeit? I write a column about this show and I don't even know who most of these people are.
What an exciting way to start us off! Here we go…
Chelsea Sorrell sang "Cowboy Cassanova" by Carrie Underwood
Steven Said: I thought you sang good, but watch your phrasing.
J-Lo Said: I've always loved your voice, but this song made it feel a bit nasally to me.
Randy Said: Good with that big note at the end, but I'm not sure that was the best choice.
The Verdict:
The first of what I'm sure will be many girls that I've never seen before in my life. Turns out Chelsea is a country chick. And not a bad one either. She doesn't quite have the voice to overpower the song, but she does a nice job with the melody and her country growl is spot on. There's just no charisma here and you can tell this is nothing but a total karaoke performance. I don't know the song, but I'm sure she's doing nothing special with it. A few nice vocal moments, but that's about it. She doesn't have that extra "oomph" to really get it done.
Grade: C-
Prediction: Yikes. The judges laying the wood on the leadoff hitter. She's gone.

Erika Van Pelt sang "What About Love?" by Heart
Steven Said: You breathed wings into the song.
J-Lo Said: You are one of our power voices, but I fell you could have gone either further.
Randy Said: You showed a little bit of an Adele vibe.
The Verdict:
In a field this big, with so many eliminations, it's always a smart move to cork your bat with a Heart song. It's just impossible to screw these up. They're made for people to belt on this show. In the Heart pantheon on 'Idol' this would not be in the upper echelon, though. It's good. Because it's impossible not to be good, but there's something about her phrasing or her attitude that never connected. It was almost like she didn't care. This is a song that you need to rip your lungs through, not just sit on the pitch and muddle through it. Again, you can't give a bad performance of Heart song, but you can give one that's uninspired, and that's what she did here.
Grade: C
Prediction: I think it's going to be tough for that to outlast ten more performances.

Jen Hirsch sang "One and Only" by Adele
Steven Said: A little trouble at the end, but you got it.
J-Lo Said: I thought you were the first person to come out here and let loose.
Randy Said: I've loved your voice from day one. Don't' forget to go to the R&B vibe.
The Verdict:
I was waiting for the moment the whole time in this performance. The moment where she really connected to the song and let her voice go big. Let herself get lost in the melody and make a pure connection. Unfortunately, that moment never came. She just kind of sat distant from the melody and sang some bizarre line of notes that seemed to relate to nothing. And it was nasally. Irritating even. I can't believe this is the girl who gave all those sultry performances. How did she come out so sharp and so whiny? She hit one massive note, but that was so late and so drowned by poor notes that it didn't even matter.
Grade: D
Prediction: Best comments so far, and a good song choice, but I don't see that as very memorable.

Brielle Von Hugel sang "Sittin' on the Dock of the Bay" by Otis Redding
Steven Said: You have a great sense of the blues.
J-Lo Said: You are a true performer. That was amazing.
Randy Said: I thought at first the key was too low for you, but once you sit your sweet spot, I was like, "Whoa!"
The Verdict:
Nice try, Brielle, but you'll never be as good as this.
Nope. No way you're going to do that with some weird mix of belly dancing, over singing, and disturbingly seductive poses that mimic a dude trying to acting sexy in a teen rom-com. At least there were points that I could barely hear her because she was singing so timidly. That definitely helped.
Grade: D
Prediction: Big raves from the judges and big notoriety from the stage mom. I think she just might make it.

Hallie Day sang "Feelin' Good" by Michael Buble
Steven Said: Since day one, you know how I feel.
J-Lo Said: You look like a star.
Randy Said: What kind of artist would you be? (My point exactly!)
The Verdict:
Can we please retire this song from 'American Idol'? Michael Buble is a very unique artist and one that has his entire place in the market monopolized. It's just not that big of a spot. Nobody's really calling for big band throwback on that level. What is the point of singing this song when it's not current at all?
Saying that, Hallie certainly sounded sensational on this song. She dug right into the melody at the cool little acoustic stripping of it at the end and never turned back. When the music swelled, so did her voice. She's the first girl to actually get on top of the song and own it along with the stage. She looked very confident up there. I just wish she'd picked a different song.
Grade: B
Prediction: I'm not sure something that old-fashioned is going to resonate.