'American Idol' Recap: The Show Is Just One Big Commercial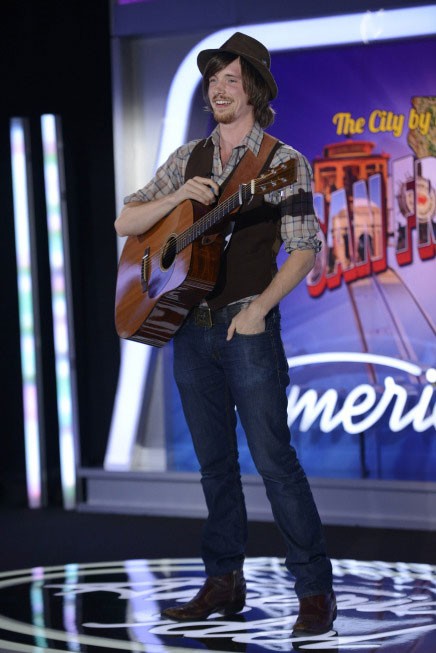 I tuned in for an 'American Idol' commercial and suddenly a singing competition show broke out.
'American Idol', so far this season, has become way too obsessed with itself. It's a living, breathing advertisement for a show we're already watching. At this point we've come to expect the onscreen hashtags, the product placement and the logos everywhere, but why does the show have to keep incessantly talking about itself?
First, there's the promos for the chamber. Ooo...The Chamber! So scary. It's like being in an elevator for a one-story trip. Wait, that's because that's what it is. Do we really need this green chyron trumpeting it like it's something that's actually real and matters? No way.
Then there's the judges. The interstitial interviews to be exact. In the middle of these episodes we get these little talking head pieces where the judges reflect on how great it is to be on the show, how great the show is going to be, and how great they'll be as judges. That's fine for a promo in between the next episode of 'Rake', but we're already watching the show! We don't need to be told who the judges are and how they got to where they are at this point. What a waste.
And that's sort of how they're treating the contestants this year. Advertisements for the people we're already watching. Rather than letting their singing do the talking for them, we have to actually hear them talk about who they are and why they're so great. It's a commercial within a commercial within a commercial. I mean, 'American Idol' has already been a commercial for other things, but its being a commercial for itself is going to be quite tiresome in a hurry.
Of course, they still managed to show a little bit of singing last night. Here are the three best and three worst auditions:
The Three Best Auditions:
Jamiah Malik
This was the little fifteen-year-old who just about led off the show and auditioned at the same time as his sister with a confusing split screen that left it up to us to decide who actually got the golden ticket. Jamiah has rhythm. Real rhythm. He could absolutely play his acoustic guitar and rocked some real groovy soul for such a young punk. It was kind of amazing, especially considering he was singing an original song..
So what happened to Jamiah? Well, of course he got rejected by all three judges. Not sure how that happened, but that's where we are with "The Best Judging Panel Ever!"
David Luning
This was the alt-country guy who was absolutely a cliche of somebody who would audition in Austin, except for the fact that he actually auditioned in San Francisco. He sang an original song that was an honest-to-God good song. It seriously could have been a record with an extremely unique hard-driving alt-country sound that was aggressive and simple at the same time. His voice isn't something that's going to win this show, but for somebody to actually deliver a good original song in audition is definitely a notch above anything we normally see on this show.
T.K. Hash
This was the black guy in the hipster glasses that the judges claimed reminded them of Barack Obama despite the fact that he had a shaved head and looked absolutely nothing like our President. T.K. then went into one of the worst Obama impressions this side of Armisen in what was an obvious ploy by producers to get the judges to spur that on. Why else would a Silverlake twentysomething get comparisons to a middle-aged man who's going gray?
That was all just a prelude, though, to a really soulful and cool rendition of Fallout Boy's "My Songs Know What You Did in the Dark". This was the rare cover version and reinvention in the audition round and he pulled off with not-the-best-voice, but his inventiveness really made him stand out. Now work on some other impression so the judges can say you remind them of that person too.
The Three Worst Auditions:
Grace Anne Field
This was the professional piano player who simply could not have been more beautiful. She sang like a crazy banshee ghost attempting to scare somebody out of the house of their dead family in some ripoff of 'The Conjuring' of whatever horror movies the kids are watching these days. There was really a moment when I expected her to become transparent and her eyes turn into the devil while Patrick Wilson ran screaming from the room.
Still. She was quite a looker.
Rick Rowling
This is the guy who came in wearing nothing but suspenders and denim Jorts. He went on to do impressions of judges from days of yore with a bad British accent and even worse Randy Jackson impression to show that he is a true 'American Idol' historian. He went on to sing something from Rick Astley's deeper catalog. This guy is just a walking Encyclopedia of anything that starts with the letter A! Awful works with those A's too, because that's what he was.
LJ Hernandez
This was the cowboy suckup who had a specific complement for each judge, including a great 'Independence Day' reference - still Harry Connick, Jr.'s finest moment this side of 'Hope Floats'. He started off singing a song that was...not entirely clear what it was. Then...we found out! It was Edwin McCain's "I'll Be"! Complete with lyrics LJ tailored just for his own journey.
Sadly, there was nothing in there about never subjecting us to the fifteen minute high-note he didn't hit. Time for a rewrite.
The Best of Harry:
"What is your definition of the word 'jazzy'? - to a particularly Jazz-challenged young singer.
Yeah, don't use that word, it doesn't mean anything." - in response to that same singer's defense of his self-description.
"You're 32-years-old. You're from New York City. Your name is Beth Goodwin." ~ To a tall blonde who really really really did not look like she was fifteen.
"I never heard a sound like that. I mean not just a voice, but a sound like that on the Earth."
"I feel guilty. And unclean. Like I need to go to confession or something." - After a bit of a creepy performance from somebody who listed his profession as a "Sound Healer".
There was also the moment he sang "Saving All My Love For You" like a stevedore passing a kidney stone. He really could be making a run at Simon.