'American Idol' Recap: The Race Is Closer Than You Think

It was a night filled with celebrities and one mildly surprising exit. "
American Idol
" just keeps getting better, and glitzier, as the drama and guest star quotient ratchets up alongside the increase in performance quality.
Yes, it seems "American Idol" has turned into a cavalcade of stars. What started as an amateur singing competition has quickly become the place for all the famous people to play and plug.
We started with the cast of "
Night at the Museum 2: Battle of the Smithsonian
" plugging their new movie even before the credits. Funny how the show's desk being donated to the Smithsonian just happens to coincide with the movie. It's hard to quantify how much better this was than
Mike Myers
' appearance on last year's finale to promote "
The Love Guru
". In fact, the semi-funny appearance by the "Night" quartet might actually make people want to see the movie rather than obliterating their already low expectations.
Then
Alicia Keys
came out to peddle her charity work. It's hard to by cynical about charity, especially when she brings in the singularly named Noah (apparently Rwanda's young male answer to Cher, Madonna, or Seal) to rock the house in a song that answers the question - "What if Musical Youth made songs much better than 'Pass the Dutchie'?"
Jordin Sparks
, the winner of this show's worst season, delivered a pretty solid performance as the next member of the hit parade. She's got talent and the look to stay current, but there's no way in the world she would have finished better than fifth is she'd entered this year. Actually a pretty good song, but didn't Pat Benatar sing about love being a battlefield already? Are we that out of lyrical ideas that we're essentially copying 80s songs directly?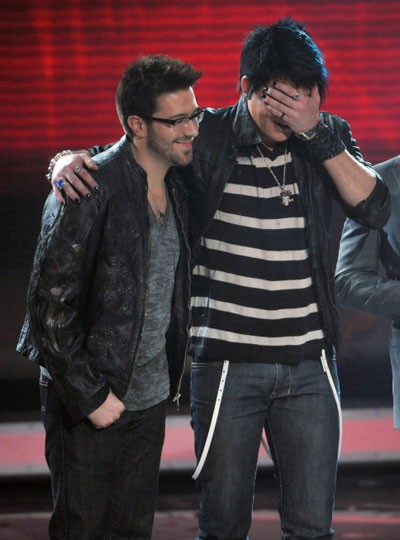 The best part of the evening followed Ms. Sparks. I am, of course, talking about the extended preview for "Glee". I don't think I've been this excited about a show since I heard
Christopher Guest
, Mitchell Hurwitz and
Michael McKean
were collaborating on a show about a congressman. Of course, that pilot never even made it to series. Thank you, "
Cavemen
".
The evening's final star was its dimmest. Out came
Katy Perry
dressed like
Elvis Presley
crossed with
Wonder Woman
and expressing her love for Adam Lambert via cape. Not surprisingly, she rocked out another novelty song (seriously, Aqua thinks you're overdoing it with the throwaways) with a voice so mediocre it barely qualifies as singing. If Sparks wouldn't finish in the top four of this year's competition, Perry wouldn't even make it to the final 12. I defy anyone to tell me how Katy Perry is different from Normund Gentle except for the fact that she's an uber-hot chick. Betcha can't do it.
Of course, the true stars of this show are the singers who have triple-handedly revived this show. Last night, we saw them in full force, as three different towns appeared to shut down for each of their visits. There simply isn't anything in popular culture (outside of sports) that can rally people in such a way. In our increasingly fractured media, "Idol" may be the last show consumed by such a large number of viewers across all demographics. I say, enjoy it while it lasts.
That fantastic ride is now over for Danny Gokey. It's a shame really. The performances have actually managed to trump the competition the last few weeks and it might have been nice to have left Allison on last week and Danny after tonight with a cumulative vote total over three weeks determining the winner. It may not have technically been in the spirit of the competition, but it would have been a whole hell of a lot of fun.
So we're down to Kris and Adam. In lieu of the power rankings, let's go to the tale of the tape.
KRIS ALLEN
Biggest Strength
: His ability to make all the girls swoon as he stands at an angle over his guitar with a subtle wink.
Biggest Weakness
: He doesn't quite have the vocal ability to overcome a bad song choice - he's been eaten alive by "All She Wants to Do is Dance" and "Come Together" this year.
Songs He Should Sing
: Coffee Shop Blues. Something like Lisa Loeb or Ray LaMontagne infused with his signature pop sound. Also, he could turn to hip hop or soul again the way he did with "Heartless" this week.
Songs He Should Avoid
: Any actual pop songs. He's been burned in the past when he went poppy or slightly rock 'n' roll. He needs to add the pop and rock, not simply reiterate what's already there.
How He'll Win
: Three perfect song choices and three perfect performances. That's his best chance.
How He'll Lose
: If Adam maintains his form, there may not be anything Kris can do. Even if he doesn't, if Kris gives us another "Come Together" alongside two good performances, it may be enough of a setback for him to lose.
ADAM LAMBERT
Biggest Strength
: That voice. The best in the history of the show.
Biggest Weakness
: His tendency to be too theatrical and cheesy in many of his performances. He's best when he reins it in.
Songs He Should Sing
: There probably isn't a song that would really hurt him. But he seems best suited towards ballads or really flamboyant rock. Def Leppard anyone?
Songs He Shouldn't Sing
: Please don't make any classics "fun". It just makes like you belong in a jukebox musical.
How He'll Win
: If he just keeps doing what he's been doing.
How He'll Lose
: He'd have to really get theatrical for that to happen. He's toned it down nicely the last few weeks, so that probably won't happen.
WHO WILL WIN?
This is a closer race that most people think. Everybody's been ready to give it to Adam, but that may actually work against him. In other words, being the underdog may actually make Kris the favorite.
Also, Kris may absorb most of Danny's supporters. Danny drew mostly from middle America - the people who may shy away from the flamboyance of Adam and be drawn toward Kris' clean-cut image.
So right now, Kris is the favorite. But none of that matters, it all comes down to next Tuesday.
Story by
Andrew Payne
Starpulse contributing writer
Image © Michael Becker / FOX
Click here to follow @Starpulse on Twitter!