'American Idol' Recap: The Judges Save Sam Woolf + Power Rankings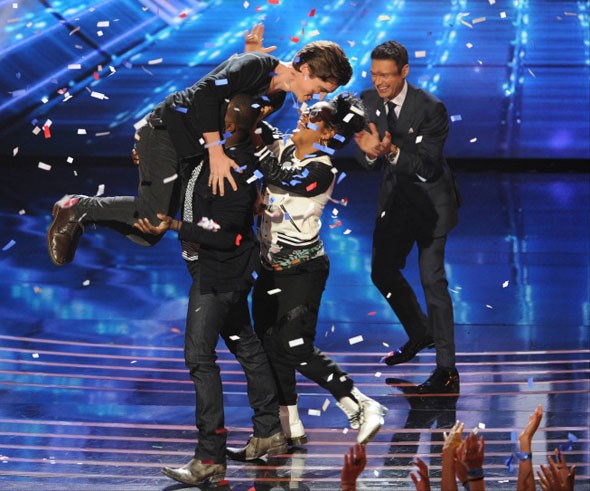 Last night brought 'American Idol's' now-traditional once-a-season anti-climax when nobody was eliminated from the show.
Poor little Sam Woolf got the lowest vote total, but the judges foolishly exercised their save on him when they should have kept it in their collective pocket in the insane chance that Alex ever end up singing for his life. Sam simply isn't going to win as evidenced by his limited talent and frequent trips to the bottom three. He's not the guitar guy the girls are looking for and the time had come for the judges to just let him amble down his dough-eyed road.
It was almost foreshadowing that Daughtry performed tonight. Probably the most famous (apologies to Jennifer Hudson) of the too-early exiters ever on 'Idol', Daughtry surely would have gotten the save his season and probably ended up winning. Instead, he has to settle for a multi-platinum recording career and the judges are left to use their save on somebody who can barely control his nerves onstage.
This wasn't the worst save of all time though. Just the second worst. There was one judges' save; however, that made Sam's look like what Daughtry's would have been.
Let's take a look at the previous judges' saves ranking from best to worst.
1 - Jessica Sanchez
Jessica was the mini-Whitney who went all the way to the final before losing to somehow-massive-success Phillip Phillips. Her elimination from the top-seven week made no sense as people like Elise Testone and Skylar Laine were still hanging around. The judges corrected a travesty here.
2 - Matt Giraud
Nobody remembers this guy, but he seemed like a real superstar back in his 'Idol' days - like an updated Gavid DeGraw. I give the judges a lot of credit for trying to keep him around as long as they could, but it wasn't to be for Mr. Giraud.
3- Big Mike
Big Mike was never quite a big breakout but he was definitely a great soul singer with a big personality. The voters sent him home in only the top-nine week, but he ended up getting to the final four. The judges definitely were right to save him that year.
4 - Casey Abrams
This is the one worse than Sam Woolf. The most irritating 'Idol' contestant ever, this side of Sanjaya, Abrams growled, looked like a bum and pretened to play bass for three weeks until the voters finally had enough. Inexplicably, the judges kept him around without hesitation and we had to put up with his nonsense for another five weeks.
Even worse, this save prevented the judges from using the save on Pia Toscano when she was voted out far too soon.
And that's why the judges should always keep their save until they absolutely need it.
Power Rankings
1 (2) - Dexter Roberts
After what he did this week, Dexter is showing he has the talent to deserve to win, not just carry the country voters. If he keeps improving, nobody's going to catch him.
2 (1) - Alex Preston
Alex should win - he's the most talented - and he fits the mold - he's got the guitar - but something just seems a bit off about him - maybe a bit too weird? Plus, he's got a big country guy ahead of him with whom to compete.
3 (3) - Caleb Johnson
Caleb loves to blow the doors off, but the judges were right to point out that all he's been doing this entire show. Eventually, he'll get tiresome.
4 (4) - Sam Woolf
Sam got the fewest votes this week, but that will galvanize his fanbase to keep him around a little longer. However, nobody who got the judges save has ever won this show. It's a small sample size, but he'd be doing something unprecedented.
5 (6) - Pink Hair
No matter when she goes in the show or what genre song she sings, Pink Hair never seems to hit the bottom three. She must have a big fanbase out there keeping her alive. I don't know who it could possibly be, but they're out there.
6 (8) - Jena Irene
7 (5) - Malaya Watson
8 (7) - CJ Harris
Two of these three are going home next week and it seems unlikely either CJ or Malaya would have gotten the save were it them instead of Sam last night. There's not much difference between the three right now as none of them has much of a shot at winning. It's really just survival for this trio at this point.