'American Idol' Recap: The Judges Save Big Mike From Exile & Power Rankings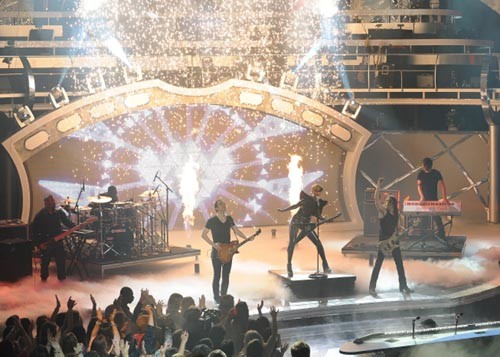 Many, many, many times Ryan tells us the results of the show will be shocking, and finally Seacrest's hype is absolutely spot on.  Big Mike getting the boot?  Not so fast.
I've always been a fan of the judge's save. I think it adds a great sense of drama to the show.  It's much better to see them singing with a sense of purpose at the end of the show, rather than just a flat ode of farewell.  The other reason the save is a great idea?  Moments like tonight.
I'm not sure what America was thinking, but Big Mike is the best competitor left in the show.  Despite that, he couldn't outlast the awful Andrew and the alarmingly bad Aaron to stick around for another week.  But wait, we have the save now, and, thankfully, America's mistake can be corrected.  Even though we didn't get Lilly back, at least we get to hang on to Big Mike for a little while longer.
But how do we celebrate?  How about with some performance reviews!
Here's what's great about Jason Derulo – unlike several big stars who come on this show, Derulo could actually win this competition.  Actually, he would win this competition going away – it wouldn't even be close.  A wonderful nugget of entertainment and a pretty catchy tune to boot.  He's definitely worth keeping an eye on.
Then there's Archie, looking remarkably like Marshall on "The United States of Tara".  He sang "Imagine" and was equally as good as he was a couple years ago when he sang it in the competition.  The only question – why did we have to see that again?  Why not just play the old video?  At least give us something new, Archie!  I'd completely forgotten you existed until right now.
So Rihanna's new single is "Rock Star 101".  All irony of her singing a song with that title aside, here are the four lessons I learned from Rihanna's "Rock Star 101" performance: Sing a really boring song, Dress like the costume mistress from a spaceship in the year 3000, pretend that sliding the pick along the bridge means you can actually play the guitar, and lip synch as much of the performance as you possibly can.  Wow, thanks for that free class in rock, Rihanna!
And with that, here are the power rankings. . .
1 (Rank Last Week: 1) – Lee Dewyze
I so wanted to drop him in favor of Big Mike, but I did that last year with Kris Allen and it came back to bite me.  Not gonna make that same mistake again with the guitar playing heartthrob, especially not after Big Mike's getting voted off and all.
2 (2) – Big Mike
He's very close to being in first.  Very close.  Just can't quite put him there based on the results in previous years.  Y'know, that and his getting voted of.  I still believe in the big guy either way.
3 (3) – Siobahn Magnus
She's poised to drop after two lackluster performances in a row, but her ability to pull a rabbit out has her clinging to a third spot right now.
4 (4) – Crystal Bowersox
She could certainly win, but, as I've said before, she's set to have one off night in the top four against three blowaways.  This is what's going to doom her for being so repetitive.
5 (7) – Casey James
Casey showed some personality this week to go along with this excellent guitar playing, fine voice and rock star looks.  If he keeps his charisma on that level, he could be a threat.  Have to see him do it more than once first, however.
6 (8) – Katie Stevens
Katie seems to be gaining popularity and finally some poise onstage as well.  Have to like her chances going forward, but she's not quite there yet.
7 (5) – Andrew Garcia
Another stinker from Garcia this week once again has me as a non-believer.  I just don't think there's a way he can hang on from week-to-week now that the field has thinned.
8 (6) – Aaron Kelly
Kelly showed his inexperience this week.  He may have survived this horrible performance, but you can tell there's another one lurking that will spell his doom.
9 (9) – Tim Urban
Oh, Mr. Tim.  Thank you for not sucking this week.  I just don't have any faith you'll be able to not suck again.  Let alone for seven-weeks-in-a-row.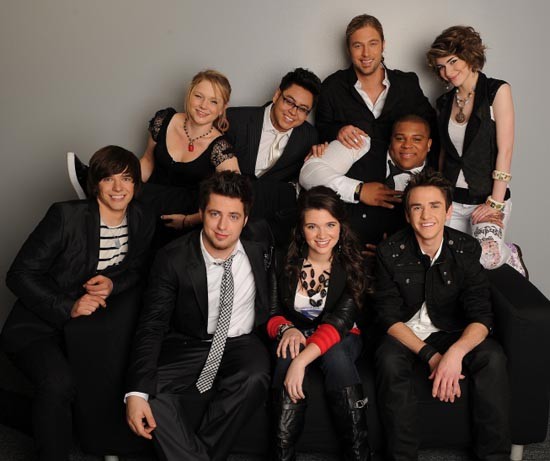 TOP 9: Clockwise from left: Tim Urban, Crystal Bowersox, Andrew Garcia, Casey James, Siobhan Magnus, Michael Lynche, Aaron Kelly, Katie Stevens and Lee DeWyze.