'American Idol' Recap: The Idols Tackle (and get tackled by) Motown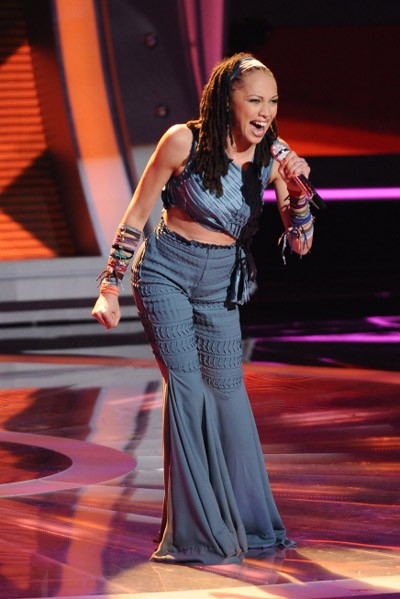 Lies, such miserable lies. We were promised coming into this season that the restrictive theme nights had gone the way of the dodo. That we'd no longer have to watch anybody struggle outside their comfort zone in a way that would impede their development as artists.
Well, that lasted…three shows. Because last night was Motown night on 'Idol' and the Detroit soul was on parade for everyone to mangle.
Yes, one week after 'Idol' delivered its best show in years by turning away from those thematic restrictions, it went right back to its old ways, forcing soulful pop from the likes of Scotty McCreery and Paul McDonald to results that didn't come close to last week's excellent show. In fact, many fell flat in the face of Berry Gordy's masterpieces.
So who managed to connect with Motown, and who will no longer allowed to show their face in Detroit? Read on to find out…
Random Thoughts Waiting for the Actual Show to Start:
Oh my, oh, my. Ryan Seacrest's weird "All About Eve"-like wanting to be Dick Clark just hit new heights with him in Black & White at the beginning starting off a music show. Why do I think he'll be watching that part of the West Coast feed on and endless TiVo loop tonight with a glass of wine and a single tear?
"You decide who gets into the top ten tonight!" – Translation: You decide who the lucky ten who get to be indentured servants to the show's producers for the next six months only to be cast aside afterwards. So they need your votes!
In case you're one of the fourteen people in the world who don't know what Motown is, don't worry! 'American Idol' has you covered with a combination of every generic Motown montage ever made. Though it did make me wistful for a time when programs like that were all that was on VH1. A time before "Has-Been Pseudo-Celeb Searches for STD-Free Lover" became the only show on that network. At least I think that's what it's called.
So as the field gets cut down, rather than give each contestant more time to perform, the producers decided to waste time with inane questions and answers and introducing the contestants as many times as they can get away with. Seems like a solid choice, right?
Before we get started with the performance breakdowns, I should remind readers that if you enjoy my 'Idol' recaps, you'll at least tolerate my Twitter feed. You can follow it @paynehumor – my self-worth is riding on it.
And, here we go…
Casey Abrams sang "I Heard It Through the Grapevine" by Marvin Gaye
Steven Said: You're the perfect entertainer. Perfect mix of perfect pitch and crazy, out-of-control ego.
J-Lo Said: You're so specific about who you are. Is there anybody else out there like you? Because I don't think there is. (Mini-rant time: Yes there are, Jennifer. Yes, there are hundreds, probably thousands of Caseys dotting garages and high school talent shows across this great land who can kinda play a few instruments, have some unique style of "singing" and think that the combination of both makes them some superior artist. But it doesn't, even if it does get them a lot of chicks. Plus, the reason you've never seen someone like him is because no A&R person would ever, in their right mind, ever give this guy a record deal? What would his first single sound like? A washing machine filled with sand and two bricks? Nobody's buying that.)
Randy Said: You are definitely a true original.
The Verdict:
I could've done without the agony-filled groan of an intro where I really thought Casey was going to spontaneously combust. I could've done without the ridiculous walk through the audience that people seem to love so much that they must have a steel cage match backstage to decide who gets to do it every week, but I always find incredibly cheesy. I could've done without the suit that came off the "down-on-his-luck poker pro" rack at Woolworth's.
But I was fine with the vocal. Casey managed to contain himself for the most part this time and settle into the melody, rather than trying to overcome it with his screams and shouts that some seem to think is art. That isn't to say he did a whole lot with the song. He just kind of bounded along with a decent vocal that wasn't very interesting.
Casey's usually interesting (even when he's awful) but this one just felt a little flat. Even if he was in tune for the most part.
Grade: C-
Prediction: People love him, so he's definitely safe.

Thia Megia sang "(Love is Like a) Heat Wave" by Martha and the Vandellas
Jimmy Said: I was pleasantly shocked
Steven Said: I'm good with it.
J-Lo Said: It was great to see you let loose like that, but we need to see you dig deeper.
Randy Said: You can really sing. I just want you to believe.
The Verdict:
I never thought such a joyous and soulful song could feel so empty. Thia doesn't hit an ounce of the flavor in this song. She has no idea how to add the amount of sass necessary to her phrasing and notes to make this song really come alive. It just kind of flounders.
For a song that' so fun, it didn't seem like Thia was having much of a good time out there. She was flat most of the time and just sort of tottered through the melody, hoping to stay on pitch and just finish the song. I wanted to see somebody really dig into the song, put their own spin on it and find the soul inside. Instead, we get a flat, soulless performance like those you'd find from a Las Vegas blackjack dealer dressed up like a Motown singer to earn extra tips.
Grade: D
Prediction: As Randy said, she's been here every week, so she's obviously got a following. Enough of one that she'll probably stay safe.

Jacob Lusk sang "You're All I Need to Get By" by Marvin Gaye and Tammi Terrell
Jimmy Said: I felt a restraint that I hadn't heard from him before.
Steven Said: You held it back, you milked it and you made it beautiful.
J-Lo Said: You made us beg for those notes. You move me.
Randy Said: The great Berry Gordy is sitting somewhere saying "Oh My God!".
The Verdict:
Jimmy spent the entire opening echoing what I've thought of Jacob throughout this competition: That he relies on going to 11 way too often to the point that it becomes a distraction.
Well, Jimmy worked his magic on Jacob this week and he used his substantial vocal with discretion, dropping melodic bombs only when the song called for it and lifting the melody with a brilliant technical performance that still had the looseness that allows Jacob to be himself. There's just nothing bad I can say about that one. Well, except for maybe the Barber Shop pole of a tie he was wearing.
Grade: A
Prediction: Of course he's safe. Of course.

Lauren Alaina sang "You Keep Me Hangin' On" by The Supremes
Jimmy Said: She had a lot of confidence and poise.
Steven Said: You ripped that song another beauty mark.
J-Lo Said: I like that you threw your head and your neck into it. (Great analysis)
Randy Said: She's got her swagger on.
The Verdict:
I loved the beginning. I thought she absolutely slayed that vocal. She turned this funk-beat pop song into a heartbreak ballad that Mariah Carey would have sung early on. I thought she was going to cover it. I thought she was going to stay there. I thought that would have been something of a revelation.
Of course, she switched course right when you expected her to, and took a shark downhill turn. It turned from a solid, poised and restrained bit of beauty into a Mickey Mouse Club mall performance that was just missing the purple Jersey Mall Girl Hair to really seem authentic.
What made it worse was that Alain could have taken a big risk and done a really cool stripped-down version of the song. Instead she took the easy path, sounded okay, had a bit of fun, and wasn't very interesting.
Grade: C+
Prediction: The judges love her and she's clearly got a voting bloc. She'll be sticking around.

Stefano Langone sang "Hello" by Lionel Richie
Jimmy Said: It's pure emotion.
Steven Said: Pull back a little bit and you'll have it.
J-Lo Said: You have the voice and the looks but you need to connect. I want the intensity to come because your heart is breaking. (Wow, J-Lo bringing the heat!)
Randy Said: You have to be perfect emotionally and pitch-wise. You sounded good, but no real connection.
The Verdict:
I really dig Stefano's voice. It's very clear, very pure and it has that hint of a rough tone that gives it a quality all its own. That voice is out in top form tonight as he decimates some weird Calypso version of this song that sounds like it was mashed up with "Hotel California". But I digress.
Like I said, the voice was right there. This kid is just incapable of missing a note. But the performance was a bit awkward. First of all, he was wearing a suit that looked like it belonged to his big brother. Second of all, he seemed to be in pain at the beginning. Third of all, he seemed to want to do nothing more than just sing the song technically well, which he did, but he was so far from making any real connection and the whole thing felt forced.
Vocally, this was just about an A. But combining it with the performance, it's a…
Grade: B-
Prediction: I'm working on a theory that every guy is getting more votes than all the girls, so I think he's safe.

Haley Reinhart sang "You Really Got a Hold on Me" by Smokey Robinson & The Miracles
Jimmy Said: She's got to connect this week.
Steven Said: Beautiful It touched my heart. You don't look a day over fabulous.
J-Lo Said: I think you have the most soulful voice of anyone in this competition.
Randy Said: The Haley we fell in love with came roaring back. Yo.
The Verdict:
Well, I'll say one thing for Haley. She wore some super-high spike heels and didn't fall once! Good for her.
I'm not really sure what she was doing with the rest of her performance. It modulated between super lick-filled runs that didn't make sense, and undersung melodies that I could barely hear. At least she timed all that with awkward waddling and swaying back and forth.
She did manage to flash some cool bluesy vocals when she went off the rails in the middle. They sounded interesting, but I'm not sure how they fit this song. Still, it was quite a lot of fun to watch.
I'm not really sure what to make of this spectacle, so I'll just give it a…
Grade: C
Prediction: Could Haley be safe? I didn't even remember she was in the competition until they announced her, so I kinda doubt she's left much of an impression.

Scotty McCreery sang "For Once in My Life" by Stevie Wonder
Jimmy Said: I think people will be shocked.
Steven Said: I loved it. You really ripped it.
J-Lo Said: It wasn't your strongest vocal performance.
Randy Said: You're the young lady killer!
The Verdict:
And here it is. The performance we've been anticipating since he made the Top-13. Scotty singing something other than country and the result is…kind of anti-climactic.
In fact, it was barely a Motown performance at all. Instead, the producers helped him completely re-work this song so it was just a basic country song. I'm not sure how this makes it Motown night, but I suppose it met the qualifications.
The performance itself is typical Scotty. That is to say, it's pretty good. Just another nice solid country performance. This one a total country cover that could easily wind up on the radio because the arrangement and the vocal worked so well.
Grade: B+
Prediction: This good ol' boy'll be stayin' put.

Pia Toscano sang "All in Love is Fair" by Stevie Wonder
Jimmy Said: Pia was born with a great instrument. Now she needs to turn it into her own voice.
Steven Said: I think you are the closest star in this 'American Idol' Universe.
J-Lo Said: You could have a career like Celine Dion, but you need to own the stage.
Randy Said: You hit every note dead on, but give me something other than a ballad.
The Verdict:
Pia sure can sing. She sure can hit all the notes with the precision of an archer. That's not in question. What is in question is the dreary arrangement. It seemed a bit sleepy, a bit sad, a bit bleak. I don't know that her voice quite matches that – it felt like it was clashing somewhat with the vibe and mood of this song.
Yes, she hit some remarkable notes and sustained her instrument to just about perfection, but she just seemed out of place here. Like one of the Monkees in a goth band. I don't know who to blame for this, but it just wasn't quite up to normal Pia standards.
Those standards are very high though, and this was still pretty good.
Grade: B
Prediction: She's the only girl who seems absolutely locked in every week.

Paul McDonald sang "The Tracks of my Tears" by Smokey Robinson & The Miracles
Jimmy Said: If he just listens to the emotion of the song, he could have a moment on the show.
Steven Said: I love what you do with the guitar. It's just great.
J-Lo Said: All you need is a good producer and there you go.
Randy Said: The tone is so unique, but you took it to a cool place.
The Verdict:
Oh no! Jason Mraz alert! Jason Mraz alert! When Paul straps on the guitar he turns into Jason Mraz! Oh no! This can't be good!
Okay, maybe I hit the panic button too early, but this is still very Mraz-esque. That same tilted-hat, "I'm just out hear strummin'" vibe that he's turned into a torture chamber of a career. I think the only real difference her is just that Paul has a great song to work with, something that Mraz has never even sniffed. That allows him to overcome this buskeresque performance as he waters down a great song just enough that he diminishes its quality, but not so much that he gets away from its absolutely perfect hook.
It's not much of a performance. I give him credit for covering the song, but normally I prefer covers that make the song better, not significantly worse.
Grade: C-
Prediction: Again, I think all the guys are safe, plus he just became the first one to successfully pull of "guy with a guitar" this season.

Naima Adedapo sang "Dancing in the Street" by Martha and the Vandellas
Jimmy Said: She has to know when to dance and when to breath.
Steven Said: It was E-to-the-Z ooo-twiddle-dee-dee.
J-Lo Said: It was my first little goosebumps of the night.
Randy Said: Everything was very smart tonight.
The Verdict:
Well, everything was going pretty well. She was having fun with it. She was hitting all the right notes. She seemed completely confident with the melody. I've always thought this song was pretty cheesy, but Naima really made it sound like a fun pop song I'd want to keep listening to.
Then the end happened. For some reason, she felt a need to simultaneously audition for 'So You Think You Can Dance' and submit her choreographer's reel for the touring company of 'The Lion King'. I don't know what that added to the song, but it was at least…interesting to watch.
And y'know what? I dig interesting. And I dug this performance. Even if I had no idea why the end had to happen.
Grade: B
Prediction: Another singer I forgot was on the show. Though I don't think anyone will forget her after that.

James Durbin sang "Living For the City" by Stevie Wonder
Jimmy Said: I think if he gets it right. It could be his moment in the sun.
Steven Said: I think sometimes it takes a little bit of crazy to make a difference in this world.
J-Lo Said: You are serious business up there.
Randy Said: It started a little rough for me, but by the end you were unbelievable.
The Verdict:
I dunno. I keep expecting more from James. I keep hoping that he'll put his own spin on a song. That he'll show some level of artistry. That he'll become more like…Adam Lambert.
But that hasn't happened yet. We just keep getting the same solid performance week-after-week. He stays on the melody, picks his spot to flash his scream and that's the end of it. It's getting a bit repetitive.
I will say that, better than anyone else, he rocks the stage. He seems like a star up there. Super confident, totally in control, and an excellent sense of exactly now to command the audience and connect with the song. None of it feels forced, which is more than I can say for just about everyone else.
Now if only he could do something interesting with the song itself.
Grade: B+
Prediction: Way to entertaining out of the pimp spot to be in any trouble.
Final Thoughts:
Up-and-down, up-and-down. This night was just like the foot tapping to a Motown record. With inconsistencies overflowing.
It was also very predictable. Obviously the only real soul singer (Jacob) and diva (Pia) were going to have no trouble on Motown night, while some of the younger singers would struggle to find their soul.
The only real surprise was Scotty, but that doesn't really even count because he sang a pure country song with lyrics from a Motown record. So I'll the whole night pretty much went according to script.
So how does this script end? Who is going home tomorrow? I'm going to have to stick with the prediction I made last week that this night would be the last time we see Haley on a performance night. She was sandwiched in the middle, didn't do a whole lot, and it's unlikely many will remember to vote for her.
But who will join her in the bottom three? It's tough to say. It's really tough to say. So tough that I'll just say it as quickly as possible in hopes that nobody notices so I can say I got it right no matter who it is…thiaandstefano.
There. Confidence. Brilliant.
And just like Randy going a whole show without saying "pitchy", I got through a whole recap without mentioning my 'American Idol' girlfriend Molly Dewolf Swenson.
Damn. Almost made it.
What did everybody else think of last night's show?