'American Idol' Recap: The Idols Shine With Songs From The Last 3 Years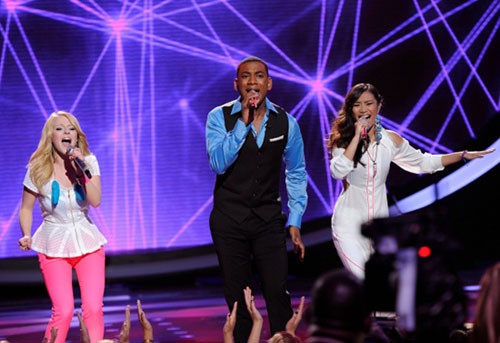 Let's get one thing straight. I can't stand these duets and trios and whatever it is they're doing. 'Idol' is bloated enough with its pre-taped packages, product placements and other nonsense that two hours is becoming drudgery. Now that they've added these non-judged little showcases to what is supposed to be a singing competition is a bit of a bloat too far.
So here's the deal: We're not talking about them anymore. We're not mentioning them. Not discussing them. Not spending any time on them.
No, we're not going to mention Phillip and Elise tarnishing that Gotye song we all love. We're not going to get into why I keep getting this Coltar (Colton/Skylar) couple rumor shoved down my throat when I couldn't care less if I actually knew them. There's not a chance in the world I'm going to talk about Jessica, Joshua and Hollie singing Kelly Clarkson without their microphones turned on.
Nope. They do not happen. We square? Good.
On with the portion of the show that matters. And, no, that doesn't include anything involving Tommy Hilfiger.
Skylar Laine sang "Didn't Know How Much I Loved You" by Kellie Pickler
Steven Said: When you sing a song, it's a complete sentence. The crows may crow but the hens deliver the goods.
J-Lo Said: You really really nailed it. Perfect way to start the show.
Randy Said: You could have a hit with a song like that.
The Verdict:
I think this is the moment where Skylar sheds the "poor-man's Lauren Alaina" and became the rich man's version of last year's runner-up.
She has tremendous poise and control with this song. Yes, it's essentially a country diddy being sung in a bar, but she's so authentic and compelling onstage that it starts to grow into more than that. Maybe it's the guitar. Maybe it's the lighting. But I believed it.
Grade: B+
Prediction: That will definitely be enough to carry her through the leadoff spot.

Colton Dixon sang "Love the Way You Lie" by Skylar Grey
Steven Said: You are such a rare talent.
J-Lo Said: You're able to take every song and really really make it your own.
Randy Said: I love your interpretation. I love where your mind and your heart goes.
The Verdict:
Colton's in all his emo glory here. Right down to the smoke machines and weird smoking jacket that seems to have come from the Jim Steinam collection.
This is just typical Colton for me. He does a wonderful job of connecting with the song and putting a unique arrangement on it that really suits his style well and helps him stand out.
But, like typical Colton, he's just not a good enough singer to carry what he's laid out for himself. He writes a check that his voice can't quite cash.
He does it better here than he has in week's past, but he's still just missing that extra bit off oomph that would really allow his performances to soar.
Grade: B
Prediction: More raves for Colton. More avoidance of the bottom three to come.


Jessica Sanchez sang "Stuttering" by Jazmine Sullivan
Steven Said: Every time you sing, I forget where I am.
J-Lo Said: That was really beautiful. I liked that in the middle you started digging. You have the opportunity to take this audience on a ride where they've never been.
Randy Said: Tonight you set the bar really high. You slayed the biggest fish of the night.
The Verdict:
I thought Jessica has been a bit overrated so far on this show. Her first couple performances were absolutely astounding, but, to me, she's been living a bit on her rep the past few weeks with good-but-not-great performances being lauded as the latter.
Well, here she's back to that level promised by the acclaim she receives. A soulful bit of swagger that saw her looking like a seasoned diva than a young girl on a singing contest.
It helps here that I've never heard this song before because that might as well have been her original. And she made it seem like nobody else could sing it and nobody else should. Mostly because she told the story of the song so well with her phrasing, vocals and performance. A masterwork from Jessica.
Grade: A-
Prediction: The cult of Jessica is growing ever stronger. She is safe.

Joshua Ledet sang "Runaway Baby" by Bruno Mars
Steven Said: You can sell a song like a work of art.
J-Lo Said: It's so dynamic. It so takes control of the audience.
Randy Said: This was an unbelievable performance.
The Verdict:
I appreciate what Josh did here and he put together a pretty solid performance, but it just didn't vibe for me.
I think it's because I've come to expect so much out of Josh. I grade him on a curve. He has the ability to transcend this show and blow us away every night, and when he doesn't I'm disappointed.
Here, he chose not to unleash his unreal chops and content himself with a merely solid soul vocal and super-fun performance. I mean, that's all it was. Cool performance well-sung. Just not the masterpieces we're used to seeing from Joshua.
I may be undergrading him here, but that's just because I think so highly of him.
Grade: B
Prediction: He's gotta be safe again after that.