'American Idol' Recap: The Guys Take The Stage On Rush Week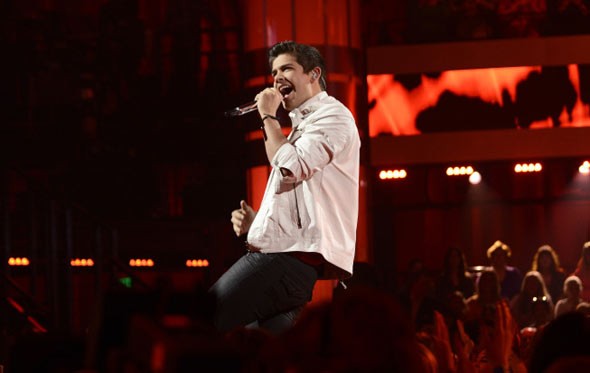 It was Rush Week, Part Two last night on 'Idol' as the boys hit the stage to complete in what's been a pretty cool innovation for this season.
The best feature of this Rush Week parade is definitely the cruelty: how devious it was of 'Idol' to make a total of ten kids prepare this week without ever getting a chance to sing or knowing if they would sing. It was a total departure for the show to do something like this and added double drama each performance night as the audience got to play along with the contestants as they were called out like the NFL Draft.
That was great, and as an added bonus: The Dawg is Back! Through one week, this role suits Randy better than having to speak off the cuff as a judge. No more "it was just a'igh for me", "in it to win it!", "gotta have it" - instead, it's the insight of a veteran pro with a bit more fun than we got from Jimmy in previous years. Plus, it's just not 'Idol' without the Dawg around.
After a terrible auditions round and lackluster Hollywood Week, 'Idol' is hitting the right notes again with a frenzied few days jam-packed performance. There's hope for this season yet.
And how'd the boys do last night? Let's find out...
Caleb Johnson sang "Stay With Me" by The Faces
Keith Said: That was a perfect song. Great way to start the show.
J-Lo Said: That was the real deal. You are the real deal.
Harry Said: That's a really strong way to start the show.
The Verdict:
There has never been a singer in the history of singing that's as good as Caleb thinks he is. He just seems to think he's God's Gift to Rock and ready to bring the genre to its optimal point on 'Idol'.
Spare me.
If this guy was singing in a Road House bar on a Saturday night, he'd barely get the patrons to look up from their stale cigarettes and flat beer. He's as vanilla and ordinary as it gets up there and may be good enough for a summer stock production of 'Rock of Ages', but not much more than that.
GRADE: D
CJ Harris sang "Shelter" by Ray LaMontagne
Keith Said: You've got this great mix of Dobie Gray and Johnny Lang.
J-Lo Said: I hope we get to see you for the rest of the competition.
Harry Said: You're a great talent, but you have a tendency to sing sharp.
The Verdict:
There's something frightening about CJ's performance. It's really too raw. Like a homeless guy singing to make enough money to feed his dog for the night - that kind of crazy desperation and hurt in his voice as he sings the blues.
The bizarre passion he shows is both extraordinary and off-putting. There's yet to be somebody with his particular smoky old flavor on 'Idol', but that might be a good thing because he's really the type of singer who belongs in an old folk saloon, not on this stage.
While that's true, it doesn't matter that much: CJ is a unique case on this show and one that's worth watching going forward.
GRADE: B-
Emmanuel Zidor sang "The Best of My Love" by The Emotions
Keith Said: You need to reign it in.
J-Lo Said: That performance wasn't the greatest, but you do belong here.
Harry Said: You are so much fun, but you should stay in your lane.
The Verdict:
Cruise ship performance. Plain and simple. Picking this song didn't help it feel like anything else either. A corny 70s jam? Yikes! Where's the free buffet and Dramamine?
Emmanuel really can't sing. He may be a fun performer, but he does not have the chops for this competition. He's just too out-of-control and too into being an entertainer before a singer to accomplish much beyond dinner theater.
GRADE: D-
Sam Woolf sang "Babylon" by David Gray
Keith Said: You have that voice that's just money.
J-Lo Said: That was a perfect representation of who you are.
Harry Said: I hope that you can gain small degrees of confidence as this competition goes on.
The Verdict:
After a banishment of the archetype last year, we have a Cute Guy with Guitar Alert! Sam's looking like the favorite before even singing a note.
Once the lyrics started flowing, however, that favorite status became painfully in doubt. This kid doesn't have Kris Allen chops, Phillip Phillips chops or even Lee Dewyze chops - he's merely a pleasant singer who can strum a few cords. Like a kid who's do well at a High School talent show and making girls' dads feel totally at ease with his Leave it to Beaver-style lack of anything threatening.
GRADE: C-