'American Idol' Recap: The Girls Face Rush Week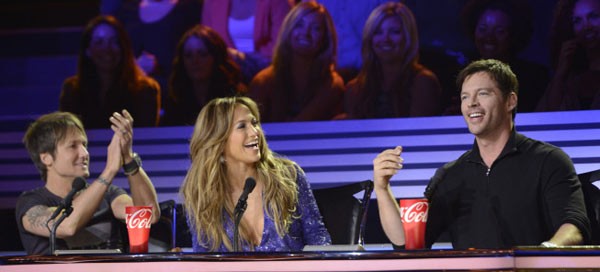 Pink Hair sang "Drink a Beer" by Luke Bryan
Keith Said: There was a disconnect, but you have the ability to tell a story with your voice.
J-Lo Said: Your country tone is really appealing to it. I really love it.
Harry Said: You bring something fresh and exciting.
The Verdict:
We have our country chick this year and it's...Pink Hair! With Purple Hair now. So disappointing. But the name lives on.
This is a nice simple country ditty from Ms. Pink Hair. It's easy to picture her in the side corner of a country beach bar or on a Nashville Stage. She's got the perfect little twang and a strong ability to sell the emotions of the song. She's a country siren through and through.
This is not what we expected from Pink Hair: It's a helluva lot better.
GRADE: B
Emily Piriz sang "Paris Ooh La La" by Grace Potter & The Nocturnals
Keith Said: True artistry is not about pretending.
J-Lo Said: I thought you did this very well.
Harry Said: Is that really what you want to be singing?
The Verdict:
Oh, Emily. You're not a rock star. You're just not equipped to sing this song.
This had wannabe karaoke bursting out the screen from measure one to the coda. From the dancing, to the arm waving, to the fake-growl on her vocals, Emily just chose the absolute wrong song for her on this stage.
It made her seem like an amateur. It made her seem like a total phony. It made her seem like she didn't belong.
And I don't think she does.
GRADE: D
MK Nobilette sang "All of Me" by John Legend
Keith Said: That was the perfect song choice.
J-Lo Said: It was a true feeling. I loved it so much.
Harry Said: You're an elegant, articulate singer. You belong here.
The Verdict:
Oh no. She didn't do this. She didn't just go full on Bronski Beat/Smiths/Siouxsie post-punk vocal all over a John Legend song. It can't be happening. It's too unreal.
But she did. MK did it. MK absolutely slaughtered it. An absolute masterpiece of a vocal as she strips the song down to its base elements and builds it back up with a vocal that may not hit the diva belting operatic heights that make people go crazy, but instead stuck with wonderful emotional purity that turned the song into her own without any note of pretense or effort.
She's on another level.
GRADE: A
Malaya Watson sang "Hard Times (No One Knows Better Than I)" by Ray Charles
Keith Said: It was a little over-the-top, but I can't wait to hear what you do next.
J-Lo Said: Every time you get up on here it's just epic.
Harry Said: It was just to-the-wall energy.
The Verdict:
Adam Lambert said it all in the mentor package: Her voice is stupid. It's just stupid. She's the one girl on night one who showed the ability to really belt a song and make it work without shouting or oversinging.
She's a little fireball up on stage with a voice that erupts in a fury that makes her seem like a decades-long vet, when, in reality, she hasn't even hit her second on the planet. Braces and all, she may have it all.
GRADE: A-
Final Thoughts:
First of all, fond farewell to Jillian Jensen - my former 'X-Factor' crush, and no longer 'American Idol' crush. Robbed again, she's still never performed live. Always next year. Also, good-bye to Kenzie Hall who gave the best performance on the show so far with her version of 'Can't Hold Us'. She might not need next year.
As for last night's contestants, Malaya and MK are definitely through after closing the show with the two best of the night. Let's put Pink Hair in for being the lone country singer and keep Marialle around since her shoe broke - because, why not?
That leaves one spot left. I like Jena there: she did something different, she went for her own voting group, and she was just plain good.
Check back tomorrow for a recap of the boys.