'American Idol' Recap: The Girls Face Rush Week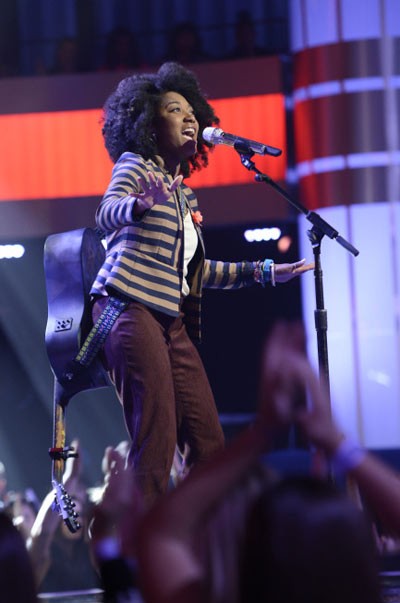 'Idol' kicked off its first "Rush Week" last night with several cool twists on the normal girls' night/boys' night format.
More on that tomorrow, right now, let's just rush to the recap.
Majesty Rose sang "Happy" by Pharrell
Keith Said: There were moments of your vocal range. That was great.
J-Lo Said: That's the way to come out here. Your voice sounds amazing.
Harry Said: You did a fantastic job.
The Verdict:
Fun and spunky little girl with a great personality. Enough to make you wish she could actually sing.
Majesty just doesn't have the voice. She got absolutely lost in the gym and had no quality to her vocals beyond somebody singing along to the radio in their car. She just isn't going to blow anybody away, and this is a show where blowaway vocals are necessary.
She's great on stage though. She absolutely rocked the crowd and could not have been more naturally fun with a great little pop song. It's too bad her singing can't match her presence.
GRADE: C-
Kristen O'Connor sang "Turning Tables" by Adele
Keith Said: You got in the zone half-way through.
J-Lo Said: You locked in half-way through.
Harry Said: A really powerful performance.
The Verdict:
Taking on Adele should be just forbidden on these shows: Nobody is going to do these songs justice and they're just so unique to the original artist.
Kristen tries her best here, but she just doesn't have the pipes. She finds her vocal footing about half-way through after a rough and flat beginning, but never really connected totally with this song with too much effort in her voice and not much going on in the quality department.
Plus, it's such a dreary song to sing on a show like this. Why bring the crowd down to their hankies when you can build them up? It was just all dull and boring.
GRADE: C
Briana Oakley sang "Warrior" by Demi Lovato
Keith Said: You remind me of Irene Cara.
J-Lo Said: Your voice is a young Whitney Houston, but you have to have your performance come together.
Harry Said: Be careful of using high notes as your triple axle.
The Verdict:
Briana brings an instant step up in class in the night's third performance. You can hear it right away: the professional tone to her voice and purity of her vocals make her the night's first contestant who really belongs in a recording studio.
It's just an absolute shocking contrast. Like watching a High School basketball game where only one kid on the floor has a D-1 Scholarship and the rest are playing in their last season outside of an intramural league at their office.
Briana's simply a total pro who connected to the song beautifully and has the rich voice to make anything sound amazing. She's going to make a deep run.
GRADE: B+
Jena Irene sang "Paint it Black" by The Rolling Stones
Keith Said: It was really really good.
J-Lo Said: You're one of my favorites. I'm not gonna lie.
Harry Said: The intensity was there, I just wasn't sure what you were singing about.
The Verdict:
A very cool performance in that it's incredibly hard to define. It wasn't quite jazz, it wasn't quite rock, it definitely wasn't pop, but she's got a voice that could kill the charts.
It's nice to see Jena take a risk right out of the shoot like this - leading off the football game with an onside kick. She rocks a totally original and unique performance that wasn't safe at all and really sets her apart.
GRADE: B
Bria Anai sang "Wrong Side of a Long" by Melody Fiona
Keith Said: You overshot the runway.
J-Lo Said: I think you have star written all over you.
Harry Said: It felt very very shouted.
The Verdict:
Bria can sing runs. She wants you to know she can sing runs. She's just never me a lyric that didn't need a run. It's all runs all the time for Ms. Anai.
And it's horribly distracting. It's like when Christina Aguilera sing 'The Christmas Song' all those years back. It's just fifteen notes when would one would do and it just happened every single beat of the song.
It's cool that she can do all that, but it didn't make any sense within the song. It's like if somebody tried to do a tomahawk windmill dunk on every play when they could just lay it in.
This should have been a layup drill and she turned it into a miss in the dunk contest.
GRADE: D
Marialle Sellars sang "Roar" by Katy Perry
Keith Said: I think that was not the best song for you to shine on. It was too karaoke.
J-Lo Said: This wasn't the best showcase of who you are.
Harry Said: You need to stay more in tune.
The Verdict:
Marialle shows the exact opposite of Bria here. She doesn't need to show off crazy vocals and a gymnastic singing ability to sell a song. Instead, she finds the rhythm and groove of the tune and reinvents it into something that commands heads to be bobbed.
Her vocals aren't blowaway, but they're good enough for her to belong and everything else she did was so fantastically fun that she doesn't need a Whitney Houston voice to really bring dynamite to the stage.
Even if her show blew up.
GRADE: B