'American Idol' Recap: The Girls Dominate Again On Beatles Night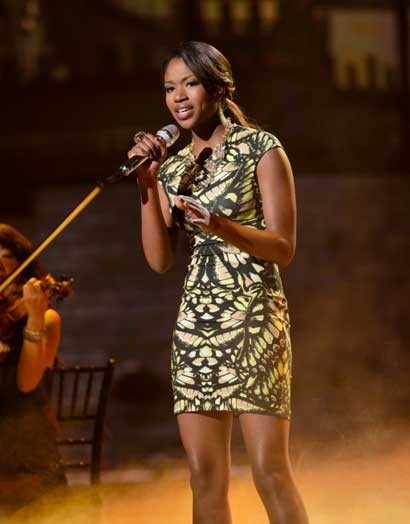 There's a lot to be excited about based on last night's 'American Idol' and it doesn't have anything to do with the members of the final nine.
Why would we care about them when we get to see a brand new song by Carly Rae Jepsen in just a short two months time? We even get to help her write the lyrics. And if her entire album (yes, there is one) is any indication of the types of songs this Canadian pixie likes to record, then aspiring lyricists should mention the previous evening and their desire to either kiss or hold hands with a potential lover. It's all set.
Sadly, that news couldn't be topped with Charlie Askew's being voted into the tour as he lost out to Aubrey because she has this pesky little thing called singing ability. Alas, no more Askew to kick around again.
Luckily, we still have the top nine. Let's get to it, shall we?
Kree Harrison Sang "With a Little Help From My Friends"
Keith Said: I don't think you'll have any trouble getting by easily tonight.
Nicki Said: You always bring your own Kreedom to whatever you sing.
Randy Said: I thought it was the bomb too.
Mariah Said: I thought it was fan-freaking-tastic.
The Verdict:
Kree's voice is pretty solid here, but in the words of Jeffrey Ross, it might be nice if somebody told her face. Apparently her idea of song delivery involves looking up to the heavens like some weird creature emerging out of a tub in a Japanese horror movie. Look for that shot to inspire a poster before the end of next year.
But yes, this is a singing competition and Kree was as good as can be on this song, putting a cool country spin on the Joe Cocker version of this classic, modernizing it while making it seem like it'd been around forever at the same time.
Next time, she just needs to exude some level of passion about what she's singing.
Grade: B+
Prediction: Lead off is never easy, but she was good enough to get by that handicap.
Burnell Taylor Sang "Let It Be"
Keith Said: You're so soulful and come from such a spiritual place.
Nicki Said: You didn't even sing the song. You caressed it.
Randy Said: This is the mark of a true artist.
Mariah Said: You're always consistent and there's just a realness about you that never goes away for me.
The Verdict:
This might not exist, but somewhere it seems like there must be some album where Broadway casts sing pop songs in a dramatic manner. That has to be around right? Seems like a good/bad enough idea that it's essential.
This would be the lead track on one such album. A singer acting his way through a watery gospel version of the song with nothing beyond coaching to have emotion carry him through the performance. The vocals aren't particularly interesting – they're just good. Boring old good while Burnell does his best to turn this into the show stopper in a high school musical.
Too theatrical and too self-indulgent to make a real impact. Plus, he loses a whole letter grade for saying he only "knows of" the Beatles!?
Grade: D
Prediction: The judges loved him enough that he should be safe.
Amber Holcomb Sang "She's Leaving Home"
Keith Said: You came out and made it sound as fresh as if it was just written this week.
Nicki Said: I don't want you to ever look defeated up there, because your vocal is amazing!
Randy Said: It's started a little slow, but by the end, I was like, "There's my Amber there!"
Mariah Said: (Mariah said she'd never heard this song before. It may be time to stop recording what she says.)
The Verdict:
Wow. And suddenly Amber has made this a three diva race.
A beautiful Beatles song and it was like nobody'd ever sung it before. She turned into such a poised and spare soul ballad that it could have been an original for Donna Summer when she slowed it down in the 70s.
There's an amazing effortlessness here. Amber just lets the song flow from her as she hits every note like she's yawning. When the control over the voice is this strong it allows for such an organic performance of the song – like it's born from inside her as she manages to (almost) make a Beatles song her own.
Grade: A
Prediction: She didn't get much love from the judges and this performance could get lost. She's borderline.
Lazaro Arbos Sang "In My Life"
Keith Said: The key change brought out the tone in your voice.
Nicki Said: I still feel like you are not back to the Lazaro that I remember.
Randy Said: I think that was your worst performance ever.
Mariah Said: I feel like a song this intimate and special is better with just an acoustic guitar. It was a little low for you.
The Verdict:
This is an absolute joke. A theme park performance from a sixties sitcom. They turned this beautiful song into a weird calypso tune that Lazaro delivered like a singing waiter at a restaurant. And he didn't do anything to bely that with his outfit or hairdo.
Lazaro just doesn't have the ability to perform at this level.
Grade: D-
Prediction: There's a potential he has a big fan base lurking, but the judges' killing him like that almost certainly spells doom.