'American Idol' Recap: The Final Three Get Three Shots At the Finals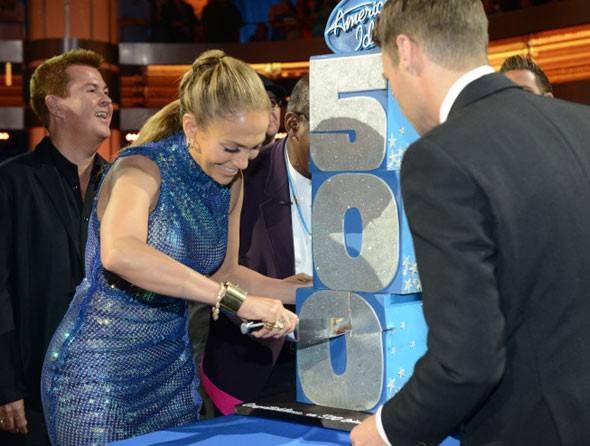 Last night 'American Idol' celebrated its 500th episode. I'm celebrating too by counting down the top 500 moments in the history of 'American Idol'!
Just kidding. Let's recap the performances, shall we?
Caleb Johnson sang "Never Tear Us Apart" by INXS
Keith Said: Really good job tonight. You're such a pro.
J-Lo Said: You on your worst night are better than people on their best night.
Harry Said: Don't oversing and hurt yourself.
The Verdict:
This a bit outside the typical Caleb gear as he injects some real blues into the proceedings for a toned-down version of this song. He doesn't create that big moment where he reaches to rafters for a bombshell note, instead he lives within the song and is much more disciplined than normal.
The result is a more connected performance a more musical one at that. He seemed a bit more humble. Even if he did start the performance off by sitting in a throne.
GRADE: B
Alex Preston sang "Pompeii" by Bastille
Keith Said: You became the most solid when you went to the drum.
J-Lo Said: It was a different Alex. It was the elevated Alex we've been waiting for.
Harry Said: I could see the wheels turning. Which is not something I necessarily want to see.
The Verdict:
This is the definitive worst Alex Preston performance.
It's almost strangely bad. As though he's trying to sabotage himself. We've had a strong track record of the best contestant going out third and maybe he wants that for himself?
Alex sounds bored to be singing the song. He's just kind of half-asleep mumbling his way through the tune as a karaoke track with the treble turned up too high plays beneath. Sure, he plays the drum at one point, but that only makes it worse – his mic going out seemed like a blessing.
This was not Alex at all and a very bizarre time to try and reinvent himself and then fail so spectacularly at it.
GRADE: D
Jena Irene sang "Titanium" by David Guetta featuring Sia
Keith Said: You inspire me because you know how to mix the fun with the conviction.
J-Lo Said: It wasn't your best.
Harry Said: That is so in your alley.
The Verdict:
This is a knockdown perfect song choice for Jena and her big pop/rock voice. Just completely spot on.
Given a gift, Jena turns it into a disaster as she is as horribly pitchy as she was early in the competition and resorts to screaming to hit the big notes rather than singing. It's a bit of aural agony at points as she struggles to get through some of the more memorable vocal moments of the song.
This should have been fantastic, but instead it was forgettable at best and embarrassing at worst.
GRADE: D
Caleb Johnson sang "Demons" by Imagine Dragons
Keith Said: I feel for you with your voice.
J-Lo Said: Don't concentrate on how you would have sung it if you had your 100% voice.
Harry Said: (Harry abstained from judging)
The Verdict:
I have trouble judging Caleb on this song because while he got through the first song without incident, on this one it was extraordinarily clear that his vocal problems were getting the best of him as he struggled with notes that he normally hits with ease and he's unable to hit any of the big notes that are so well-suited for this song.
I have to grade him, but this is clearly on a curve.
GRADE: B
Alex Preston sang "Stay" by Rihanna feat. Mikky Ekko
Keith Said: I loved it, Alex. Excellent, man.
J-Lo Said: That was all yours. We forgot about Rihanna.
Harry Said: (Harry asked him what kind of performer he would be)
The Verdict:
This is more classic Alex as he strips the over-produced pop song down to its base element and just pours his soul into a lovely acoustic arrangement.
Alex is back with his uncanny knack for pinpointing the emotional core of a song and allowing it to take over the entire stage as the song just soars. He's introspective yet explosive as the minimalistic nature of his performances allows the audience to be drawn that much closer.
Phenomenal stuff from the most talented contestant this season.
GRADE: A-