'American Idol' Recap: The Final Three Do Battle With Help From Beyonce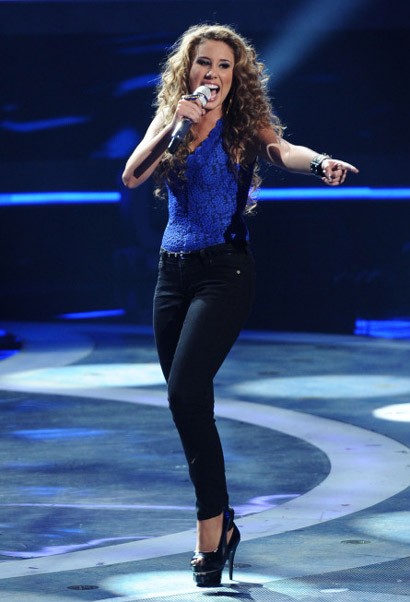 Raise your game. This was a favorite catchphrase of Simon's back when he was still judging things, and something, after James Durbin's exit, 'Idol' needed desperately for its contestants to do tonight.
It's not like James was the first major shocker and big time talent to bite the dust this year, but so far the talent has been so deep that the show's been able to brush off the loss of talent as there's always been a transcendent contestant waiting behind.
Well that's not really the case anymore. Scotty's great, but we know what we're getting from him every time. Haley's definitely improved more than anybody this year, but she's still very inconsistent. And Lauren, well Lauren's just dull.
That's not exactly a fearsome threesome that this high-quality season deserved. Not back when we thought we'd see James blowing the roof off the building while Pia slayed a ballad and Jacob flashed some more soul.
No, instead we're stuck with a batch of youngsters capable of delivering greatness but more often settling for a lot of what we've seen before. In other words, for this show to get to a memorable finale, these contestants will need to "raise their games".
So did the contestants rise to the challenge? Read on to find out…
Random Thoughts Waiting for the Actual Show to Start:
Oh yes. This is "hometown" week on 'Idol'. Just once I'd like to see a contestant say: "Screw that! I hate my hometown. My high school sucked. The Hell with them, let's just pick a random city." Tht would be satisfying on a very emo level.
Hey, lookee there it's Elijah Wood and the giant fake dog from 'Wilfred'. Did you know Elijah Wood is only 30-years-old? He's been around so long I feel like he should be starring in a sitcom as a washed-up musician or somebody suffering a midlife crisis. Not a plucky young neighbor on an FX show.
Yes, the Beyonce home video was cute, but if that little ditty exemplified having her "singing" talents discovered, then there must be about 15 million Beyonces running around this country.
More Beyonce: Seacrest said her film career "exploded" in 2002. Do you know what movie she starred in that year? That's right, "Austin Powers in Goldmember". I'd call that an inauspicious start, not so much an explosion. Notice the clip was conveniently absent.
And how about that! Before we even get our first performance it's already time for the first commercial. Which leads us to the return of the commercial tangent. And it's a quick one: Damn does "Super 8" look cool.
And now that we're back from these messages: On with the Show!
Scotty McCreery's First Performance: "Amazed" by Lone Star
Beyonce Said: It's interesting to hear him go into his higher range. People will be pleasantly surprised.
Steven Said: You really took that song up a notch.
J-Lo Said: I'm sure there's a million girls out there wishing you were singing that song to them.
Randy Said: You're picking smart things and knowing where your lane is.
The Verdict:
This verdict really comes down to one thing: How did Scotty pull off going into the upper register? We already know that he's going to slay it when he stays in his deep-throated country wheel house. But what about when he breaks out and goes high?
Well, Scotty, a bit shaky there, buddy. His voice just doesn't have anywhere near the depth when he goes up high that it does when he stays down low. It's a much thinner voice – once where you can't hear its being supported properly and just feels so strained. Like he's trying to get something out of his lungs that his throat won't allow.
The low part of the song was as good as it ever is. But when he went up high he really sounded like a young boy trying to sing to impress a girl.
And getting rejected.
Grade: C-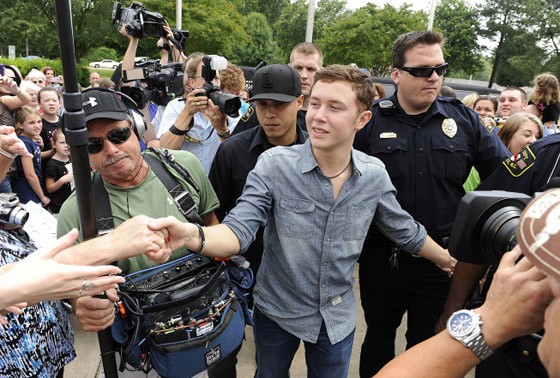 Scotty McCreery's Second Performance "Are You Gonna Kiss Me or Not?" by Thompson Square
Steven Said: Real character showing through. That was great.
J-Lo Said: There were so many moments I loved in there.
Randy Said: You were approaching that Garth level.
The Verdict:
Now this is a great Scotty performance.
After reaching a bit too far on his first song Scotty does everything that has made him the favorite to win it this season. He connects completely with the song, he tells the story of thy lyrics beautifully and just absolutely slays the vocal with his brilliant country baritone.
This was also the first time I saw him tackle a "fun" and upbeat song without looking awkward and gawky. Maybe it was the guitar, but whatever it was, it definitely made Scotty seem like he'd just sold out an arena and was on his second encore with an enraptured crowd.
Grade: A-
Scotty McCreery's Third Performance "She Believes in Me" by Kenny Rogers 
Steven Said: You put it over the top for me.
J-Lo Said: We wanted to see if you could hit that chorus. I guess you showed us.
Randy Said: Very nicely done.
The Verdict:
Here's a random fact about me. When I was little I basically listened to nothing but Soft Rock. That's because I was a captive audience in the back of my mom's minivan, but no matter how you slice it, I know my soft rock.
Here, Scotty was right in that adult contempo wheelhouse. Delivering this ballad with the drippy schmaltz that's perfect for an early-90s AC Top 40 hit. It's creepy to hear him sing like that, but creepy in a good way – it shows his voice is beyond his years.
There were definitely some issues when he, again, tried to go up to high and couldn't support his upper register. But, overall, this was a nice solid soft rock performance.
Grade: B
Lauren Alaina's First Performance: "Wild One" by Faith Hill
Beyonce Said: Her nerves are healthy, but she has to deliver when the cameras are on.
Steven Said: You were having fun when we met you back then, and you're having fun now. (Seriously, is he going to reference her first audition on every single critique?)
J-Lo Said: You gotta attack it like that every single time.
Randy Said: When you let yourself go, you're at your best. Good lookin' out.
The Verdict:
Getting closer…
Every week I write pretty much the same thing about Lauren: She seems to have the chops, but she doesn't seem to have the ability to access them. Meaning that her nerves or her inexperience or both seem to be preventing her from being at her best and just letting loose.
You can still see that trepidation here, but she breaks through it a little bit. She digs into some notes, she gets into the song on stage, she lets herself be less rigid and just go with the flow of the music.
Sometimes.
Mostly though, there's still that scared young performer dominating the song. It's most apparent at the end of the song. This is a place she could put a nice tag on it and here she just throws it away and lets her voice run out. It's almost like somebody running a race that sees the finish line and decides to just walk the last few feet.
Until Lauren puts a full performance together she's going to keep getting grades like…
Grade: C+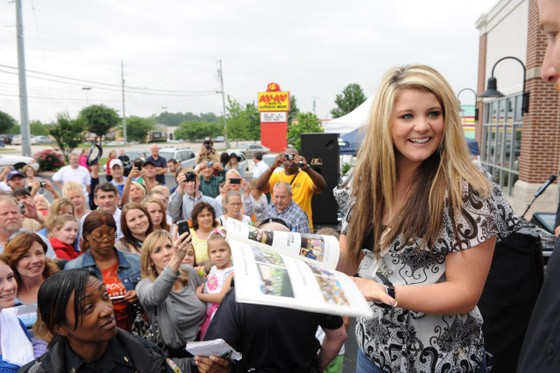 Lauren Alaina's Second Performance: "If I Die Young" by The Band Perry
Steven Said: You nailed it again.
J-Lo Said: You have the most wonderful tone of anybody in this competition.
Randy Said: I think that was another good song choice by Mr. Jimmy Iovine.
The Verdict:
I probably haven't said it enough, but Jimmy was the best thing about this season – and he managed to find a song that made Lauren come out of her shell!
Lauren was right on point with this song from the first lyric, completely connecting with the lyric and melody of the song. She held that composure throughout out, giving a compelling vocal performance that I just wanted to keep going.
I can hardly believe she pulled this off, but I guess I always thought she had this sort of brilliance lurking inside. She turned from a scared and inexperienced novice into a country diva over the course of these two minutes. Sterling.
Grade: A
Lauren Alaina's Third Performance: "I Hope You Dance" by LeAnn Womack
Steven Said: You walked out here like you owned the Grand Ol' Opry.
J-Lo Said: You gave me "goosies" from head-to-toe.
Randy Said: I actually really enjoyed it.
The Verdict:
Good God, I think we've found Lauren's absolute wheelhouse.
I mean Lauren sounded like this song was written for her. And she sounded damn near exactly like the record. She again digs into the vocal without fear and really delivers a superb performance. She throws in some nice vibrato and a few other vocal tricks that she'd been too scared to unleash previously and really enhances her performance. All that plus she finally looks relaxed onstage. This is a brand new Lauren.
Of course, this did sound just like the record and therein lies the problem. Woulda been nice to have heard her do something unique with it. But you can't fault the rest of it.
Grade: B+

Haley Reinhart's First Performance: "What is and What Should Never Be" by Led Zeppelin
Beyonce Said: I think Haley is a rock star. She has a presence.
Steven Said: That was superb. That was just so so good.
J-Lo Said: Way to keep going after you fell on stage. (Thanks for saying nothing, J-Lo)
Randy Said: This is what it's all about!
The Verdict:
A very shrewd move by Haley having her father perform with her this week. Definitely something that will appeal to voters.
The performance wasn't half bad either. A lot bluesier than we normally see from Haley – definitely a good look for her. Much better than the noveau lounge singer she normally embodies.
This one just fit for her. I would have liked to have seen her do something unique with the song rather than just turn herself into the lead singer of a really good cover band, but you can't fault the vocal performance. Even if she did forget the lyrics at times.
And she's right. Pops can shred on the guitar.
Grade: B+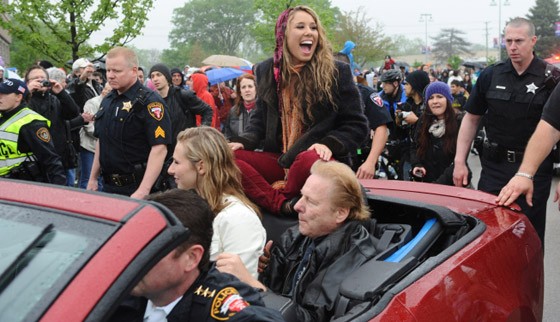 Haley Reinhart's Second Performance: "Rhiannon" by Fleetwood Mac
Steven Said: You sang that song so good it made me remember why I fell in love with Stevie Nicks to begin with.
J-Lo Said: Look what you're capable of! One of the best performances of the year.
Randy Said: I think you did a good job with it. Your pitch was perfect through the whole thing.
The Verdict:
Win or lose, Haley definitely gets the award for most improved contestant this year. Her audition was terrible, I still can't believe she got in.
Now how about this performance. This is a tale of two sections.
The first is a glorious slow burn where Haley strips down the song and absolutely eviscerates every note, delivering a wonderful and understated performance. God, I wish she'd stayed there the whole time because her voice was at its purest and she was at her least lounge act-y.
And then the tempo picks up. And the wind machine turns out. And the dry ice mixed with the light change makes Haley look like she's in one of the Glamour Shots Napoleon Dynamite's girlfriend was selling. I don't whose idea any of that was.
Her vocals suffered here too. Instead of delivering that spare and raw performance that she set up at the beginning, suddenly she turned into a karaoke singer playing catch up with the track. Yes her tone and pitch were still fine, but her connection disappeared.
And that all could've been avoided if she'd stayed in the "Haley Unplugged" mode.
Grade: C+
Haley Reinhart's Third Performance: "You Oughta Know" by Alanis Morissette
Steven Said: Amazing. That was so perfect.
J-Lo Said: The stronger parts were the chorus.
Randy Said: Haley is in it to win it!
The Verdict:
Wanna feel old? This song hit big sixteen years ago. I apologize.
This performance is really just bad karaoke for me. I thought it was a really good song choice and would have allowed Haley to really dig her huge growl into the chorus in a way that absolutely blew the roof off the building. Except Haley just blew it.
Rather than connect with the song, Haley just sort of putters along, butchering the bridge, struggling with the verse and throws out a chorus that just falls flat. I wanted her to absolutely destroy those choruses with the full power of her voice. But she never reached those heights and never rose beyond a girl with a few shots in her singing on a table after she just got dumped.
Grade: D+ 
Final Thoughts:
I saved the predictions for the end because I thought this even-ish field would give me something to debate, but Haley's last performance sewed it up: She's out and Scotty and Lauren will sing for the title next week.
And after tonight, Lauren suddenly seems to have a real chance.
What did everybody else think of last night's show?