'American Idol Recap': The Final Four Square Off With Help From Lady Gaga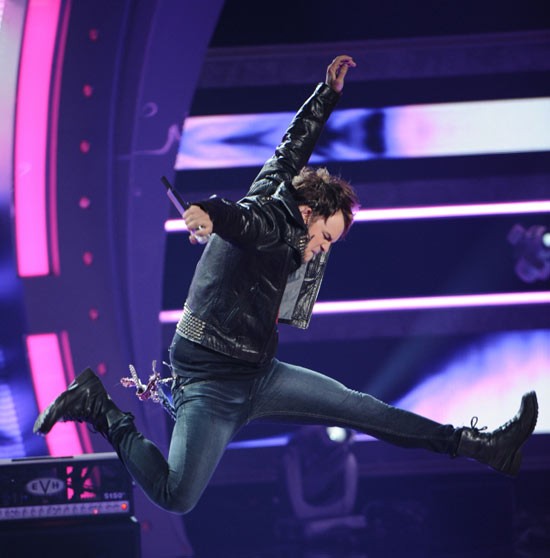 Gaga! Lieber and Stoller! The chance to be celebrated at home! 'Idol' rushed right into last night and so will we. Let's get right to the recap…
So who was up to the challenge? Read on to find out…
James Durbin's First Performance: "Don't Stop Believin'" by Journey
Steven Said: You did it right.
J-Lo Said: It was a really really great job.
Randy Said: That was the highest degree of difficulty and you did it.
The Verdict:
Here's the problem with this performance and it underscores the major problem with this show in general: The time constraints forced it to be so incredibly rushed. This song is a slow burn, it has two understated verses before it builds to the vocal orgasm of "In the Ni-ight".
Here, James was forced to hit those notes almost before the song even began and by the time he'd reached the height of his crescendo, he was already forced to wrap the song up.
This made the whole thing feel sloppy and the performance incredibly rushed. The arrangement was all over the place and the vocals made it seem like James was just wildly poking around for his moments to hit something big.
I always thought this song would be a showstopper on this stage, but I guess the time constraints make that impossible, and even in the hands of James this is nothing more than a…
Grade: C+
James Durbin's Second Performance "Love Potion No. 9" by The Clovers
Gaga Said: He needs to loosen up and shake his  hips.
Steven Said: What you can't do with your voice you did tonight. (Huh?)
J-Lo Said: That showed me you can sing anything.
Randy Said: You're peaking at the right time.
The Verdict:
There's only been one contestant this year who's shown an ounce of originality and real musicianship and that's James.
He demonstrates that here again as he takes a punchy little novelty song and turns it into Whitesnake at the Forum in 1988. That was like watching one of those Monsters of Rock CD commercials at 2 in the morning except much less sad.
James pulls this one off like an arena rock god. Turning the song inside out with his showmanship and absolutely slaying it with his huge screaming voice. I'm kind of in shock that he was able to do that. It may as well have been first performed by Motley Crue and not a weird little vocal group that spawned Sandra Bullock's second-worst movie behind "All About Steve."
This was the best performance of the night.
Grade: A
Prediction: Killing it in the Pimp Spot is always a recipe for sticking around.

Haley Reinhart's First Performance: "Earth Song" by Michael Jackson
Steven Said: You sang it. You nailed it.
J-Lo Said: I really felt that did inspire you. I could feel your feeling in the song. (Someone needs a thesaurus). But, I want you to think about choosing a song that will allow you to compete more.
Randy Said: It confused me with who you are as an artist. You were screaming. You didn't go there. I didn't like it. I thought it was a bad song choice.
The Verdict:
This is insane. For a second I thought Haley Reinhart had transformed into Joan Crawford from 'Mommie Dearest'…or a character Kristen Wiig would play on a sketch that didn't make it out of Dress Rehearsal.
This is the type of performance that deserves to be sung in the basement apartment of a seedy Hollywood Motel by a ghostface-makuped ex-starlet attempting to recapture her glory from the 30s with a hairbrush and a mirror. It was just so ridiculously over-the-top melodramatic and cabaret that it's hard to believe anybody under the age of 70 would think about singing like that. Or know how to.
If it weren't for the chorus drowning her out for the most of the second half, this rendition may have left me on the floor in stitches. At least they were pretty good. As for Haley, she deserves an…
Grade: F
Haley Reinhart's Second Performance: "I (Who Have Nothing)" by Ben E. King
Gaga Said: I think the challenge for her is telling the story.
Steven Said: You just Reinharted yourself into next week.
J-Lo Said: Look what you're capable of! One of the best performances of the year.
Randy Said: You just had a moment right here that put you in it to win it.
The Verdict:
Now this is how you come back. Haley digs into this song right away, not messing around and killing it right from the top.
She attacks this one with some Spanish flare, some Kim Carnes blues, and a little bit of Urge Overkill thrown in for good measure. What a sizzling concoction and damn if it didn't go down smooth.
It's weird that Lady Gaga coached her on being more theatrical for this song, yet she stripped away all the phony pretense with this performance and just slayed with a raw vocal that never wavered and stayed completely connected the whole time.
This is the type of performance that makes me rethink my persistent claim that Haley is the only contestant with no chance of winning.
Grade: A
Prediction: I dunno. Her first performance was an absolute show-stopper. But is it enough to wipe away the harshest judges' comments of the year and her sniping back at the judges like a brat? I'm just not sure.

Scotty McCreery's First Performance: "Where Were You When The World Stopped Turning?" by Alan Jackson
Steven Said: That was beautiful.
J-Lo Said: I'm just in love with you.
Randy Said: I hope that you keep that type of song. You're ready for superstardom.
The Verdict:
Goodness gracious can Scotty deliver a country ballad. He's like Roy Jones or somebody of his ilk in terms of being able to deliver the story of a song and tell it with the way he connects vocally.
He does that brilliantly here. It's wonderfully effortless the way he sits there with his guitar and just lets the melody flow through his instrument in a way that's simple and stunning at the same time.
Though, I must admit, it felt a bit odd for him to pick this a week after the Osama killing. Almost pandering on some level.
Having said that, it shouldn't take away from the fact the he, once again, absolutely ripped this song to shreds.
Grade: A-
Scotty McCreery's Second Performance: "Young Blood" by The Coasters
Gaga Said: You gotta make love to that microphone.
Steven Said: You made Gaga's Yaya go Lala.
J-Lo Said: Next week I want to see yet another side of you.
Randy Said: I think we just saw both sides of a Scotty concert.
The Verdict:
This is a joke right? I thought I sat on the remote for a second and it turned my TV to a public access channel from 1994.
This is the type of music that really flew with in the 1950s when The Big Bopper was considered a musical genius, but it just seems like something you'd see in a nostalgia shop next to a rotary dial phone at this point. There's nothing current about it at all and it was simply goofy.
All that, plus Scotty barely sang on the track. He just sort of talked and staggered around the stage. That was ludicrous. And even worse: for an attempted comedy performance – it wasn't funny at all!
Grade: F
Prediction: The judges would have had to absolutely slam him for him not to move on. He's still very safe.

Lauren Alaina's First Performance: "Anyway" by Martina McBride
Steven Said: You deliver a song like a blue plate special.
J-Lo Said: That was exactly what we're talking about.
Randy Said: Lauren is back in it to win it!
The Verdict:
I'm getting sick of writing the same thing about Lauren, but until she does something differently I have to keep saying it: She's just boring.
Sure, her voice is nice, she delivers a pure vocal and gets through the song the way it's written. But what more can we say than that?
She has absolutely no connection to the song on a level beyond hitting the notes, she does nothing interesting with the arrangement or delivery of the song, and she refuses to really break out of her shell. She's content to just sing mediocre songs in a mediocre way.
Tonight, there were moments where she flashed the big voice I swear is lurking there, but even when she went up there you could see the look of restraint and almost embarrassment.
I think if she lets go she could be really good. But right now she just deserves a…
Grade: C+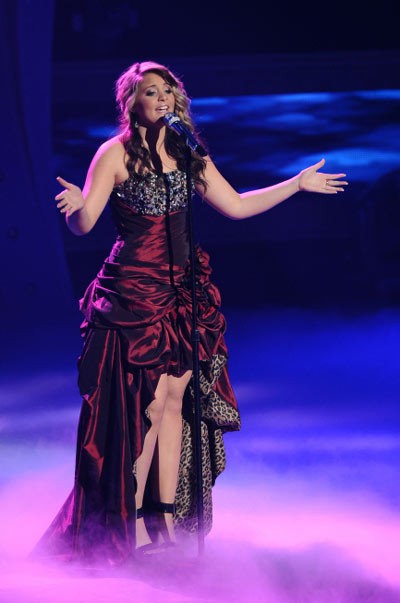 Lauren Alaina's Second Performance: "Trouble" by Elvis Presley
Gaga Said: Her voice sounded so honest.
Steven Said: I just love you.
J-Lo Said: I saw a performance quality in you that I hadn't seen before.
Randy Said: I actually really enjoyed it.
The Verdict:
Oh come on. I mean seriously, come on.
This is nothing but a High school talent show or beauty pageant performance.
Look, if you're going to change the arrangement in any way whatsoever and sing it with your little teeny bopper country voice, that's fine. But when you sing it to the record you have really got to sing in a blues voice. This is a song that requires some level of rawness. Some amount of heat. Not a flat and boring vocal being spit out by somebody who sounds like she should be holding a pinwheel.
This was just a complete and utter amateur performance. Poorly sung as she was trying desperately to keep up with the rhythm and melody the entire time, and absolutely nothing interesting about it at all.
Other than the train wreck factor.
Grade: F
Prediction: I dunno. She bottom-twoed last week, and these two performances seemed to me like they'd get lost in the craziness of the evening. I think she's in trouble.
Final Thoughts:
Up and down, up and down, this show was an A or an F with very little in between. Be it the insane mentoring of Gaga, the classy interview with the featured songwriter, or the performances themselves this show hit all ends of the spectrum. Making it one of the more entertaining shows of the season.
After all, this show has always thrived on both the bad and the good. And a night that saw a zombified Gaga talking at contestants in the midst of variety show rejects and wonderful reinventions of classic tunes definitely runs that gamut.
But this week is for the ultimate prize of getting to go home and have people scream for you (That's the ultimate prize, right?) so all that really matters is who will go home.
I think we're destined for a Scotty vs. James final show so it's the two girls that are in danger this week, but who's it going to be? In one corner we have the dully forgettable Lauren Alaina and her strange dresses. In the other corner we have Haley Reinhart with her absolute dud and her absolute gem to go along with her yelling at the judges.
Deciding…Deciding…
I think, in the end, being forgettable will outweigh being unlikable and this will be Lauren's time to go home. But it's very close.
What did everybody else think of last night's show?