'American Idol' Recap: The Final Four Get Three Shots At Glory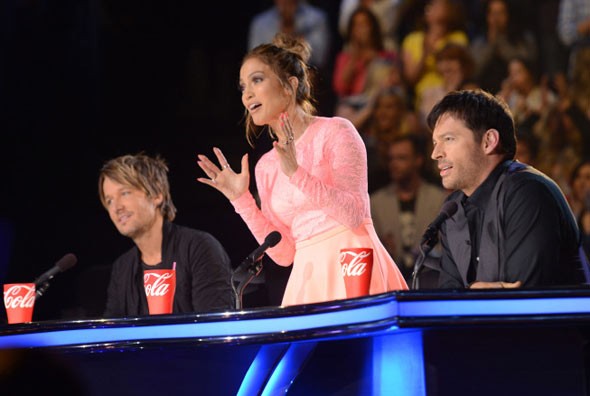 It's a night of good news for 'American Idol' as it became official that the show will be back next year for another season despite its dwindling ratings.
That also means that all you Starpulsers will get another season of me writing way too many words about mediocre singers attempting to look like superstars. My fingers are already getting tired just thinking about it – so let's give them a rest with a lightning round recap of last night's show.
It's three for four as there are no duets and each contestant takes on love, breakups and makeups with a trio of performances. Again. Fingers. Tired. Let's get to it.
Caleb Johnson sang "You Give Love a Bad Name" by Bon Jovi
Keith Said: It was not a cover, but a Caleb slayer.
J-Lo Said: I always feel like I'm at a rock concert with you.
Harry Said: You sing the same lick every time.
The Verdict:
It's another Caleb performance - another iteration of his tribute band rock act, except this time he seems to be missing his Caleb gear as he just sings along to the record like a good karaoke singer. Just nothing about which to get enthused.
GRADE: C+
Pink Hair sang "Since U Been Gone" by Kelly Clarkson
Keith Said: You need to make these people feel everything.
J-Lo Said: I felt that you felt the song, but I don't feel like it was the best song for you.
Harry Said: I know you can do better than that.
The Verdict:
A weirdly dull downer of a performance from Pink Hair. She puts a little Veruca Salt on it with the 90s alternative attitude to match. Too bad that sucks all the life out of the tune and also saps much of the strength from her voice. This just felt wannabe the whole way.
GRADE: C
Alex Preston sang "Too Close" by Alex Clare
Keith Said: You need to own the song more.
J-Lo Said: Are you making a moment where you can win the competition?
Harry Said: You took that tune down to the bare bones and built it up in your style.
The Verdict:
Alex has this strange knack for making terrible songs bearable. This is a perfect example as he turns this annoying bit of dubstep nonsense into a real groove-folk track that feels totally authentic rather than overproduced nuisance of the original. It takes real talent to turn crap into gold and he does it almost every week.
GRADE: B+
Jena Irene sang "Heartbreaker" by Pat Benatar
Keith Said: It wasn't like a full, committed, energetic release within the song.
J-Lo Said: It was a very commanding performance to me.
Harry Said: Take the shoes off and jump around.
The Verdict:
This just sounds like a wannabe teen rocker trying to sing a song that's over her head and coming across like nothing more than a karaoke queen. This is not up to Jena's standards the last few weeks or really the standards of this point of the competition.
GRADE: C-
Caleb Johnson sang "Travelin Band" by Creedence Clearwater Revival
Keith Said: You lit it up with the band. Excellent.
J-Lo Said: You're going to be tough to beat.
Harry Said: Nice performance. It was terrific.
The Verdict:
Seeing Caleb multiple times reveals how limited he really is. This performance is a complete replica of his first – he does his arena rock thing, adds nothing new to the song and eventually gives us his big scream to trick people into thinking he has talent beyond what he is. There's just not much there.
GRADE: C+
Pink Hair sang "So What" by Pink
Keith Said: You need a song where you can tell the story like nobody else.
J-Lo Said: It wasn't right for you.
Harry Said: I've heard you do better. That was not the best song for you.
The Verdict:
At long last, Pink Hair takes on Pink! Finally!
After weeks of anticipations, this is a major letdown as Jessica seems bored with the song even as she's singing it and actually gets a bit lost in the song in moments. She recovers somewhat by the end, but not enough to avoid making this a minor catastrophe.
GRADE: D+