'American Idol' Recap: The Contestants Rock Some Hall of Famers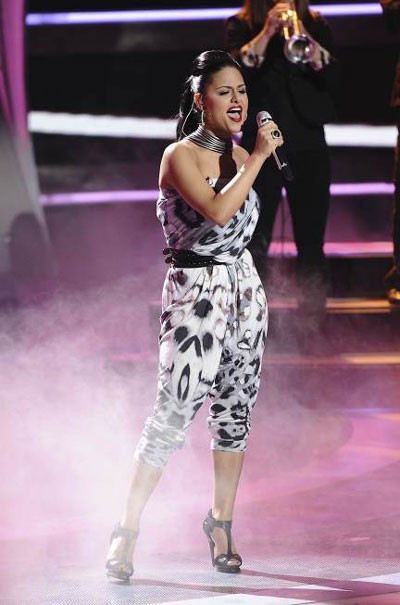 It's official: These judges stink.
At the beginning of the year, all anybody wanted to talk about was American Idol's new judging panel. After all, Simon was gone and this was one of the biggest casting shifts on a hit TV show since Darrin got replaced by Darrin on 'Bewitched'.
On those initial shows, the judges were a breath of fresh air. Gone was the snarkiness and waiting around for Simon to speak and in was a cohesive unit that actually seemed to enjoy each other.
All was right in 'Idol' land and when an incredible batch of contestants (spearheaded by the wonderful Molly Dewolf Swenson, at least in my mind) entered the fray, the judges were something of an afterthought, and haven't been discussed much since. The show's about the contestants anyway, right?
Well, that's not entirely true. The judges are still a huge part of the show and for the last few weeks they've been just plain awful. Everybody's good. Every single person is great. They have 11 Michael Jacksons up there and just can't seem to get over how wonderful everybody is.
Except that's not the case. Yes, this has been probably the most solidly good season in the last five, but that doesn't mean everybody is a four-star, A-Plus, blowaway genius every single night. There are times when praise isn't warranted. And it helps people know who to vote for.
I can't help but think that if Simon were around he'd be in the midst of a battle with Casey that recalled his duel with Sanjaya. He'd have fixed Bad Jacob by week one when he called him to self-indulgent. Haley would have been either long gone or much improved.
Simon actually differentiated between performances. There were different levels of quality in his eyes. Not everyone was great and some were better than others. His judgments made sense.
Now we have this batch. Three talking heads who sit around waiting for their turn to say how great each contestant is. It doesn't matter who they are or what they sing. Everybody's wonderful and this isn't a competition at all.
And we got more of that last night. The show was once again very good, but in the judges' eyes everyone was equally wonderful and there wasn't a stinker in the bunch.
That, of course, was not true. But before we get to the breakdown of the performances, let's start in the usual way…
Random Thoughts Waiting for the Actual Show to Start:
I love Rock 'N' Roll. Just absolutely love it. Basically my entire youth was spent watching VH1 (when it was a channel devoted to the history of rock) and listening to my dad's old records. So obviously I'm going to eat the Rock 'N' Roll Hall of Fame intro up with an Ice Cream Scoop. Even if it did include a really creepy bust of Steven Tyler.
A pretty quick intro so that leaves me plenty of time to promote my Twitter feed! Yes, you can follow me @paynehumor on Twitter. You should do it. You really should.
And, here we go…
Jacob Lusk sang "Man in the Mirror" by Michael Jackson
Jimmy Said: He's got to feel comfortable with the truth of what he's singing.
Steven Said: Every time you sing you bring another little piece of yourself to the party.
J-Lo Said: That's it! Perfect in every way.
Randy Said: Dude, I'm so proud of you.
The Verdict:
This rendition takes me back to the early 90s. You remember the time. When groups like All-4-One and Boyz II Men were exchanging number one hits and weird numeric spellings of their names. That time.
Jacob sounded readymade for that era of radio with a smooth honey-dripped soul that had a bit of the life taken out of it in favor of a pop sensibility. In other words, he is ready to be a recording artist and this proved it.
Plus, we didn't have any bad Jacob here. No over-singing. No vocal gymnastics. Just a spot-on vocal that stayed inside the melody with a focus on delivering that pure soul. And boy did he deliver.
Grade: A-
Prediction: That was too good to be threatened by going first.

Haley Reinhart sang "Piece of My Heart" by Big Brother and the Holding Company
Will.I.Am Said: You sound like an artist, not a singer.
Steven Said: I can't find anything wrong with that.
J-Lo Said: You're showing you're a contender
Randy Said: That's the Haley that we fell in love with.
The Verdict:
Yowza! Here comes Haley!
Out of nowhere we get a searing performance from Ms. Reinhart. A real Rock 'N' Roll vocal with all the dirt, grit and grime we expect from a real skuzzy rock chick. She doesn't gussy it up with a 'good' vocal or worry about being 'pitchy' instead she just digs her larynx into it and grinds away – giving a performance I didn't know she was capable of.
The only problem here is that she did absolutely nothing original with the song. This was a karaoke performance right off the record. Had she tweaked it all. Or, y'know, actually covered it – this would have been a very high grade. As it stands, it's just a…
Grade: B
Prediction: Once again, Ms. Haley is looking safe.

Casey Abrams sang "Have You Ever Seen the Rain?" by Creedence Clearwater Revival
Jimmy Said: Don't change the melody. That's Vegas!
Steven Said: You're not just a singer. You're a true musician.
J-Lo Said: I'm paying top dollar to be in the front row.
Randy Said: You definitely made CCR proud.
The Verdict:
What a dumb, stupid, boring performance. Casey takes all the grit. All the soul out of this wonderful blues-rock song and sings it like a frat boy performing for a few drunk hipster chicks with a ridiculous major key arrangement and a clownish smirk on his face.
He's off the melody the entire time, inventing phrasing that makes absolutely no sense and at times doesn't even sound like he's singing – just sort of humming along with the tune and forming words by happenstance.
There's no sense of life to this performance. It's just something you'd see at a bus stop or the smoky corner of a lounge in Laughlin.
No. Not Vegas. Because this would never make it there.
Grade: D
Prediction: He went out once. And this one was sort of forgettable – despite the judges' overwhelming (and inexplicable) praise. I think he's in danger again.

Lauren Alaina sang "You Make Me Feel (Like a Natural Woman)" by Carole King
Jimmy Said: What Lauren's doing is magic.
Steven Said: Tonight you are a natural born woman.
J-Lo Said: She's amazing!
Randy Said: I wasn't jumping up and down, but I think you did a good job.
The Verdict:
I feel like something must be said about Lauren's hair. It looks like a cross between Snooki, the members of Scandal circa 1987 and the undercover female FBI agent who befriended Adriana in 'The Sopranos'. Not sure who decided the Robin Sparkles would be a good look for her.
As for the performance. Nothing bad. Nothing great. She sort of treads water along the melody with a good voice and digs into some richer notes near the end.
The problem is that these big notes were the only interesting part of the performance. The rest was just sort of dull. She sang the record. Stood still. And didn't do anything special.
At least Christian Slater seemed…alive?
Grade: C+
Prediction: Another bland-ish performance toward the middle of the show. Could be a bit tough.

James Durbin sang "While My Guitar Gently Weeps" by The Beatles
Jimmy Said: That would be 'While my Guitar Gently Sleeps'
Steven Said: That's really a proud moment for you.
J-Lo Said: This makes the Rock 'N' Roll thing work.
Randy Said: I loved seeing the real true emotional side of James Durbin.
The Verdict:
A major change for James here. He sits on a stool, puts his scarf tail around the mic stand and just attempts to slay a vocal with some level of restraint. And he pulls it off for the most part.
Yes, this performance was a bit somnambulistic, but James managed to hit some very sweet notes inside the melody. It's nice to see him change it up so drastically. I was beginning to grow tired of the running all over stage and screaming the same song. Here he saves his scream for the end and uses it very strategically with great impact.
This performance really worked for me. He totally connected to the song, and while he slowed it down significantly, there certainly wasn't anything boring about it.
Grade: B+
Prediction: A big emotional swell. That will always win you votes.

Scotty McCreery sang "That's All Right" by Arthur Crudup
Will.I.Am Said: Combine two things that don't go well together but when they do it tastes good.
Steven Said: You did it well.
J-Lo Said: I feel a little bit of flavor in there.
Randy Said: Scotty is in it to win it.
The Verdict:
Let's get the vocal part over with: It's fine. Nothing bad. Nothing great. Just okay.
Now on to the performance. Or should I say, the abomination. Watching Scotty strut around holding the microphone at a rakish angle and attempting to act sexy is one of the more disturbing things I can imagine.
Unfortunately, I no longer have to image that. Because I just saw it. I just was this 17-year-old boy making eyes at the camera like a parody of himself and hugging a small cadre of girls who were obviously coached to jump onstage like Scotty was actually Elvis and not a gawky teenager attempting to wriggle out of a pair of tight jeans – because that's what it actually looked like.
Grade: D-
Prediction: Scotty's bulletproof at this point so he can rest easy. 

Pia Toscano sang "River Deep - Mountain High" by Ike & Tina Turner
Will.I.Am Said: Don't be like Madonna singing Tina Turner.
Steven Said: Murderer! You killed it. There's a million guys in a million bars having a million drinks about you tonight.
J-Lo Said: You are really really really special up there.
Randy Said: You can definitely deliver on an uptempo.
The Verdict:
I don't know why anybody was worried about Pia singing this song: This girl has a humongous diva voice that's absolutely going to slay anything you put in front of her.
Here, she goes all out – unleashing her instrument from the word go for a poppier version than the hard scrabble soul original, but one that really works well.
Pia flashes the full range of her vocal ability here. The runs, the big notes, the vibrato and she does it all while completely owning the song and owning the stage and the song.
Pia simply put on a show. She's past competing.
Grade: A-
Prediction: I really hope the voters don't take the judges constructive advice as anything negative. Though I doubt they will.

Stefano Langone sang "When a Man Loves a Woman" by Percy Sledge
Jimmy Said: He needs to get in front of the song and lead it.
Steven Said: I think you nailed it tonight.
J-Lo Said: That was beautiful.
Randy Said: It was good, but I wasn't jumping out of my seat.
The Verdict:
I think this was Stefano's best performance.
There was no longer a sense of his simply shutting his eyes and trying to be technically perfect here. Instead, he let himself fall completely into the melody and connect fully with the song.
Because of that, his vocals felt more authentic and the quality was improved further from his usual technical brilliance.
There was another layer to this performance and it allowed Stefano to hit another level. It was a bit old-fashioned and Stefano did little to put his own spin on the song, but the vocal, and performance, was as good as it's ever been from him.
Grade: B
Prediction: It was a bit sleepy and may not stand out enough for voters. She could hit the bottom three again.

Paul McDonald sang "Folsom Prison Blues" by Johnny Cash
Jimmy Said: It was humble and exactly the right tone.
Steven Said: You rocked the house
J-Lo Said: It was a perfect way to end the show.
Randy Said: I loved it!
The Verdict:
This performance just isn't quite an 'American Idol' performance. It's a fine bit of fun in a honky tonk with beer bottles smashing against the wall behind the band, but on this sort of show it doesn't work at all.
I have no idea where Paul's voice is in the middle of all this mess and I'm not even sure if he's actually singing. In other words, I'm not sure how he's competing with this performance at all. After all, it is a singing competition.
That's not to say it was bad. It was a lot of fun. The guitar was cool and his two compadres really killed their parts. In fact, I really dug it. I just have no idea what it was doing on this show.
Grade: Incomplete
Prediction: Goodbye, Paul.
Final Thoughts:
This was kind of a predictable show. At this point we know that James, Pia and Jacob are the real talents, Scotty is the fan favorite, and the rest will just sort of sort themselves out.
Well, of those five, the sorting seemed pretty easy. Haley and Stefano came out and gave their best performance so far, and memorable ones at that. So I have to think they're safe.
That leaves Paul, Lauren and Casey. My knee-jerk reaction was that Paul was on his way out. But the more I think about it – he has too much going for him: He's got the Vote for the Worst backing, he had the pimp spot, the judges loved him, and the rest of the show following his performance was basically a continuation of his song. So I think he's safe.
So it's Lauren and Casey. Call me crazy, but I think it's Casey's turn to go home. Again. There was just nothing memorable about that performance at all. Plus, I have no statistical backing to support this, but I believe that going first in the rare two-performance act is a recipe for doom since your performance is almost instantly wiped out of viewers' minds.
So once again, I think Casey is on his way out.
What did everybody else think of last night's show?