'American Idol' Recap: The Contestants (& Judges) Disappoint On Movie Night
I just couldn't wait to see how they did.
For once, I'm not talking about the contestants. Last night it was the judges' performance that had me most anxious for the show to begin. After Pia's exit, they'd been taking a ton of flak from myself and endless other ' American Idol' recappers saying it was finally time for them to toughen up.
And this was the perfect night to test. After weeks and weeks of solid performances all down the line, last night we got our first really consistently bad night from the contestants. A night that totally blew out my restrictive theme theory – because last night (Songs from Movies) was as wide open as it got, and the contestants just couldn't seem to pick the right songs or get in the right tune. At least most of them couldn't.
But that's exciting! After weeks where the judges could be (kind of) forgiven for not being too tough, we finally have a real litmus to see if the fangs will come out and the judges will actually differentiate between the good and the bad.
So how did they do? Read on to find out…
Random Thoughts Waiting for the Actual Show to Start:
Yes, I've been ranting about this quite a bit, but it bears further repetition: I am sick of watching J-Lo cry at Pia's ouster. If you were so saddened and so surprised that she went home and didn't think she deserved to go down like that you should have made that clear before. You had several weeks to tell us you thought Pia was the best. You didn't have to wait until after she was gone to do that! There. That's it. I'm done.
The "Most Beautiful Girl in the World" tribute they played to J-Lo is pretty much what played in my head like a cartoon thought bubble for the criminally small amount of time we got to see Molly DeWolf Swenson on the show. Did the producers voter her off because they knew her constant presence would cost J-Lo the crown from People Mag? I smell a conspiracy!
What's that? Oh! It's more Will.I.Am. How will he embarrass himself this week? What advice will he give the contestants that does nothing more than bewilder them? What insane portmanteau words will he invent that don't make any sense? Find out this week on 'American Idol'!
But first, I must remind you to follow me on Twitter @paynehumor!
And now, here we go…
Paul McDonald sang "Old Time Rock 'N' Roll" by Bob Seger
Jimmy Said: Paul has his own take and we had a great time at rehearsal.
Steven Said: Forget that. Who's your sax player?
J-Lo Said: It's like watching a diamond in the rough and every week a little more polish.
Randy Said: You just witnessed the first number at the Paul McDonald concert.
The Verdict:
Uh-oh. We're on High School Talent Show Defcon 7 with this performance. Paul comes out prancing around like he'd rehearsed the entire routine in front of a mirror with his clock radio blaring and thought to himself, "Yeah, that's about right." No inhibitions and no grace either.
But the real culprit here is the song. Why in the world would you pick that song? From what I can tell, the melody has about three notes total in it, and not a single point where a singer can really show off their instrument.
Because of that, this song can never really rise above the level of a mid-40s Beer Band getting the crowd up on the peanut shell-covered floor at a local hang. Unless, of course, Paul had totally reinvented it. Which he didn't.
At least the sax player was cute (though only about a 7 on the Molly Dewolf Swenson Scale).
Grade: D
Prediction: I'm not sure how he gets over that out of the

Lauren Alaina sang "The Climb" by Miley Cyrus
Jimmy Said: You're a much much stronger singer than Miley Cyrus. You can take the Pia fans with this song.
Steven Said: I love what you bring to a song and I love more what a song brings to you.
J-Lo Said: I want you to go further because I know you can go further.
Randy Said: The Lauren we first saw in Nashville came roaring back.
The Verdict:
She's not quite Pia with this song, but she comes decently close.
Alaina's always been best when she stays in a country mode. She has that hint of a twang in her voice that's both pop and Nashville simultaneously. It serves her really well on these ballads, and when she digs into a real country tune like this, you can hear exactly what sort of recording artist she should become.
However, she still seems awkward onstage and a bit overwhelmed by the arena, and there were some parts where she fell totally flat on some of the bigger notes that better singers just slay. Plus, she didn't do anything original with this song.
Those aren't major flaws though, just reasons the performance wasn't flawless. It was still pretty darn good though.
Grade: B
Prediction: Jimmy's right – she can absorb the Pia votes and hang on to her young girl contingent.

Stefano Langone sang "End of the Road" by Boyz II Men
Jimmy Said: If you brought that record in we'd put it out.
Steven Said: You proved you know how to milk a song. This is not the End of the Road for you, it's the beginning.
J-Lo Said: You now know the key.
Randy Said: Stefano just slayed the song. Your best vocal on this stage to date.
The Verdict:
I can't help but think Stefano's up in his head about thinking he should have gone next week and that his notes on the show are numbered. It really shows through in this performance as he is just straining to be perfect. If he were going at it any harder he'd be having psychosexual dreams about Mila Kunis and growing wings.
That reaching makes his performance a scattershot combo of brilliance and exasperation. There's a great note there, and oversung moment there, a spot where he connects with the song, a part where he just seems to be flailing his limbs. In other words, it's just all over the place.
And consistently…inconsistent.
Grade: C
Prediction: I dunno. I just don't know. The judges really loved him, but I thought it was a bit forgettable and he's been so close so many times. So I think he's in real trouble again.

Scotty McCreery sang "Cross my Heart" by George Strait
Jimmy Said: I wouldn't have changed the song.
Steven Said: You picked the just right song.
J-Lo Said: Everybody wants us to be tough, but you guys are so damn good.
Randy Said: A star is born on this stage.
The Verdict:
I agree with Jimmy in that I have no idea why you'd turn your back on one of the great songs ever written, especially when you appeared to be slaying it rehearsal, and go with this treacly dreck, but Scotty does what he does.
And the performance is just so…dull. Maybe it's the terrible song he chose or the stool he sat on almost the entire time like a gargoyle on Quaaluudes, but I found nothing enjoyable about watching this performance. It was just sort of a dreary trip to the doldrums.
And Scotty's voice, usually so pure, was shaky and pitchy all over the place. He couldn't sustain a lot of the runs and just felt off throughout. Probably his worst so far.
Grade: C-
Prediction: Scotty is going to win. Simple as that.

Casey Abrams sang "Nature Boy" by Nat King Cole
Jimmy Said: Casey chose not to take the help. He better be right.
Steven Said: You are an artist in the truest sense of the word.
J-Lo Said: (No idea. Just rambled for a while and compared Casey to Norah Jones.)
Randy Said: We have real true artists on the show.
The Verdict:
Here's the thing about this performance: I dig it. At least I would have dug it if Casey was even 10% as good as he thought he was.
What is he really? A lounge act parody. Not even a real lounge act. He's like Bill Murray singing 'Star Wars'  at the first rehearsal and saying, "I better make this better – it's so bad nobody will even believe I'm an awful lounge singer."
That's how bad this was. It was insanely self-indulgent drivel from somebody who is so far away from what he does well that he'll never find a road back. He couldn't sing a lick and just sounded creepy.
That was the first performance in the history of this show that I felt the audience would have been justified in booing.
Grade: F
Prediction: God, the judges loved him. He gets to continue to be safe.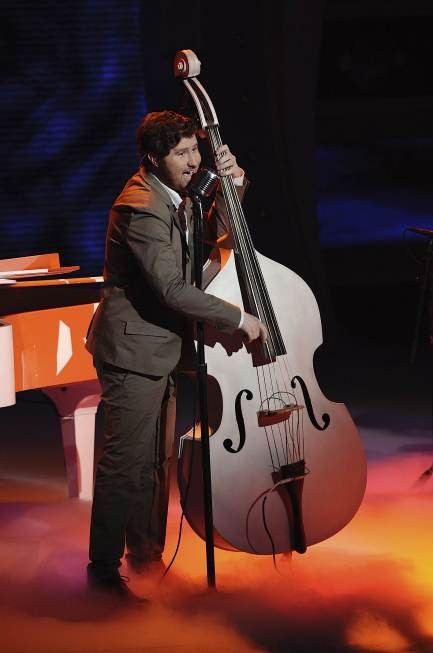 Haley Reinhart sang "Call Me" by Blondie
Jimmy Said: I'm thrilled with where Haley is in this competition right now.
Steven Said: I agree, it was a bit karaoke, but the chorus was good.
J-Lo Said: I agree that it was pretty karaoke, but I don't want the girls to go home.
Randy Said: Felt really karaoke to me.
The Verdict:
Oh, the expectations were so high when she was rehearsing. In front of Jimmy and Will she sounded like Kim Carnes with what I thought would be a stripped down and ultra-cool version of this song. But that never happened.
Instead we get a Vegas go-go review of this song with what sounds like canned Muzak backing her as she just haphazardly decides where to embellish the melody, where to scream and where to miss notes (the last part happening more than all others.)
At least she strutted around the stage like a drunk 90-year-old fumbling for her brain medicine. That was at least entertaining – though not in the way she was intending.
Grade: D-
Prediction: What's that? The judges are critical? Looks like Haley is dunzo.

Jacob Lusk sang "Bridge Over Troubled Water" by Simon & Garfunkel
Jimmy Said: You don't wanna be corny right now (referring to Jacob's first insane choice to sing a song from "The Man of La Mancha")
Steven Said: You put so much of yourself in to the song.
J-Lo Said: I didn't want you to give me the chills but you did.
Randy Said: It was like perfect perfect perfect.
The Verdict:
See, I've been having this trouble with my eyes lately, and I'm not entirely sure of this performance. Can a reader just confirm to me that Luther Vandross wasn't actually singing that song? That we didn't just have his ghost give us one last performance? Because I could've sworn that was Luther.
Why? How about because it was a perfect vocal. Absolutely killer. Every note was a tactical strike. He slipped into runs, made a mess, and went huge at all the right spots. Turning a gorgeous acoustic song into a gospel ballad for the ages.
This is what we need on 'Idol'. Reinventing a song, slaying the vocal, connecting completely with the moment and showing real artistry. That's what real artistry looks like – not Casey fumbling through a stand-up bass line.
Grade: A+
Prediction: He can't possibly be in the bottom three after that, right?

James Durbin sang "Heavy Metal" by Sammy Hagar
Jimmy Said: You gotta be careful this week, and that wasn't careful.
Steven Said: Oustanding, Durbin.
J-Lo Said: That felt really really real.
Randy Said: You guys were just at a James Durbin concert. This is unbelievable.
The Verdict:
That was fun. James sure can scream. He can definitely put on a Heavy Metal show if it were 1986. He's got a ton of stage presence and charisma. Zack Wylde can absolutely shred.
All that's true, but what was it doing on this show? 15% of the song was Wylde's guitar solo. Isn't this supposed to be a singing competition and not a heavy metal tribute band bee?
Still, it was pretty rockin'.
Grade: B
Prediction: Nobody's forgetting that. Durbin knows how to make his mark.
Final Thoughts:
The judges wouldn't let you know it, but this was probably the most consistently bad night we've had all season. Which actually speaks to the quality of contestants this season – this week's scorecard was pretty much de rigueur for me the last few seasons. Still, it wasn't much of a night with only three that I thought really did a good job.
Those three are Jacob, Lauren and, of course, Jacob. I see no reason for those three to lose any sleep this week. I'd also, regrettably, say that Casey is safe after the judges fawned all over him to the point of satire. And, of course, Scotty is bulletproof.
That leaves the most clear-cut bottom three we've had so far with Paul, Stefano and Haley taking their trips to the stools. It's been nothing but ladies hitting the bricks so far this year, a trend that feels like it has to end soon, but I don't think it will be this week.
Haley was the only contestant of whom the judges were even slightly critical. I think that does her in and we're down to six guys and only the lonely Lauren Alaina representing the fairer sex.
It never would've been this lopsided had they let Molly Dewolf Swenson into the top 24. But, of course, we all know about the conspiracy now.
What did everybody else think of last night's show?