'American Idol' Recap: The Contestants Do Carole King Proud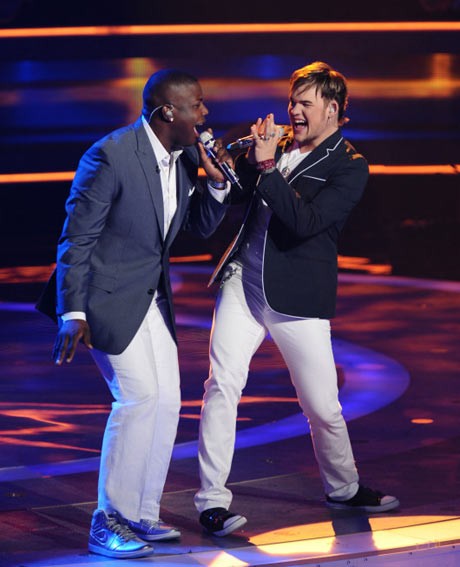 I've eaten a lot of crow this year between the saying Scotty had no chance to win and proclaiming Molly Dewolf Swenson the most beautiful woman on the planet (okay, I was right about that one), but I was never as wrong about anything as I was about the restrictive theme nights.
It seems this year, the more restrictive the theme, the better the contestants have been. They blew it out on Elton John night, did a solid Motown evening and haven't had any trouble adapting their styles to whatever song choice or genre is thrown at them.
In fact, tonight, on an evening devoted entirely to Carole King, one contestant gave the best performance of the season – maybe the best in the history of the show.
Who was it? Read on to find out…
Random Thoughts Waiting for the Actual Show to Start:
I enjoyed Seacrest's voiceover in the Carole King piece stating that, "King is arguably one of the most successful and revered female songwriters of all time." Really? There's an argument about this? Who's coming down on the other side of that one?
If introducing them one-by-one before the opening credits wasn't enough, here's all the 'Idol' contestants introduced again as a group. I look forward to the night when we get down to four contestants and the producers have to figure out a way to introduce them fifteen times in one show!
Now why didn't Babyface get the "arguably" title attached to Seacrest's compliments. The argument's over about Babyface but we're still debating Carole King. A bit backwards, I think.
And now, here we go…
Jacob Lusk sang "Oh No Not my Baby"
Jimmy Said: You gotta let yourself go and riff.
Steven Said: We all knew you could sing. It's just about time you shake your tail feathers.
J-Lo Said: There were spaces when it wasn't perfect, but you brought it home at the end.
Randy Said: You brought yourself back and had an energetic performance.
The Verdict:
For some reason, Jacob decided tonight was a good idea to dress like an extra in Outkast's "B.O.B" music video. Or maybe it was a college professor from the Merry Band of Pranksters. I can't quite decide.
This performance was a very slow build. It started out a bit light, a bit weak as Jacob struggled with his falsetto and everything came out a bit lifeless. Then the horns kicked in and seemed to energize him. Suddenly, a performance in danger of being dull was filled with soul.
By the end, Jacob was in full on Lusky Stank mode. Riffing and scatting like somebody who actually knows what they're doing (see: Not Casey) and digging into the full force of the Motown grooves coming from the excellent band behind him.
Jacob didn't quite deliver the blowaway vocals of some of his better performances. But this one was just as much fun to watch.
Grade: B+
Prediction: Out of the lead spot, he's always in trouble. We'll see how the duets work out.

Lauren Alaina sang "Where You Lead"
Jimmy Said: Big stars have problems just like Lauren.
Steven Said: When your voice broke, that's when you shined. (Huh?)
J-Lo Said: I felt you pushing. I felt proud.
Randy Said: She came out with a little extra swagger.
The Verdict:
Sorry, can't hear this song without thinking about 'Gilmore Girls' and reiterating for the 475,000th time that there simply cannot be a television show more underrated than that Stars Hollow-set masterpiece.
Of course, that excellent series might have stayed on my mind more if it wasn't for the ludicrous arrangement of this song with its constantly shifting tempo and schizophrenic bounce between funk, Motown and country. Nothing about the arrangement made since.
And the vocal was just nothing. Just absolutely nothing. Lauren couldn't have sung more than three notes the entire time and seemed to be struggling with her air throughout, running out of wind on several of the longer phrases. Just an incredibly boring vocal that didn't do anything to show off range, tone, or anything related to singing. Unless you consider a backup vocalist on a Disney princess cruise to be the epitome of excellent singing.
At least she dragged a creepy inbred Zach Gilford look alike up on to stage.
Grade: D
Prediction: She's never been in real trouble, and after those insane raves, I feel no reason she would be at this point.

Casey and Haley sang "I Feel the Earth Move"
Steven Said: Hey, weird beird. How much in love with Haley are you? (No answer)
The Verdict:
Just a very average performance. You could tell Casey thought he was killing it and Haley was certainly having a lot of fun, but there wasn't a single bit of vocal chemistry between the two. It was two individuals singing their sections without much regard to what the other was doing. A good duet makes the most of its individuals, it doesn't separate them.
On this, they couldn't be farther apart. Just taking turns to grown their parts and jump around the stage like out-of-work actors trying to entertain kids at a birthday party on the weekend to make ends meet.
Grade: C

Scotty McCreery sang "You've Got a Friend"
Jimmy Said: He needs to deliver the subtlety and poignancy in a way that moves the audience and judges.
Steven Said: I don't think you ever sang better.
J-Lo Said: When we hear you sing like that is why we can't let you get away with last week.
Randy Said: It was almost flawless, just don't fall off the high notes so roughly.
The Verdict:
The amazing thing about Scotty is how effortlessly he tailors songs to his voice and makes them seem like a down-home country ballad. It seems he can do that with anything, even singer-songwriter pop like this.
This was also a bit of departure for Scotty, as he moved a bit outside the straight country that seems to be the whole of his repertoire. There were some nice hints of other influences here. Mostly, I heard a touch of Eagles and that sort of 70s Southern California sound in what he did with this song. And that certainly made this more interesting than his normal country performances.
But he went beyond the arrangement. For once, you could feel Scotty's complete connection with the song. His phrasing and delivery hit on every level. He masterfully captured the emotion of the song, singing it like a seasoned pro ready to seduce all of America through the television.
This was Scotty's best so far.
Grade: A
Prediction: Yeah, so he's safe.

James Durbin sang "Will You Love Me Tomorrow?"
Jimmy Said: Carole King and James Durbin were made to come together. This sound and this feel is why I got into music.
Steven Said: You had me sold on it right in the beginning. I didn't like the rock part at first, but it grew on me.
J-Lo Said: I thought from the beginning it was magical. You are gonna be the star of the night. James has had a strong week every week.
Randy Said: Tonight you weren't just a great rock singer, you were just a great singer. That was one of the best performances of the last few months. This guy just might win the whole thing!
The Verdict:
I had no idea James had this in them. No clue whatsoever. Just when I'm ready to pigeonhole him as a heavy metal rock guy, he delivers a vocal that brought out the ghosts of the Righteous Brothers early recordings. Just that pure, that radio-friendly and that powerful.
And he made it seem so freaking easy. He was just up there having the time of his life as he laid waste to this Carole King classic, leaving piles of decimated notes in his wake. Just an absolutely stunning vocal.
And that's before we get to the arrangement. Had he put this record out at any time during American Bandstand's heyday, he'd have had the girls in Philadelphia dancing and Dick Clark grinning as he announced it'd spent another week at number one. That throwback rock vibe was so kitschy, so catchy, and just so alive that I half-expected to look up and see a 45 record spinning in my living room and my TV set changed to black-and-white.
I don't think there's ever been anything like that on 'Idol'. Certainly nothing much better than that.
Grade: A+
Prediction: I've never bought in this much – I'm assuming America will agree.

Scotty and Lauren sang "Up on the Roof"
J-Lo Said: Lauren you sing your brains off. You did a really good job too, Scotty.
The Verdict:
If country honky-tonks had elevators, this is the music that would play inside. Nashville muzak at its most watered-down.
Lauren definitely came out the loser here, as her flat and childish vocals just couldn't compare to Scotty's smooth country. She's clearly out of her league in this tandem. Even if the judges rate them as being on the same level.
Grade: C-
Prediction: What's that? The judges are critical? Looks like Haley is dunzo.

Casey Abrams sang "Hi-De-Ho"
Jimmy Said: He has to make every note count.
Steven Said: You definitely found your niche. You definitely work the stage well.
J-Lo Said: You're definitely in your element.
Randy Said: I'm excited every time you're up there.
The Verdict:
I have the same deal with Casey every week – if he was half as good as he thought he was, I'd really dig these performances.
The problem is that he writes these huge checks but doesn't have nearly enough in his bank account to cover the debt. And you can feel that confidence pouring out through him in every performance to the point that he seems incredibly cocky on stage. That his entire performance is simply a self-indulgent four minutes saying nothing more than, "look at me, I'm super creative and brilliant. Are you just loving this?"
Not really, Casey. But I'm not hating it either. At least not as much as I normally despise the Casey oeuvre. His voice definitely fit well on this version – as he made it something of a Disney cartoon jazz number – which is exactly the level of jazz he has in his voice and his performances. I still don't understand how any of that is current, or why somebody on a pop music show would choose to go the lounge act route, but here we are.
Grade: C+
Prediction: I dunno. The judges weren't in typical Casey wonderland this week. I smell a bottom three in his bearded future.

Haley Reinhart sang "Beautiful"
Jimmy Said: Hit the "get" in the song.
Steven Said: I heard God in your voice.
J-Lo Said: You have one of the best voices in this competition.
Randy Said: I didn't love the beginning but the end was great.
The Verdict:
This definitely had a lot of 70s vibe to it. Haley did an excellent job of matching her vocals to the horn swells and the softer portions of the song. The contestants don't normally do those huge swings on this show – preferring to either go on one long crescendo or stay on the same level throughout, but Haley had no trouble handling several types of vocals here.
And she got stronger as the song went on. She mentioned a monitor issue before they start, and that could be the culprit in her being overwhelmed by the music a bit at the beginning, but by the end she was absolutely commanding the stage and owning the vocal with Haley's trademark tenacity.
Suddenly, she's delivering solid performances every week.
Grade: B
Prediction: Is Haley safe again? She got the (kind of) pimp spot and that just might work out for her.
Jacob and James sang "Something Tells Me I'm into Something Good
Steven Said: Man, where were you going with all that?
The Verdict:
Wow, this was a trainwreck on the level of the ridiculous 'Idol' medleys at the beginning of each episode. From the insanely candy-coated arrangement, to the dissonant harmonies, to the clownish way each chose to the sing the song, this just screamed campy cheese.
And just when you thought it couldn't get any cornier, they close the song by having a sing-fight argument like something in an off-off-off-off-Broadway musical.
It was just awful. Except, it was so bad that I actually really dug it.
Grade: A (But really an F-)
Final Thoughts:
Clearly, the producers are onto something with picking only one artist for the contestants to choose from. Or maybe it's simply that these artists happen to have written great songs. Whatever the case, two more great performances tonight, and two all-timers to go along with the Caseys and the Laurens of the world.
Performances so good, that for the first time ever, I actually rewound the show at the end to watch back James' performance. It was simply that good and I was that entertained by it. I don't normally enjoy 'American Idol' performances on the level that I enjoy listening to regular music – but this time it worked. And I have to give credit to the producers once again. Who knew restrictive theme nights could pay off so well?
But what about those Caseys and Laurens of the world? Surely one of those two duds must be going home this week. Right? Nah. Not gonna happen. Though I do think they will each make trips to the bottom three. If only because perennial bottom-dweller Haley got the pimp spot this week.
Yes, process of elimination has led up once again to my predicting the end of the road for Jacob. He's been on the ropes the last few weeks and got stuck batting lead-off in a nine performance night. He had the chance to redeem himself in the end, and get out of that bad spot, with his duet, but it was so laughable that he may have just sealed his fate.
Good-bye, Jacob.
What did everybody else think of last night's show?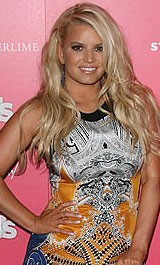 More Hot Stuff:

First Look At Julianne Moore As Sarah Palin

Jessica Simpson Wants To Outdo Kate Middleton On Her Wedding Day

Fast Five starts Friday - here's the top 10 Coolest Movie Car Chases

Led Zeppelin won't let their songs in video games, but they'll do this