'American Idol' Recap: The Contestants Bring it on 21st Century Night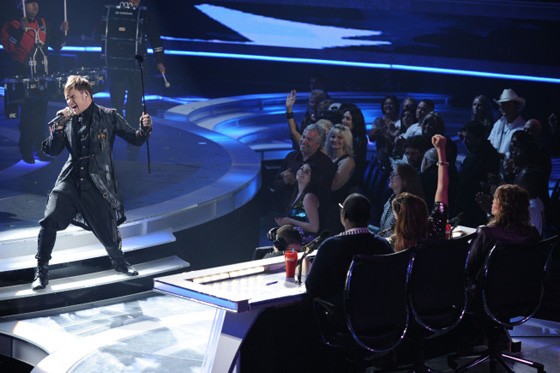 I've been extremely hard on the judges all season (justifiably so, I think) but it's caused me to overlook the show's big bright spot: The addition of Jimmy Iovine.
While the judges have sugarcoated everything like a trio of stage parents, Iovine has worked hard to make the contestants better. He's often harsh, extremely honest and his suggestions are normally spot on. Just look at last week when he warned Casey away from 'Nature Boy' and suggest Scotty stick with 'Everybody's Talkin''. Scotty laid an egg with a boring George Strait song and Casey absolutely made a mockery out of all things music on his. Jimmy's got the goods.
He's also why I think the contestants are, top-to-bottom, much more consistent than they've ever been. He's concerned with shepherding the singers along and making sure they improve from week-to-week. This has allowed each singer to grow and continue to get better.
That was on display last night as the middle of the show featured one of the best runs of performances I can ever remember on this show. I don't think these contestants would have reached those heights without Jimmy giving pushing them in the right direction and acting as a true mentor. Even if that means bursting a few bubbles for the sake of the contestant's improving.
See? Criticsm is good.
Random Thoughts Waiting for the Actual Show to Start:
A strange start to the show with the castoffs coming out to perform as a group, especially with Paul sounding like he'd eaten an entire pack of sandpaper before coming onstage. Isn't that the same disease that killed Edgar Allen Poe?
Also, I found it kind of remarkable that Karen seemed to think she was the Diana Ross to everybody else's Superemes with her singing directly into the camera and odd striptease. I seriously didn't remember she'd been on the show.
And if they're going to get a collection of castoffs, how about the producers round up some of the singers who didn't make the final 13. Like…I don't know…Molly Dewolf Swenson? A guy can dream right?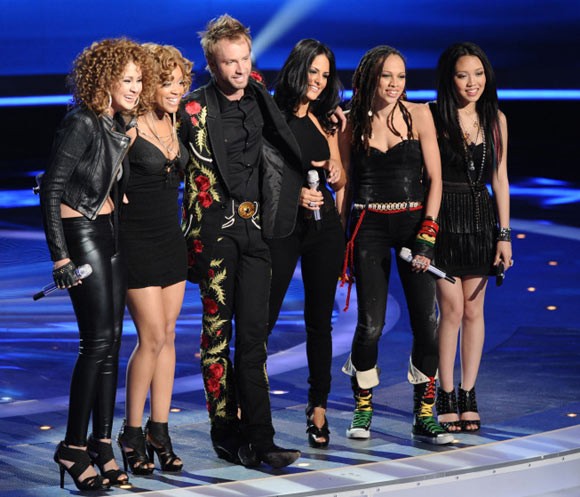 And before we head forward, I must, once again, remind everyone to follow me on Twitter @paynehumor!
And now, here we go…
Scotty McCreery sang "Swingin'" by LeAnn Rimes
Jimmy Said: He has to keep the audience from becoming complacent.
Steven Said: I would love it if you boot-scooted a little more and brought more energy.
J-Lo Said: We're getting down to the wire and you need to pull out the big guns. We were expecting more.
Randy Said: That was so safe. It was kinda boring for me.
The Verdict:
This has Carnival Cruise Ship written all over it. But it's not just the typical cruise ship performance. This isn't the type you'd see from some young go-getters who think they still have a chance to make it in the music industry and their time on the Big Red Boat is just a "step". This was more like what you'd see from a pair of old washed-up country singers sauntering out for some sort of Branson On the High Seas-type show.
The whole thing was just total cheeseball. From the goofy walking around the stage, to the weird screen saver behind him to the atrocious choice of song. Seriously, what the Hell was that song? That was like something two drunk guys would yell at each other when they wander onto a playground swing set at 2AM.
Nothing really to like about this performance – even Scotty's vocals seemed a bit lazy. Just a total corn-fest that belonged on the same variety show that allowed this debacle.
Grade: D
Prediction: Wow. The judges with a rare beat down. Even Steven got in on the criticism. Plus Scotty's in the first spot! All this spells trouble. Maybe a bottom three? But certainly not going home.

James Durbin sang "Uprising" by Muse
Jimmy Said: I like the substance of the song. Usually you do fluff.
Steven Said: That was crazy good, man. You took it up again.
J-Lo Said: That's gonna be, theatrically, the best performance of the night.
Randy Said: You were unbelievable up there.
The Verdict:
I'll say this about James. He seems to be the only contestant who actually understands that 'American Idol' is a television show. He always tailors his performances to look great to viewers at home with bombastic visuals that use the whole stage and pack enough energy to move outside the arena and into the home.
Last night, he did it again with a post-apocalyptic marching band joining him on stage as a complimentary force rather than as a distraction. Others would get swallowed by something that large, but Durbin knew how to use them to his advantage.
And nothing could distract from his voice tonight. He was at the pinnacle of his heavy metal screaming powers, going into the upper register as much as he could, and still making it seem like he'd saved it for a special moment.
This might be the first night that I fully got James. At least the first night where I saw him as a true contender.
Grade: A-
Prediction: James'll definitely march through to the next round.

Haley Reinhart sang "Rolling in the Deep" by Adele
Jimmy Said: She's found which sound works for her, but she needs to deliver magic.
Steven Said: You did what you do the best. I thought it was beautiful.
J-Lo Said: There were moments when you brought yourself to it and that's where you really shined.
Randy Said: Some parts You now know the key.a little sharp, but I thought it was a great performance.
The Verdict:
Finally, Haley shows us here absolute best. She does it by tracking down a song that fits her weird lounge-singy-dirty-jazz style. Probably because she cherry picks it from somebody with a similar style.
But she adds her own spin here. Kind of a KT Tunstall rock vibe to it as she messes around with the phrasing in a way that adds some really inspired rhythm to the vocals. I actually found myself bobbing my head involuntarily with the music. Extremely rare for me on this show.
In fact, I even felt like I left the show for a second. Haley was so in sync with the song and her style so unusual, that as I looked at my keyboard to type, it felt like my remote had wandered over to Palladia for a live look-in at the warm up acts for Coachella. Haley had that sort of vibe going on tonight – not a competition, not a rendition, but a real performance.
The only nitpick is that her falsetto is very weak. Every time she went up her voice absolutely disappeared for a few seconds. If she'd found a way to control that this would've been about perfect.
Still, this was extremely good. Outstanding even.
Grade: A-
Prediction: That seemed pretty damn solid. But with the eradication of females from this show, I'm not sure it's ever possible to assume she's completely safe.

Jacob Lusk sang "Dance with my Father" by Luther Vandross
Jimmy Said: Everyone knows Jacob can sing. Now they're gonna see he can feel it.
Steven Said: You remind me why I love music.
J-Lo Said: Emotionally, it was a beautiful performance.
Randy Said: Vocally it was good, but I was jumping up and down.
The Verdict:
Despite a monitor malfunction at the beginning, Jacob was as world class as he's ever been on this song. Just so much soul and raw emotion. It was almost overwhelming to watch him triumph over this song.
And triumph he certainly did. Jacob's got as pure an R&B voice as anybody since, well, Luther Vandross. He just absolutely decimated that song, hitting every right note and pouring himself into the lyric. Plus, he showed remarkable restraint making the song more impactful than he would have had he gone for the Bad Jacob vocal gymnastics.
Another amazing performance from Jacob.
Grade: A
Prediction: Uh-oh, Randy bashed him. Suddenly, Jacob is in trouble.

Casey Abrams sang "Harder to Breathe" by Maroon 5
Jimmy Said: It's a good choice because he sings it like crazy.
Steven Said: You piss so many people off because you're so f—king good.
J-Lo Said: It was really great. Good job.
Randy Said: I enjoyed it. Continue to take chances.
The Verdict:
And now even Casey slays a song. There is something in the water on 'Idol' tonight!
Finally, Casey turns his back on his faux-artistry and his insistence on making every performance "offbeat" and just lays directly into a song with his kick-ass dirty rock voice. This is what he should have been doing all along, and exactly what he should do as a recording artist. He's got a voice made for these rock tracks and when he stays inside a melody, he actually manages to sound like a real singer and not just a guy who's fooling around with funny sounds.
This performance instantly makes Casey into a real contender, and showed a rock side that's miles better than all the other clownish iterations we've seen of Casey so far this season.
Even if he does play the guitar like it's a bass.
Grade: A-
Prediction: He's safe even when he drops a dud. He's surely safe when he rocks the house. Right?

Stefano Langone sang "Closer" by Ne-Yo
Jimmy Said: He can move. Why does he stalk the stage pleading?
Steven Said: Good job. Really good, man.
J-Lo Said: You had your swag going on.
Randy Said: You took your time with the vocal. I was really proud of you.
The Verdict:
Stefano just doesn't seem to know what to do with himself onstage. After weeks of looking like he was begging with his vocals, Jimmy tells him to strut his stuff a little more and Stefano comes out like Ravishing Rick Rude in a cartoon. A bit corny. A bit overkill.
And has he strutted around the stage like Fonzie at a High School dance, I completely ignored the vocals. His performance was so distracting that I barely noticed he was singing. Either that or the fact that the backing vocals so overwhelmed Stefano's fecund pop attempt that it was impossible to detect his vocals.
This was less a performance than it was a cheeseball dude on Karaoke night trying to win over some drunk girls with how well he can strut while he kind of sings Ne-Yo
Grade: D+
Prediction: Stefano's in the bottom three every week. It'll probably happen again, but I think he's still going to be safe.

Lauren Alaina sang "Born to Fly" by Sarah Evans
Jimmy Said: Lauren tends to hold back, but if she gets over that, she can win the whole thing.
Steven Said: I'd love you to sing some more Allison Krauss, Shania Twain or Faith Hill next time.
J-Lo Said: You have so much color and character in your voice, but you should try singing bigger notes.
Randy Said: Every now and then glimpses come out. It was cool, but you can grow by leaps and bounds. Challenge yourself.
The Verdict:
It's country teeny-bop karaoke time on 'Idol'! Everyone gather 'round. It's gonna be a big time!
Lauren brought it in the safest way possible tonight. She stayed in her country lane, didn't take any big risks vocally and strutted the stage in her cute little charming way. She didn't flash much of a voice and she didn't really distinguish herself as a singer at all. She just trodded along with a nice little vocal that stayed on key, but didn't do anything interesting.
And everything about the performance was just so ordinary. I imagine that inside any decent bar in Nashville you can see that same type of performance several times a week. Maybe even several times a night. Not that there was anything wrong with it, it was just so run-of-the-mill.
Grade: C
Prediction: He can't possibly be in the bottom three after that, right?
Final Thoughts:
When these kids get it going they get it going real good. I don't think I can ever recall a string of performances of the caliber that we saw in the middle of the show, as four-straight contestants hit home runs. None of whom were in the top two of last week's power rankings. This show is stacked.
That makes picking a bottom three extremely hard this week. Lauren and Scotty are the two favorites right now, and they gave the two performances that the judges most disparaged. Particularly Scotty out of the first slot. That can be tough to overcome, and I don't think Scotty does it. He'll make his first trip to the bottom three tonight.
But he's definitely not going home right? Nah. I can't see that happening to our favorite, even if it would redeem my idiocy for saying he had no chance to win in my first power rankings. I think Scotty's safe.
So who goes home? Regrettably, I think it's Jacob. He's been on the razor's edge before and almost went home a few weeks ago. I think he's about to get Pia'd, in that the judges were unnecessarily critical of him and that will ultimately sweep the votes out from under him.
Of course, it could always be Stefano, who'll probably be in the bottom three once again.
What did everybody else think of last night's show?