'American Idol' Recap: The Boys Disappoint Again As Sudden Death Ends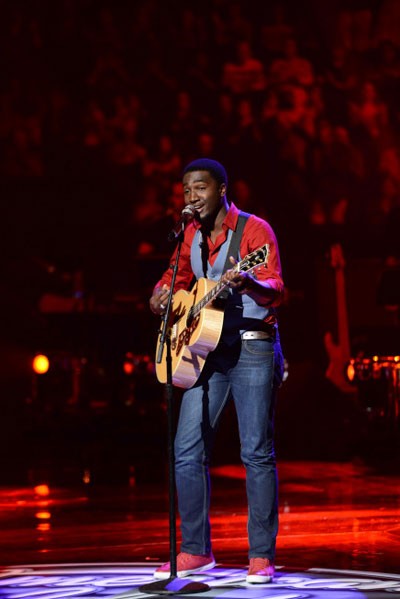 David Oliver Willis Sang "Fever" by Peggy Lee
Keith Said: You had a moment right at the end.
Nicki Said: It sounded like you just got a guitar for Christmas and were just up in your family having a good old time.
Randy Said: I kinda liked that you were a little bit different.
Mariah Said: The crowd seemed to love it.
The Verdict:
I just could never get past the fact that he made "Fever" sound exactly like "The Letter" by the Box Tops. It was like he changed the words to the latter. It just completely drove me crazy.
I guess that's kind of a compliment since he sounded like such a seminal classic pop song. I just don't know how right it was for this song choice.
Grade: C-
Result: GONE
Bryant Tadeo Sang "New York State of Mind" by Billy Joel
Keith Said: I think it was a really good song for you and I thought you handled it really well.
Nicki Said: I love that last note that you did, but I didn't like anything else.
Randy Said: I loved the beginning, but I was waiting for it to go somewhere by the end, but it never quite went there.
Mariah Said: I felt like you got a little bit lost in the excitement.
The Verdict:
Wow. I thought I'd seen some musical theater performances on this show before, but Bryant's hands really may have outdone them all. Celine Dion thinks he needs to keep his hands a bit quieter while he's performing. I was really expecting him to beat his chest at some point.
He's got a good voice, but not for rock and not for pop. It's a Broadway voice. It's a musical theater voice. It doesn't belong on this show.
He'll be great in a Broadway chorus next year, but he's not a recording artist.
Grade: C
Result: GONE
Burnell Taylor Sang "This Time" by John Legend
Keith Said: I like the whole vibe you had.
Nicki Said: Right now you could be number one on the chart.
Randy Said: You got the whole package. I would sign you right away.
Mariah Said: This touched me.
The Verdict:
What is this? Hands time? It's like the competition has turned into who can use their hands the most. Though at least Burnell incorporated his hips a little bit, but couldn't get past the whole musical theater vibe. His voice was fine, but it again came out of a theatrical environment and doesn't really fit in this competition.
Though with those glasses and blow tie, he'll be great in the Malcolm X Musical.
Grade: C-
Result: SAFE
Lazaro Arbos Sang "Tonight I Wanna Cry" by Keith Urban
Keith Said: You're a really great singer. Period. I don't think that was a great song for you though.
Nicki Said: You gave us what we love. It was very truthful to you.
Randy Said: You're a great singer. You know what I'm sayin?
Mariah Said: There's a purity and simplicity about what comes through in your singing.
The Verdict:
I would say this was a cabaret performance, but I think that would imply that he could actually sing.
This sounded more like the guy they get to record elevator music versions of real songs. Like if they could hire the guy who does really bad overdubs when they bleep curse words in R-Rated movies on TV to do the same thing with music – just take all the teeth out of it.
That's what Lazaro did here – just wreck the song with a very poor vocal that sounded like a mud puddle had been dumped over whatever he was singing.
Grade: D-
Result: SAFE
Cortez Shaw Sang "Titanium" by David Guetta
Keith Said: That was a really bold and brave move.
Nicki Said: I liked ya a lot. Good song choice. Sexy.
Randy Said: Your range surprised me today. I'm a fan.
Mariah Said: I have enjoyed you since the very beginning.
The Verdict:
I really want to have a reaction to this, but it was just so safe and mediocre that I just can't.
Grade: C
Result: SAFE
Check back Wednesday for a preview of the top 20 with the return of the Molly DeWolf Swenson Scale.