'American Idol' Recap: The Best Show Of The Season, Dawg!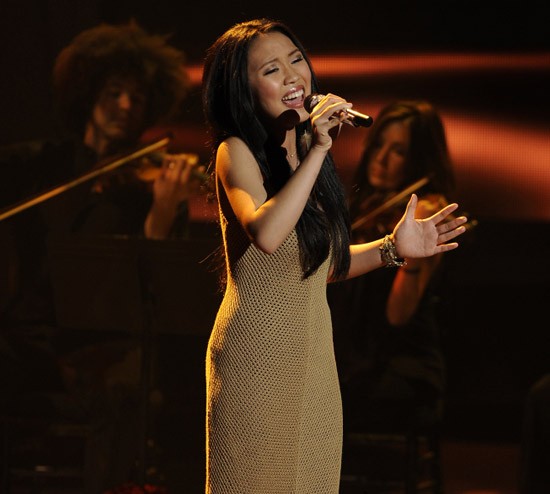 And now I'm ready to ease up on this season.
Last night we got one of those vintage 'Idol' nights that remind us why this show became so popular in the first place. Solid performances of some of our favorite songs by kids that actually have a ton of talent.
Sure there were a few clunkers, but these were sandwiched in between the kind of transcendent performances that finally give 'Idol' fans the ability to scoff at people who scoff at them when they say the watch 'Idol'. Because those who turn their nose up missed the opportunity to see Pia, Jacob, Stefano and others absolutely slay some great tracks for a very entertaining two hours of television that just sped by without a dull moment.
And they accomplished all that without the living Goddess that is Molly DeWolf Swenson. Now that's a real upset.
Random Thoughts Waiting for the Actual Show to Start:
It's hard (and a bit wrong) to be cynical about people trying to raise money to help victims of such an awful tragedy in Japan, but whose idea was it to line the four 'Idol' stars up like Mount Rushmore in a black room? That was just…confusing and somewhat creepy. (And to make up for that observation, I just texted REDCROSS to 90999 to make a $10 donation to the relief effort. And you should too for reading that observation.)
Hey! It's one of my original 'Idol' crushes Carly Smithson in the audience! (Don't worry, Molly she never came close to you) It's nice to see there's life after 'Idol'. Just so long as it involves… 'Idol'.
And, here we go…
Naima Adedapo sang "What's Love Got to Do with It?" by Tina Turner
Jimmy Said: Channel  your emotion into your singing.
Steven Said: You've got a sorcerer's grasp of melody.
J-Lo Said: You're always under the pitch, and the vocals were kind of a mess.
Randy Said: You need something that lets you shine beyond belief. I'm not sure this song did that.
The Verdict:
There's been a lot of complaining around the Web about the overproduced arrangements this year, and this is the first one that really stuck out for me. Why do we need the mid-90s synth dance track behind this – it kills all the emotion of the song and just makes it seem silly.
Poor Naima got stuck with this one and seems appropriately lost. She's flat the entire time and struggles to find the correct rhythm inside this arrangement. She clicks with the melody, but is kind of all over the place with her pitch resulting in a very messy vocal and overall performance.
She did wear a big bird yellow shirt. So at least we always knew where she was on stage. That's about the best I can say.
Grade: D
Prediction: How exactly does she overcome stinking it up out of the one hole? I'll be shocked if she isn't in the bottom three.

Paul McDonald sang "I Guess That's Why They Call It The Blues" by Elton John
Jimmy Said: You were born to sing your own music. Or Elton John
Steven Said: You define cool dude in a loose mood.
J-Lo Said: You have so much soul and so much star quality that you overcame your cold.
Randy Said: Some of the notes were pitchy, but you made the song your own.
The Verdict:
Now this is nice. Very nice. A very easy and smooth vocal that absolutely plows right through the melody leaving it a smoldering wreck in its wake. Paul has a great sense of where to go with this song, and how to attack each note in a way that not only shapes the song differently, but allows him to own it completely. He turns a pretty standard pop ballad into something that is both more melancholy and upbeat than the record with his indie pop/rock arrangement and sensibilities. A very nice cover of the song – not just a karaoke rendition.
He noted in the video package that he was a little hoarse, and that showed through in his performance as his tone wasn't as solid as it normally is, but when everything else is so good, I can give him a pass on the roughness of his voice.
Grade: A-
Prediction: Paul's got Vote For the Worst and a lot of people voting for the best behind him. He'll get through smoothly.

Thia Megia sang "The Colors of the Wind" from 'Pocahontas'
Jimmy Said: You have incredible tone.
Steven Said: I don't know that this song was you.
J-Lo Said: Your vibrato needs work.
Randy Said: Very boring. It felt like I was at a pageant somewhere.
The Verdict:
OK, Thia, I really dug your performance a few weeks ago, but now you've veered into Disney Princess territory in more ways than one. Mostly through song choice, but also through your performance that seems ready set to take place on the front of a parade float going down Main Street U.S.A. 6 times a day. The kids will love, just as long as the sound of their munching on popcorn is loud enough.
It had no depth, no soul, and was just plain boring. She sounded nice enough (though flat at times) but there was nothing at all even interesting about that performance.
Grade: D
Prediction: She missed the bottom three last week, but this time it looks like Thia will find her way there.

James Durbin sang "I'll Be There For You" by Bon Jovi
Jimmy Said: Be strong and be confident.
Steven Said: Don't get too poppy on me.
J-Lo Said: You made me want to sing along. (Though it was hard to hear her over the jangling of here 15,000 bracelets. They were practically a sleeve)
Randy Said: Very tastefully done.
The Verdict:
This seems like it should be an excellent song choice for James and his glam rock vocal range, but why were his vocals so overwhelmed by the backing band? He sounded like another backup singer for the great portion of the song while he neglected to even attempt to go after any big or interesting notes. Even his inevitable scream didn't seem up to snuff this week.
I dug the way he worked the stage like a rock star and the showmanship he flashed (literally) with the pyrotechnics, but something just seemed off about his vocal. I don't know, maybe it was the volume on my TV, but this wasn't the level of James to which I've grown accustomed.
Grade: C+
Prediction: He shouldn't have any trouble moving through to the next round.

Haley Reinhart sang "I'm Your Baby Tonight" by Whitney Houston
Jimmy Said: Work ethic is a big thing. (I think he was implying heres isn't up to snuff.)
Steven Said: We want to hear more of what we love. More blues.
J-Lo Said: You seem stiff up there like you're trying too hard.
Randy Said: I'm confused. I'm not sure you're sure who you are.
The Verdict:
Come on. This was scarcely singing. It sounded more like she was talking through the song with an occasional duck impression as she hit some really sour notes. At least she made up for it by looking totally lost on stage with the presence of a drunk girl singing at her friend's birthday party. Oh wait, that didn't make up for it, it actually managed to make it worse. Didn't think it was possible to out-stink that vocal, but here we are.
I guess the one credit you can give her is that she managed to memorize and spit out fast and complex lyrics. Which means she's a shoo-in for "America's Next Micro Machines Spokesperson". This fall on NBC.
Grade: F
Prediction: Bottom three last week. And I'd say this week is the end for Haley. And I feel a bit bad about it, because she seems to have a really great attitude.

Stefano Langone sang "If You Don't Know Me By Now" by Harold Melvin and the Blue Notes
Jimmy Said: You gotta connect to the song.
Steven Said: Over the top. It was crazy.
J-Lo Said: If you stay right there, you can take this.
Randy Said: The best performance of the night so far! Took the song that had the highest degree of difficulty and slayed it.
The Verdict:
Just a nice solid performance from Stefano. As usual he hits the melody right where it lives. No stray notes and complete confidence in his ability to handle the song. He's right on pitch the entire time and works the stage with an easy confidence and more charisma than he needs.
As the song goes on, he just gets better and better. Kind of a like a running back that continues to truck people late in the game. His voice got stronger and he made way for some nice big notes that allowed  him to put his own spin on a very tough song. This version was bit poppier than the original and a lot more fun. A lot of that because Stefano is just fun to watch up there.
Grade: B+
Prediction: There's been a bit of bad news about Stefano this week (DUI Arrest), but I don't think that's enough to cast a shadow on this performance.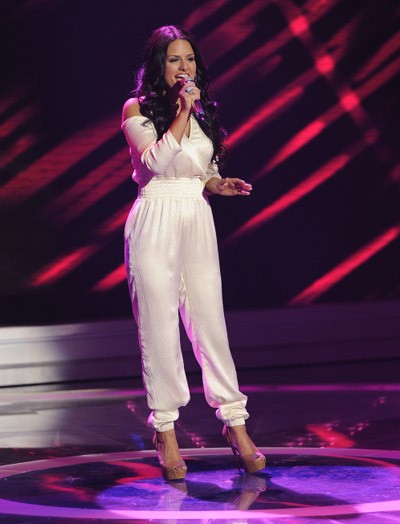 Pia Toscano sang "Where Do Broken Hearts Go?" by Whitney Houston
Rodney (not Jimmy) Said: If Pia sings the song the way she did in the studio, she's gonna go flying.
Steven Said: You are why this show is called 'American Idol'.
J-Lo Said: It was perfect for you. You're perfect every time you get up there.
Randy Said: Every week you're producing amazing vocals. Pia is in the competition to win it!
The Verdict:
I thought this was the absolute perfect song choice for Pia. If she would have just sounded the original record (as much as I prefer a cover), I'm confident she would have slayed it.
Instead we get a Jerkinsed-out (new verb created for this competition) arrangement that forces Pia to attempt to become a dance diva. And you know what? She pulled that off better than even I thought she'd do with the original version of the song.
She simply has an amazing voice. There's not much more to it than that. She can simply sing. But it's more than just hitting the right notes, staying on the right pitch, or being perfectly in sync with the melody, it's the way Pia commands her vocal in a way that makes us think she's the original artist. You hear Pia sing a song and it seems like it's her song now as she gives performances that seize ownership from the original artist.
That's basically impossible to do with vintage Whitney, but that dance queen version seemed like a whole new song, and Pia like the country's next pop diva.
Grade: A
Prediction: So safe. So very safe.

Scotty McCreery sang "Can I Trust You With My Heart?" by Travis Tritt
Jimmy Said: I'm not trying to change you, but you can grow.
Steven Said: You're gonna go places, man. Really good. Thank you.
J-Lo Said: It's amazing. You're right there.
Randy Said: You did Travis Tritt proud.
The Verdict:
Good God can this guy sing country or what? He sounds like he's been making the Nashville rounds for about 30 years and he isn't even 18 yet. That's just remarkable. I'm going to be eating crow all year after I said he had no chance of winning in the first week if he keeps killing country songs like this, because this kid already seems like a star.
Now it's time for another bold prediction: Scotty will have the best career out of anybody on the show this season, out of anybody on the show since Daughtry. Seriously, couldn't you see him hosting the CMA awards in ten years with Taylor Swift?
Grade: B
Prediction: Who cares at this point? This guy's got a top ten country record as soon as he's off the show. Of course, that won't be for awhile.

Karen Rodriguez sang "Love Will Lead You Back" by Taylor Dayne
Jimmy Said: Go for what you believe in, and go for it.
Steven Said: I like when you embrace your ethnic what-it-is-ness.
J-Lo Said: If you can't get to the notes, you don't have to go there.
Randy Said: Better than last week, but I don't think you're all the way there.
The Verdict:
Wow. I'm having Adam Lambert flashbacks here. What does Karen look like?  A glam-rock villain in 'The Matrix'?  An understudy for the backup dancers at The Black Eyed Peas Super Bowl halftime show? Snooki at an S&M Orgy? I just can't decide!
Okay, on to the performance. This is all a bit…theatrical. The forced hand gestures, the "dramatic" turns to the camera, the growling face as she attacks notes. I don't think that adds anything to the performance other than something to turn away from.
But that's not her biggest problem. Karen's main issue is with her voice: It just isn't big enough. That wouldn't be a problem if it weren't for the way she chooses to sing. She takes on ballads like this that almost require belting in order to make the song seem interesting, but she just doesn't have the big pipes to fill out vocals like that. Instead, she always sounds a bit little – overwhelmed by the requirements for the song.
She needs to change the types of songs she chooses or she's just going to continue to be mediocre.
Grade: D+
Prediction: Bottom three last week. And, I think, bottom three again.

Casey Abrams sang "Smells Like Teen Spirit" by Nirvana
Jimmy Said: This is a big risk.
Steven Said: You are so good man. So crazy and so talented.
J-Lo Said: Parts where it got a little bit screamy and screechy. Not very pleasant.
Randy Said: I like that you're fearless.
The Verdict:
Casey didn't disappoint. Not at all. Didn't disappoint in that this was essentially a joke, and that's what I was expecting all along. This was like your friend in High School who knows how to play the guitar and after he's been showing his actual musical chops, decides to goof around by singing a good song like an idiot for a laugh.
I'm not one who holds up Nirvana like it's some sort of sacred text, but if I did this would definitely be blasphemous. Casey absolutely made a mockery of that song with an immature, growly and silly performance that didn't showcase any sort of musical talent or skill whatsoever. I just wish Simon would have been around to say, "Absolutely useless," because that's what this was.
Grade: F
Prediction: Of course, he'll get through. People like him for reason's I can't begin to comprehend.

Lauren Alaina sang "I'm The Only One" by Melissa Ethridge
Jimmy Said: We're expecting a lot from you.
Steven Said: You're a shining star.
J-Lo Said: You took it and made it your own.
Randy Said: That was very nice. Have a cold every week.
The Verdict:
Lauren's flu absolutely ruined her lower register on this song, but when she went up high and belted the notes out, I, for the first time, understood what the judges have been so laudatory of – this girl has a great pop/country upper register. When she dug into those big notes I had visions of Shania Twain. Turns out this girl can really sing, and I'm hearing for the first time.
She was also much more poised on stage this time around. No more flitting about without any idea what was going on. This time around, we got a confident singer strutting around the stage like she's been there before. And now she deserves to be there again.
Grade: B+
Prediction: She wasn't at her best last week and didn't even hit the bottom three. Now she has no worries whatsoever.

Jacob Lusk sang "Alone" by Heart
Jimmy Said: Who can argue with staying true to you?
Steven Said: Gospel had a baby and they named it Jacob Lusk.
J-Lo Said: You give yourself completely to every performance and everybody feels that.
Randy Said: It was genius dude. Jacob is in it to win it!
The Verdict:
Uh-oh, Jacob stole the cork out of everyone's bat for the season. 'Alone' is the only, surefire, un-messupable song sung on 'Idol' with any regularity. Just a perfect melody for big-voiced singers. Big-voiced singers like Jacob.
Yes, good Jacob was back in spades this week as he just closed his eyes and sung his lungs out with a searing R&B version of this rock ballad. No oversinging, no loose notes, just a perfectly connected riff that showed how dangerously talented Jacob really is.
And he simply owned the stage. He could have made armpit farts, and would have been still been compelling with the way he commanded the stage. Great stuff.
Grade: A-
Prediction: We'll be feeling that Lusky Stank for one more week.
Final Thoughts:
What a great night! What a great night! Just when I was ready to be cynical and write off this season once again while continuing to disparage the judges for being too soft, the contestants go out and deliver a very solid night with only a smattering of lousiness. When James Durbin is in the bottom third, you know this was a good night.
But about those bad performances. This show was not without them, and on a night this solid they stuck out like a missed note in an a capella ballad.
Casey doesn't count because people love him for some reason, so let's get to the four that actually could go: Thia, Naima, Karen and Haley.
The big danger lies in Naima and Haley's performances. In Naima's case, she led off the show and I'd honestly forgotten she'd performed by the end of the show. Haley was in the bottom three last week and accidentally stunk the joint out this week. A performance like that really shouldn't stand.
I'm going to take lack of quality of lack of being memorable and say that Haley makes her second trip to the final three her last, and not in a good way. She'll be going home.
As for the other person in the bottom three? I'll go Karen, because she was there last week. But I don't think she's in any real danger, as Haley's the clear loser tomorrow night.
What did everybody else think of last night's show?
Hey, kids! I'm tweeting now. Follow me @paynehumor for more snark!