'American Idol' Recap: Stefano Langone Goes Home, Katy Perry & Kanye West Perform 'ET'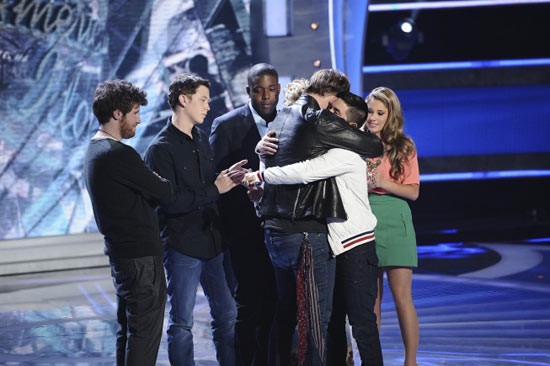 It took awhile to do it, but America finally put Stefano out of his misery.
For weeks it seemed like Stefano was just marking time. He hit the bottom three in what seemed like every single results show and carried that weight to each performance. This caused each of his songs to transform into a desperate plea for votes as he overextended himself to no end in an attempt to win people over.
But it never seemed to work. Try as he could, Stefano never quite connected. It could have been an obsession with perfection, it might have been flirty cockiness, it may have been the fact that he simply failed to be as memorable as many other contestants.
Whatever the case, Stefano never had the chops to win, and each week just seemed like agony for him as he tried to outperform his talent. It was always commendable effort, but at this point I almost feel happy for him that he gets to go home and settle into his post-show life.
Hopefully that won't be as excruciatingly stressful for him.
Thoughts About the Rest of the Show:
I've lived in Los Angeles for nearly four years now, and I never get over how often television shows visit places I go. I've been to that Lucky Strike several times, until I figured out how overpriced it is and started going to a dive bowling alley in Glendale.
But that's not the biggest thing – I was at that Dodgers game and saw the Idolettes on the JumboTron. This quickly had me saying to my friend, "Doesn't that goofy kid look like Scotty McCreery?" Only to have the camera zoom out to reveal that it was, in fact, those contestants.
Never got to go to that spa though. I'm not fancy enough.
David Cook seems like a fine fellow. He does the charity work, he's very humble and his cover of 'Always Be My Baby' is a top-five all-time performance on this show. All that may be true, but this new song of his is about as generic as it gets. 14 seconds in and I was instantly rushing to the DVR fast forward. Did ya ever think the reason most of the Idols don't succeed is because they sing songs like this?
Speaking of awful music, we got a visit from Katy Perry and Kanye West singing the affront to music that is 'E.T.' I have to admit, this was the first time I've heard this song, and I'm extremely glad I avoided it so long. I don't even understand where the hook is in this one. Katy Perry normally delivers pop masterpieces like 'Teenage Dream' and 'Firework' with searing hooks and excellent melodies. This one just felt like they left the AutoTune machine on too long.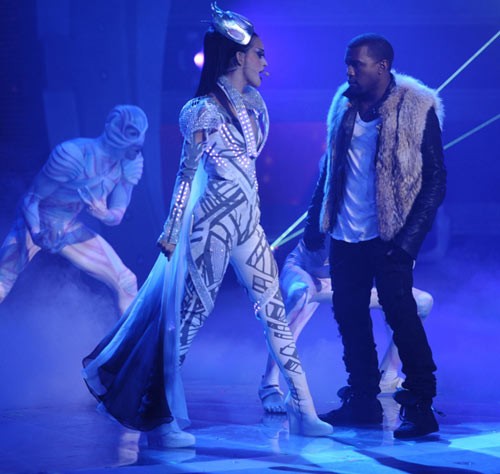 It was also strange that we didn't get any interview at all with Katy and Kanye. It was kind of cool to see Jacob and Stefano's thoughts as they sweated America's decision – but wouldn't those same Americans be more interested in hearing what two of the biggest stars on the planet had to say after their performance?
Oh well, Let's just get to the power rankings…
Power Rankings:
1 (1)  Scotty McCreery
He comes out with his worst performance, actually gets criticized by the judges, and leads off the show. What does that get him? No trip to the bottom three, and the top vote percentage on DialIdol.com by a landslide. This guy's going to win. Nothing can stop him.
2 (3)  James Durbin
After last week, I'm finally willing to buy in to James as a legitimate spoiler. Couldn't you see him setting himself on fire or flying through the crowd on a zip-line for the finale show? That could steal some focus from Scotty.
3 (5)  Casey Abrams
Casey theory: Oldsters hate him; the youngsters can't get enough as represented by his dominance on the social media. He may have found a way to win last week if he sticks with the rock guitar route, but he's so nutty he'll probably a play a Theremin next week and invent his own lyrics to 'Telstar'.
4 (2)  Lauren Alaina
I just think she's so forgettable every week, and in a show dominated by guys, she doesn't doesn't have what it takes to topple the big three.
5 (4)  Jacob Lusk
Jacob theory: The oldsters love him, but the youngsters couldn't care less. This based on the fact that he's dead last on all the social media websites. This show is dominated by young voters, so his days are numbered.
6 (7)  Haley Reinhart
Haley's hanging tough, but I still contend she's the only contestant left with an absolute zero-percent chance of winning.