'American Idol' Recap: Skylar Laine Goes Home + Final 4 Power Rankings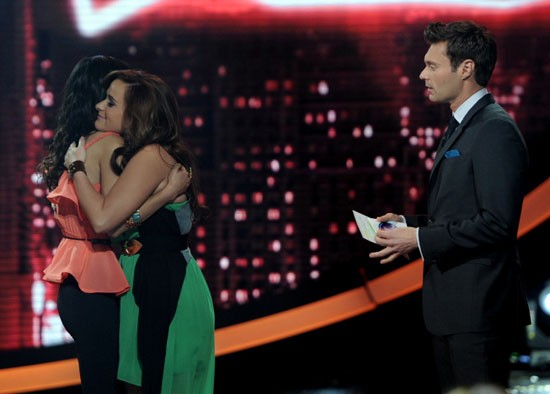 I guess country isn't for the whole country. I've been working under the assumption all year that Skylar was a real contender mostly due to her musical genre: Country/Western. We've seen for the last few years that even the most middling of country singers can make deep runs in this show. (See: Alain, Lauren).
I thought this year, Skylar was set to be that Nashville Nobody, but it seems America grew tired of her amateurish twang after awhile and she bit the dust because of it.
All I can say is, America got it right. Of the remaining contestants (In the non-Phillip Phillips Division, but he's in his own class of beloved) she was clearly the weakest singer. Close your eyes (Yes, I know this isn't the 'Voice') and tell me she comes even close to Joshua, Jessica or Hollie. There's no contest and it's good to know that this show is back to being competitive rather than just genre voting.
Of course, this may also be because one Mr. Phillips has sort of absorbed the country bloc with his Southern Rock swagger, but I tend to believe quality is going to outweigh popularity.
Well, maybe not…
Power Rankings:
1 (1) – Phillip Phillips
Yes, this down home Dave Matthews clone is still the man to beat. I know he's been having some health issues which could find him a late scratch, but that's really the only thing I see getting in his way from ending up winning this show. I just can't bet against cute guy with guitar.
2 (2) – Joshua Ledet
Looks like the best contestant ever on the show is now the one with the best chance of upsetting Phillip. I still don't see it happening though as Joshua has more of a 70s vibe and lacks the guitar prowess of his competitor. At this point, though, I think we're heading for a showdown between the two boys in the finale.
3 (4) – Jessica Sanchez
Now we're down to the two big-voiced girls. The two big-voiced girls who will split votes next week. Jessica has gone home before, but I think she's the one who survives the estrogen bloodbath of next week, of course…
4 (5) – Hollie Cavanagh
...Hollie has been gaining some momentum in recent weeks and seems to be rounding into her best form. With the darkhorse underdog story on her side, maybe she has a chance at the final three.