'American Idol' Recap: Shannon Goes Home + Power Rankings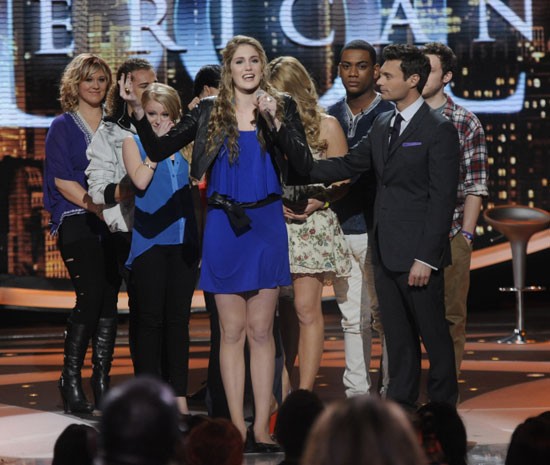 America continues to get it right. One of my big problems with 'Idol' is that the voters have a tendency to delay the inevitable. Like with Kristy Lee Cook, or the redheaded guy who looked like me, America seems to want to keep around people with no chance at winning.
That hasn't been the case so far this year.
First, Jeremy Rosado, the overgrown bundle of nerves went home before he just came out and forgot to sing. This week, the girl who can't sing, Shannon, mercifully got the boot.
This show is best when it becomes unpredictable, and the only way to do that is to start getting rid of the bottom-dwellers and give us a cast of people who can actually win so as the show progresses, it become increasingly unclear who will go home.
Speaking of, let's get to the power rankings.
Power Rankings:
1 (Rank Last Week: 1) - Phillip Phillips
Seeing Daughtry on tonight reminds me of how he's probably the biggest victim ever of coming too soon on the show. Had Daughtry been able to play the guitar when he was on 'Idol' he'd have surely won. Voters just go nuts for the guitar players. Much like they'll keep doing for Phillip until he wins.
2 (2) - Colton Dixon
I still put the emo God in second because he's got enough of the guitar guy in him to seem like a threat to Phillip. He's starting to look like a weak number two though.
3 (4) - Joshua Ledet
Despite the disagreements of some of my beloved commenters, I think Joshua has the chance to be the best contestant in the history of this show. That's gotta count for something, so he has to be considered a legitimate contender. He's just not really in the genre that people vote for on this show.
4 (3) - Skylar Laine
Here's somebody who is in that genre. Skylar really doesn't have the chops of a superstar by any stretch of the imagination, but she does do country pretty well. That goes a long way with voters on this show. She can get it done.
5 (7) – Hollie Cavanagh
She's the shooting star in this competition right now, with two consecutive excellent performances to her credit. Unfortunately for her, girls with big voices have this weird habit of going out too soon on this show. I just don't think she can win.
6 (6) – Jessica Sanchez
The standout of the top 12 show swallowed herself with a bizarre performance this week. It makes me wonder about her consistency going forward, and once the field gets shallower, one misstep could send her home.
7 (5) – Heejun Han
It's starting to look murky for my favorite contestant. He sadly may not have the chops to keep going forward for much longer. Alas.
8 (11) – Elise Testone
Maybe she has it in her. Maybe she can actually put something together. Nah. But she's at least pretty good.
9 (12) – DeAndre Brackensick
For the first time, I'm taking him off the bottom of the pile. He's still too much of an oddball, though, to really have a chance to win.
10 (8) – Erika Van Pelt
I have to put Erika at the bottom because she almost went home this week and is not first, not second, but the third-best of the big-lunged girls. Plus she's yet to deliver a performance that makes me remember she's around. I don't think she will be for longer.