'American Idol' Recap: Semi-Finals Go Live With Top Ten Girls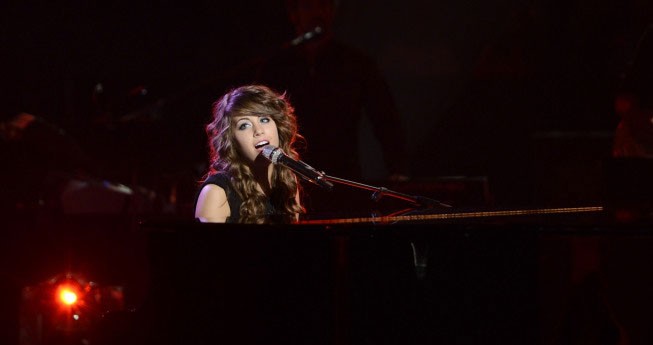 Angie Miller Sang "Never Gone" by Colton Dixon
Keith Said: It was amazing. We're watching a true artist.
Nicki Said: The trumpets should sound when you walk into the room. Can I just get your album?
Randy Said: A star is born on that stage right there.
Mariah Said: I'm just blown away by what you do.
The Verdict:
Pro. Pro all the way. She's beyond this competition already. Yes, her tasted needs a little work if she's going to choose a Colton Dixon song, but there is no questioning her talent.
She's so in the zone when she sings. She's not in a competition. She's performing. She's actually putting on a show with a performance that could be at the Grammys easily.
This year, it looks like cute guy with the guitar will be replaced with cute girl with the piano.
Grade: A
Prediction: Totally safe.
Amber Holcomb Sang "I Believe In You and Me" by Whitney Houston
Keith Said: I wish I could have heard a few less runs, but your tone is exquisite.
Nicki Said: That was a 10. Billion. Trillion. Kabrillion.
Randy Said: Amber is definitely in it to win it.
Mariah Said: You're 18-years-old and you can sing your behind off.
The Verdict:
This is such a weird performance because she sings incredibly well. Her runs, her breath, her rhythm, her connection it's all there. It's brilliant the way she sings.
But there's a problem. Her voice just isn't as good as the way she sings. Her pitch isn't quite there. Her tone just isn't strong enough to play with a song like this. The notes just aren't quite right.
And it's so weird because she controls what voice she has so brilliantly and so effortless. She flows into her runs and each bar like she's not even there. How she can do all that so easily is really something beyond the scope of what we normally see on this show.
Her voice just isn't quite as good as her singing.
Grade: B
Prediction: After that effusive praise, she's definitely safe.
Kree Harrison Sang "Stronger" by Faith Hill
Keith Said: I do love to hear you sing.
Nicki Said: You already know that you're my wife. Your sexiness level went up another notch tonight.
Randy Said: We got another one here that's in it to win it.
Mariah Said: How can you top that?
The Verdict:
That wasn't nearly as good as she thought it was. Mostly because she can't hit any of the big notes she tried to stretch out to throughout the song. They just came off as shrill alarm bells that ruined any of the good she was doing in the lower register.
The lower register was just about perfect – a very solid country twang with a pop voice behind it to make it current and fit so well with this show. Just wonderful tone.
However, that can't undo those ridiculous attempts to go high and belt that just shrieked in irritation. If she stays low, she's set. If she goes high, she'll hang herself out to dry.
Grade: C+
Prediction: Looks like we have our surefire country girl.
Adriana Latonio Sang "Stand Up For Love" by Beyonce
Keith Said: I'm a little nervous about that song choice for you.
Nicki Said: I would suggest that you work a little bit and come back next year.
Randy Said: It was very safe and a little boring really.
Mariah Said: I hope everybody saw your previous performances.
The Verdict:
Seriously. Put the Disney Princess dress on her right now because that's all this was – a girl singing at a theme park in a Disney Princess dress. The vocal was poor, the performance came from a high school talent show and the whole package just screamed summer job at a theme park.
That's probably where she'll be this summer, so have fun watching her before you go on Splash Mountain.
Grade: D+
Result: SAFE
Candice Glover Sang "Ordinary People" by John Legend
Keith Said: It's crazy. It's through the roof.
Nicki Said: (Nicki just saluted her)
Randy Said: That was ridiculous. You sang notes that people won't be able to understand how they fit into a chord.
Mariah Said: Let the goosebumps continue.
The Verdict:
It was so good, it was boring. As in, uninteresting. Just such a safe solid vocal that doesn't stand out at all. Look away from the TV and it's just pleasant background music because that's all she was able to do with this performance – just a really good vocal without anything really compelling.
Dully competent.
Grade: B-
Prediction: She got some pretty major love in the pimp spot. That's a pretty safe formula for moving on.
Final Thoughts:
Not only was it clear that the girls are going to better than the guys this season, it's clear who the winner is after one live show: Angie's got this sewn up. She's the perfect contestant for this show right now and it seems unlikely that anyone has the capabilities to rise up and beat her.
So she's definitely safe.
As for the other four, (If there are four, I take no responsibility for the judges changing the rules and letting 6 or 9 or however many they want into the show for the next round) that's a bit trickier.
Candice killing it in the pimp spot seems a sure bet as do Kree Harrison and Amber Holcomb completing that three-peat of judge fawning after Angie dominated the stage.
That leaves one more spot.
Easy eliminations are Adriana who basically killed the show at the end with her kiddie-kid performance and Breanna whose two-hole disaster probably won her the fewest votes of the evening. Also Zoanette. Poor Zoanette who needed to be at her Zoanettiest to handle getting over the leadoff spot and just couldn't quite put it all together.
That leaves Janelle, Teena and Aubrey who all seem to be on about equal footing for that final slot in the finals. It'd be nice to say that Teena is the shoo-in as her performance was the clear standout amongst those girls, but how can we go against country? How can we go against Janelle?
The truth? We can't. She'll grab the final slot and have no chance of winning. Somebody like Teena always goes down far too early on this show and this year the part of Teena will be played by Teena.