'American Idol' Recap: Selecting The Final 30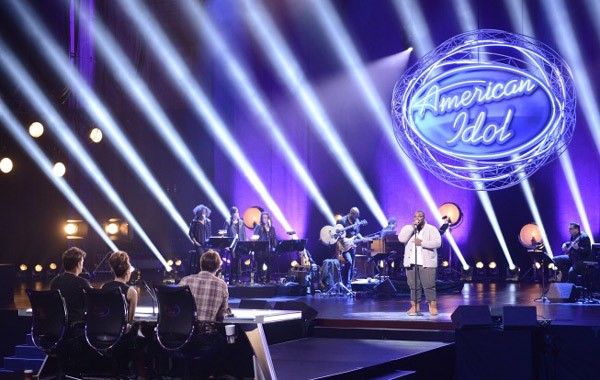 Last night, we finally got to really get to know the contestants that we'll be following for the rest of the 'Idol' season and got our first dose of the top thirty.
The producers also promised No More Mr. Nice Guy with regards to Harry as he yelled at everyone who complained about being sick. Then he went back to being nice for the whole episode. Oh well. At least we got a visit from Randy Jackson!
Thought last night's episode was really about the contestants as the judges made decisions on who would move on to the live shows and who would get sent home.
So let's go all Clash on last night's hopefuls and play a little game of should they have stayed or should they have gone?
Emily Piedes
The first thing about Emily is that she gets mega bonus points for being a total doppleganger of my favorite celebrity, Natalie Morales. Also, for causing Harry to set the precedent for the most appropriate way to ask somebody's race: "What's your heritage?" Stuff we can all use.
Emily wowed the judges with a sterling performance at the piano. This wasn't quite Angela Miller territory, but she wasn't more than a notch below last year's shoulda-winner, and she might have a better voice.
She Should Have Stayed, and she Stayed.
Spencer
This is the guy who's so good-looking that it's a thing, apparently - like his calling card and what he should be known for. Really, he looks like a wannabe Abercrombie model who ended up in a coffee commercial.
His final performance was basically nonsense. He sang an original song without any musical quality to it whatsoever to the point that it sounded like somebody randomly hitting his acoustic guitar and talking really fast. Definitely nothing impressive, despite some good work earlier.
Should Have Gone, but he Stayed.
Jillian Jensen
Jillian Jensen breaks the mold by going from my 'X-Factor' crush to 'American Idol' crush in just two years. Call the folks at Guinness. (And RIP 'X-Factor').
For me, it didn't matter at all what she did in Hollywood: I got to see her a bunch on 'X-Factor' and she was robbed not making the live shows. She went with an original for her solo performance and it was her typical angsty, soulful style that really feels authentic. Let's hope she doesn't get robbed again.
Should Have Stayed, and she Stayed.
Madelyn Patterson
Madelyn's not really distinguished herself to this point, but last night showed us a tall pretty country/soul queen who feels like a step-up from the young teenager country cuties of years before and actually appearing as a full Country artist.
'Idol' always needs a solid country diva, and she seemed like it. The judges, though, didn't feel the same way.
Should Have Stayed, but she's Gone.
George Lovett
Geroge made a huge mistake by singing the torpid 'I Won't Give Up' from Jason Mraz for his solo performance - what a piece of garbage song.
Though with George, he turned it into some sweet R&B Pop Soul and really made the song's lyrics seem like they weren't terrible as he lit himself on fire to sell the song. This guy will be a solid contributor going forward and appears capable of flashing the wide range necessary to get through the theme weeks on this show.
Should Have Stayed, and he Stayed.
Sam Woolf
This seventeen-year-old went with an original song that sounded like a better version of the Of Mumfords and Lumineers nonsense that's been clogging radio for the last year. His voice had a wild authentic folk-feel well beyond his years as he ripped through his radio-ready original.
Really kind of stunning from a 17-year-old, even if his lyrics were as cliched as a common simile.
Should Have Stayed, and he Stayed.
Keri Lynn Roche
Oh my. Here she is. The hottie who threatens to dethrone Molly DeWolf Swenson from off the top of my 'American Idol' crush list. In a little white dress and combat boots nonetheless. Just put me out of misery already.
She's essentially Amy Winehouse. Obviously, not quite on that level, but as close as you're going to get on a show like this. Of course, a lot of that is fake soul when it becomes apparent how much she's stylizing her vocals. She's just not authentic enough to deserve a spot.
And, Hell. How could I ever quit Molly DeWolf Swenson?
Should Have Gone, and she's Gone.
Malaya Watson
They're starting the hipster glasses a lot younger these days, but sixteen-year-old Malaya rocked them with her braces and gigantic red high heels.
That was about all she rocked, though, as she started in the wrong key until Harry had the band fix it. After that, she wasn't a whole lot better, struggling to sing-shout through her performance to the point that the hysteria ward should have been on speed dial. She's just not ready.
Should Have Gone, but she Stayed.
Maurice Townsend
If Hipster Gospel Preacher becomes a thing, then Maurice is the one who started the trend.
It will be tough, though, for him to really get it to catch on, mostly because nobody would really want to hear him sing. His solo performance was a muddled mess of attempted soul that was more confused than it was impactful. That's not a trend anybody wants to follow.
Should Have Gone, but he Stayed.
Bria Anai
Sixteen-year-olds aren't supposed to sing like Bria. It's just not fair. She absolutely destroyed "It's a Man's Man's Man's World" in total Joshua Ledet out-of-body house-burning-down vocal gymnastic soul. That's just not fair.
Of the night, she gave the best solo Hollywood performance, and she can't even vote yet.
Should Have Stayed, and she Stayed.