'American Idol' Recap: Sam Woolf Sent Home + Power Ranking The Final 4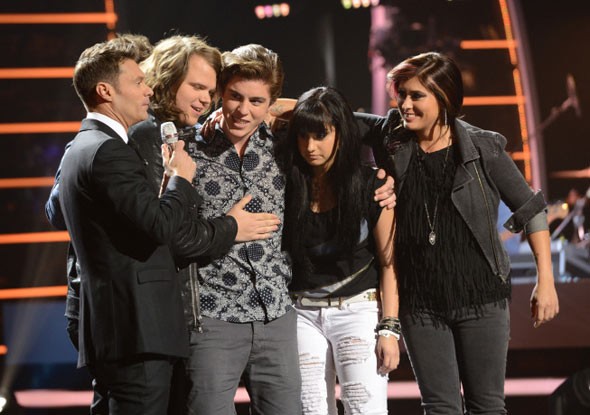 Another year, another wasted judges' save.
A few weeks after getting a nonsense save, Sam Woolf finally went home last night after his embarrassing combination of bad that was last week's watered down funk song and then actually made a song by The Fray more boring just a short hour later.
This kid just wasn't going to win. He doesn't have the chops. He's worse than every cute guy with a guitar that ever came before him and even though the producers clearly wanted him to stay around as long as possible, America knew much better than to let him stay around longer than he deserved.
It's obnoxiously clear how much the producers of the show wanted him to win. First, he gets a judges' save after he mercifully got the boot a few weeks ago. Then, last night, the producers throw in a ridiculous monkey wrench of hoping the contestants would vote not to kick somebody off – probably knowing full well that had Sam was the unlucky hopeful getting eliminated and we would have gotten at least one more week of this little scamp had the contestants eliminated the elimination.
It wasn't to be and Sam is finally gone. We could have gotten more of Malaya or CJ had the producers not anointed the young Woolf, but instead he stuck around just to go home almost immediately. At least he got to sing Keith Urban sing a song on the show. Or maybe that was a punishment? Either way, Bon Voyage, Sam.
As for those who did get to stick around…
Power Rankings:
1 (Rank Last Week: 1) - Alex Preston
Alex is still holding on to the top spot, but this show looks like it's up-for-grabs from any of the top three. I like Alex at the top because he's playing the guitar and is actually the best of the bunch – which should count for something.
2 (2) - Caleb Johnson
Caleb's the second person who seems ready to win. He's been blowing away the judges bigger than anybody on the show this season with standing ovations in the middle of his performance from Keith and Jen this week. He just doesn't feel like a winner though which is why I have him second. A win will not be a surprise at all, though.
3 (3) Jena Irene
I'm sticking with the prediction that Jena will end up losing to one of the top two guys in the finals as has been the fate for singers of her ilk in recent seasons. However, based on her measured improvement in the last few weeks, I'm starting to think she could actually win.
4 (4) - Pink Hair
There's almost no need for a show at all next week. Barring some unforeseen disaster, Jessica Meuse is a sure bet to end up in fourth place, miss her hometown show and all that good stuff. It's about as big a certainty as you'll ever see on this show. Of course, that's why they sing the songs. Or something like that.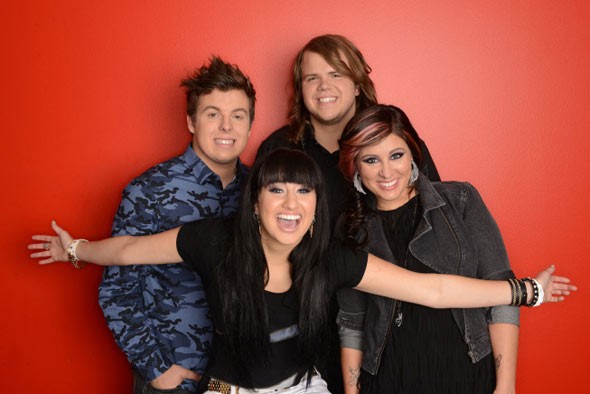 The Final 4: L-R: Alex Preston, Jena Irene, Caleb Johnson and Jessica Meuse.