'American Idol' Recap: Random Thoughts And The Grades On Disco Night

Wow, is this "
American Idol
" or "
Hell's Kitchen
"? Seacrest comes out straight from the Gates of Hell at the top in front of a wall of flame and brimstone. Whose idea was that?
Nice of Simon to muster a smile after last week's snubbing and repeated hints at leaving the show very soon. I guess $30+ million is worth showing a few teeth for.
There have been drunken resort conga lines that moved more gracefully than the Idols got off the stage tonight. Move to your right after Seacrest is done talking - shouldn't be that hard to rehearse.
Wow, so somebody figured out that if we get rid of an endless show open and backstory videos that DVR users everywhere fast forward through we may actually squeeze this one in on time. That's why they get the big bucks. They screw it up so many different ways that they finally find the right way to do it. Excellent work, "Idol" producers.
And now, on with the show!
Lil Rounds Sang "I'm Every Woman" by Chaka Khan
Randy Said:
It sounded so wild. It didn't show what you can really do.
Kara Said:
We've been wanting to hear you sing an artist like Chaka Khan. It was not worth the wait.
Paula Said:
Didn't quite hit the boiling point.
Simon Said:
I'm glad you had fun, because I think this is the last week we're ever going to see you.
The Verdict:
I've never written this before because I really don't know what it means, if it means anything at all, but this performance was very pitchy. Rounds seemed to sing fifteen notes with each word as her voice fluttered in and out for the entire opening segment.
She tried to bring it home at the end by shouting a bunch of big notes and yelling nonsensical syllables at the crowd, but this never got anywhere even near mediocre karaoke. It was nothing more than a girl in a bar on Saturday night stepping up to the mic after two honeydew martinis and singing without embarrassing herself. Works in Koreatown, not so much on "American Idol".
Grade: D
Prediction: Two people are going out this week and Lil bombs in the leadoff spot. Plus she rocks out another anti-judge tantrum. If she's around next week it will be shocking.
Kris Allen Sang "She Works Hard for the Money" by Donna Summer
Randy Said:
This proves the fact you are ready for the big time.
Kara Said:
You took a real risk and it paid off big time.
Paula Said:
There are plenty of women who shop in the men's department, but not many men who shop in the women's. You did, and you found a perfect fit. (It seems Paula hired a team of writers for this week)
Simon Said:
Original. Well Thought-out. Not Karaoke. Fantastic Performance.
The Verdict:
Did Jason Mraz just get funky with a touch of Carly Simon thrown in? I think he did and his name is Kris Allen. An excellent reinvention of an untouchable disco classic. Great vocals and a killer arrangement that shows Allen's musical range. I've been touting Giraud as the most talented performer in the competition, but Allen is giving him a run for his "money". (See what I did there?)
Grade: A-
Prediction:
He may get more votes than Obama this week.
Danny Gokey Sang "September" by Earth, Wind and Fire
Randy Said:
You turned this into something that really worked for you tonight.
Kara Said:
You are an incredible vocalist.
Paula Said:
I think you have one of the sexiest voices ever.
Simon Said:
I can't fault the vocals, but as a performer I didn't get any kind of star power from you. It was a bit awkward and clumsy overall.
The Verdict:
So this is my absolute favorite disco song. Forgive me if I'm a bit harsh.
So Gokey's vocals are really good. They're always really good; he has a great smoky fireball of a voice. No change there.
But what about this performance? He's dancing all over the stage, singing along with the instrumental. A goofy smile on his face. What is this like? It's like a wedding singer. It's exactly like the guy with his tuxedo tie undone and ruffles flapping who rips into a few old disco tunes.
Danny Gokey is not a pop star. This proves it. His vocals may be great. He could record some albums, but with moves and embellishments like that he'll never be a serious threat on the charts.
Grade: C+
Prediction:
The judges really seemed to like this, and he has a big following with the voters. He should be safe one more week, but he may get into trouble once the field is thinned to five.
Allison Iraheta Sang "Hot Stuff" by Donna Summer
Randy Said:
I wasn't crazy about the arrangement, but you're one of the best singers in the competition.
Kara Said:
Reiterated what Randy said, then added some Grammy trivia! How delightful Kara!
Paula Said:
You hit it off the charts.
Simon Said:
Taking everything into account, that was a brilliant performance.
The Verdict:
Is it wrong for a sixteen-year-old to wear a dominatrix onesy? I think so.
Did Allison just turn this disco tart into a grunge song? It sure sounds like it. She's very good and not messing too much with a song's melody and still molding to her dirty rock star voice.
Tonight that voice was in top form, as she hit every big note with flair and conviction. It's amazing that she's only sixteen. And the ease with which she works the stage is mind-blowing for somebody so young.
This wasn't her best, but was certainly very good.
Grade: B+
Prediction:
Wow. Unqualified praise from Simon! Plus with Lil's bomb, she's got a stranglehold on the female vote. She'll sail on.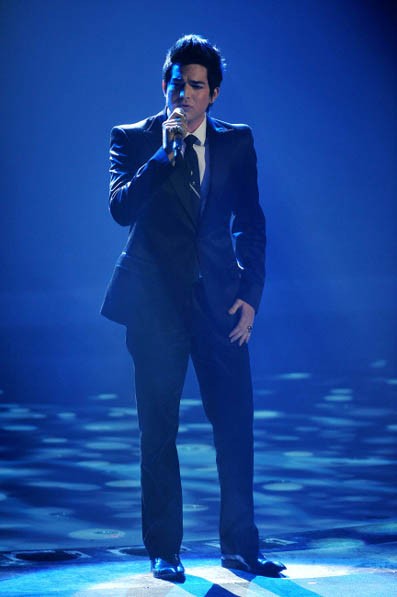 Adam Lambert Sang "If I Can't Have You" by Yvonne Elliman
Randy Said:
He is a hot one tonight, America!
Kara Said:
Adam, you're brilliant.
Paula Said:
Who really cares? Simon's befuddled facial expressions reacting to Paula's effusive praise were amazing.
Simon Said:
It was original. Never heard the song sung like that. The vocals were immaculate.
The Verdict:
So how do we describe Adam Lambert's outfit tonight? I'm going to say he looks like Gumby dressed up for a wedding. Feel free to improve upon that in the comments.
It's funny to watch Adam's musical theater roots shine though. His face. He just looks so serious when he's singing. Where's the girl on the stage curled up on top of a platform with a lollipop swooning as the romantic lead sings her into being seduced?
Okay, enough Adam bashing. His voice is unreal. He's the best vocalist in the history of this competition and he absolutely nailed this song. Nice low-key performance where he finally let his vocals outshine his bombast and actually recreated the song, rather than covering somebody else's recreation. World-class.
Grade: A
Prediction:
He's this year's David Archuleta in that he's never in any danger at all from week-to-week. Of course, Archuleta didn't win. . .
Matt Giraud Sang "Stayin' Alive" by The Bee Gees
Randy Said:
Didn't love the song choice, didn't love the arrangement, but you can really sing.
Kara Said:
It was a solid performance.
Paula Said:
You pick songs like I bowl. Sometimes you throw gutterballs, sometimes you throw strikes. This was a strike. (Did Bruce Vilanch give her that one?)
Simon Said:
You have to get out of "Idol" land and into the real world - where that performance would seem very desperate.
The Verdict:
This is a mess. He looks and sounds like the lead singer of Maroon 5 in a Saturday Night Live sketch as a high school music teacher trying to show how cool he is during a school assembly and picking the lamest possible song in the process thus making a total fool of himself.
I'm officially off the Matt bandwagon. Maybe he shouldn't have been saved. Though the vocals were actually pretty decent.
Grade: C-
Prediction:
He got voted out last week and had Simon destroy him this week. With all these other great performances, there's no way to realistically expect him to stick around.
Anoop Desai Sang "Dim All the Lights" by Donna Summer
Randy Said:
Didn't like the arrangement, but you can sing dude. Nice, baby. Nice.
Kara Said:
These last two weeks were your best two performances.
Paula Said:
You hit that magical zone in your voice.
Simon Said:
That was mediocre at best. It was your worst performance by a mile.
The Verdict:
Anoop is really starting to gain some confidence and it shows in his voice. He almost sounds like Brian McKnight on this performance, just a very smooth and effortless vocal. He hits all the notes in a way that didn't seem possible for him a few weeks ago and worked the stage like a pro. Not the best final note, but it was nearly perfect the rest of the way through it.
An excellent song choice for Anoop. It combined the slow ballad that best suits his voice with a big party track that allowed him to work the stage like a pop star.
Grade: B+
Prediction:
Simon made this interesting by destroying Anoop after the rest of the judges raved. He's in the pimp spot, but that was only one place after Matt. Could he go instead?
Final Thoughts:
All night the judges kept talking about how deep this top seven is. They are absolutely right. If any of these people were in season six (The Jordin Sparks year during which the awful Blake actually made the final show) they would have won without much of a sweat. Now they're forced to absolutely blow it out every single week just to stay alive, and it's leading to some great performances.
This might be the first year that the show is actually worth tuning in for the musical aspect. It's always been addictive because of the competition, the voting, and the judges. Now you actually look forward to seeing what a few of the contestants will do next. So that was the solution to the show's problems all along: Get better contestants! Plus it finished right on time! No lost "
Fringe
" on the DVR.
As far as predictions go, it's crystal clear that Lil is going home tomorrow night. She went first and got absolutely ravaged by each judge. Even Paula didn't like her. If she survives it will be one of the biggest upsets in the history of the show.
The other spot will come down to Matt and Anoop. Both have been mainstays in the bottom three recently with Matt actually being voted out last week until the judges saved him. It will be close, but ultimately Anoop will stay since he went last, the judges were kinder, and he actually gave a much better performance. I'm not sure what Simon saw or heard, but I don't think his ridicule is going to be quite enough to get rid of Anoop.
At least not yet.
Story by
Andrew Payne
Starpulse contributing writer