'American Idol' Recap: Power Ranking The Top 10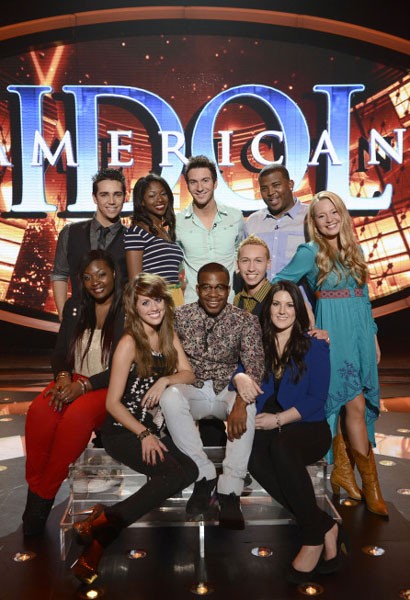 This year will be 'Idol's' hardest to handicap in half-a-decade. Without a cute guy playing an acoustic guitar poorly on which to rely, this year's power rankings promises to be as topsy as it is turvy. In other words, this should be the most exciting completion in years, if it weren't for the fact that there isn't really a standout performer that's worth feeling excitement about.
Oh well, at least it will be changeable.
But before we get to the power rankings, there's the matter of last night's 90-minute results show travesty to discuss. Even worse, one recappers ill-fated decision to watch the program live rather than an hour later on the beauty of DVR fast-forward.
Those who actually watch these shows live are the true heroes. Or biggest fools on the planet, it's hard to say. Last night's show waited twenty minutes before presenting content that wasn't on a previous episode. Imagine if you tuned into 'The Walking Dead' and they just showed you that "Previously On" package for the first twenty minutes? You'd be pissed. Well, that's what 'Idol' did last night, but that only accounted for about a third of the programming. And only about 25% of the filler.
The remainder came in an odd decision to have the contestants sing "Victory Songs" after Seacrest welcomed them into the top ten. This was at least entertaining, though it became more frustrating realizing that were it not for the incessant clips from previous episodes that this could have actually been a very fun and very tight hour with a few songs, a few results and very little interruption from the judges.
But they spoke. They didn't say anything, but they did speak. A lot of congratulations, a lot of self-congratulations for shepherding the contestants this far in the competition, but very little in the way of substance. Just more time spent stretching to the next commercial break.
What wasn't just filler did provide some insight into who has the potential to become the favorite as the show presses forward in the first year in five without a cute guy playing a guitar.
So who's got the most potential? Yes, it's time for this season's inaugural power rankings:
1 – Angie Miller
It's clear the judges want a girl to win, and she's the standout so far. The Cute Girl at the Piano has the one buzzworthy moment so far this year when she blew the roof off of Hollywood Week with an original song. A long competition remains and she's going to need to stay consistent to win, but right now she seems like the best bet and, more importantly, the contestant the producers want to win.
2 – Devin Velez
The little cute boy with the big voice and the Spanish crossover appeal may be able to rally the tweeny texting voters even without a guitar. He also has big potential to fall flat one week and just disappear, but he's the only one capable of filling the demographic that's carried this show the last five seasons.
3 – Lazaro Arbos
The sympathetic choice this season also has a lot of lady-appeal working in his favor. He also seems to be incredibly inconsistent, but if he can find to stay solid every week, he has a chance to make a run.
4 – Curtis Finch, Jr.
The absolute best singer in the competition can't crack the top three. Why? Because Joshua Ledet didn't win. Because Jacob Lusk didn't win. Because Adam Lambert didn't win. Because Pia Toscano didn't win. Because the best pure singer never wins.
5 – Candice Glover
Kind of the male Curtis: A big-voiced soul singer who can really blow, but probably isn't going to win because she doesn't have that tweeny-bopper appeal.
6 – Paul Jolley
The absolute wildcard in this competition. He's good-looking, he sings country, and if he had a guitar he'd be an easy winner. The problem is that his voice just isn't really that strong and he's normally at risk of being out-charismaed by the mic stand. If he can put it together, though, he could seriously win this whole thing. He just doesn't seem likely to figure it out.
7 – Kree Harrison
A big-voiced country singer always makes a deep run, sometimes into the final two, and she's this year's best version of that motif. However, that type of singer never seems to win.
8 – Burnell Taylor
He's like Curtis, but he's not as good. If Curtis isn't poised to make a run, why should Burnell have much of a shot?
9 – Janelle Arthur
She's the worst singer in the top ten, but she sings country so she only needs to improve a bit to make a deep run.
10 – Amber Holcomb
The Burnell to Candice Glover's Curtis. She's a soul R&B singer who just isn't as good as her counterpart. She'll be the first one out.