'American Idol' Recap: Pia Toscano Goes Home On A Stunning Results Show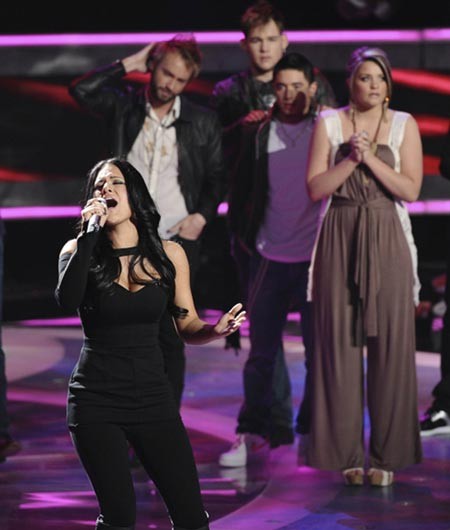 And once again, the judges have ruined the show.
Pia's insane, stupid and shocking ouster last night is bound to bring forth a lot of theories: That voting is so dominated by young girls that females are at a decided disadvantage, that this is a competition dominated by guitar-voting boys and the rest is immaterial, and that the Producers rigged the voting to drive more interest. All of that will be in play, but I choose to ignore all those theories and put the blame for Pia's leaving in one place: The judges' table.
In the midst of a typical judging performance on a show night – that is to say, near universal praise for everybody – the judges did a really strange thing, they actually criticized Pia. J-Lo said they she still wanted more. Randy still criticized her for doing too many ballads – even though she didn't do a ballad on that night.
Of course, they still had high praise for Pia. In fact, their criticism was more aimed at the fact that Pia was so far beyond the show that they were more giving her advice for a career and not really breaking down the quality of how she was competing.
Unfortunately, when you praise everybody like they're Whitney Houston in her prime, the layman will see your short critique as Pia's being the worst of the night. And clearly they vote accordingly.
There shouldn't be anything wrong with what the judges' said to Pia – and those small suggestions shouldn't have been enough to do her in. At least they shouldn't be if the judges were fair in their criticism of everybody. But they aren't and they haven't been all year. Instead, everybody's the same. Everybody's wonderful. There's simply no means for the audience to differentiate between the performers. After all, the judges say they're great so there's no reason to vote against them.
It's that lack of distinction between the performers that makes it so easy for people to vote against Pia. The judges' universal adulation of every single contestant meant there was no reason for voters to see Pia as clearly better than the rest. And to see the judges' jaws drop really made no sense. Why did we have to wait until Pia was gone for them finally assert how much better she was than everybody else?
There was no way for the viewer to ever discern this is how the judges' felt. It was never mentioned once that she was the one to beat. They never hinted that she was the clear standout. They never said anything to another contestant that was of lesser laudation than what they paid Pia.
And when Pia is subject to the slightest bit of criticism (albeit actually a higher form of praise) on a performance night and everybody else skates by on claims of being the greatest singer in the history of vocals, the only conclusion to which some could come is that Pia was the one who should go. And that's precisely what happened. All because the judges are so useless this year that they can't even communicate who they think the best performer is.
Then, of course, there's the save. The save that they stupidly wasted on Casey. We wouldn't even have to worry about Pia's going home had the judges possessed foresight enough to realize that Casey has no chance of winning and isn't in the top 7 or 8 talent-wise this season. Had they come to that simple conclusion they would have just let Casey go when he should have gone and they would have been able to use the save on a true injustice – like Pia's having to leave last night.
It's my hope that after watching the best singer on this show since Kelly Clarkson go down in flames that the judges self-direct their analysis and begin to offer some level of difference in how they evaluate the contestants. That we no longer get endless declarations of each singer being the best thing ever before Jacob ends up going home early and the season loses its two most talented contestants.
Of course, these are the same judges who didn't even see fit to include the luminous Molly Dewolf Swenson in the top 24, so I'm not really expecting much. Just dismayed that we'll no longer get to see Pia blow the roof off the building any longer and we'll have to suffer through more Casey, Haley and Lauren all because the judges couldn't find a way to offer praise on levels other than the superlative.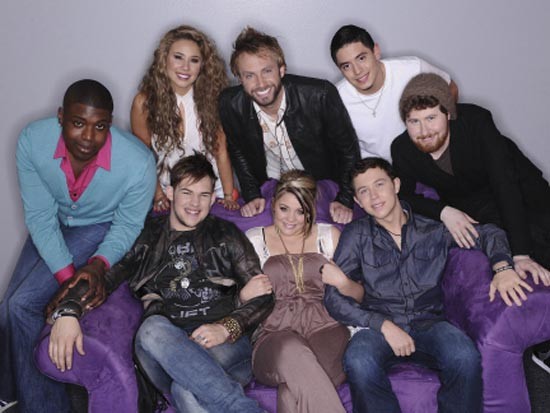 There's no point talking about the rest of the show. Let's just get to the power rankings:
1 (Rank Last Week: 1) – Scotty McCreery
Just like Lee, Kris, and David the last three years, Scotty has clearly locked down the young girl vote and is an absolute lock to win.
2 (5) – James Durbin
Then again, James seems to be building a similar contingent. I think these two will showdown at the end, and nothing can stop them.
3 (6) – Casey Abrams
Unless, of course, the judges' mindless praising of Casey goes on for so long and reaches such satirical heights that viewers cast even more votes for him.
4 (7) – Paul McDonald
And then there's Paul who's actually working the guitar each week and has those ragamuffin rock star good looks going for him. He's the darkhorse amongst this girl-crush contingent.
5 (4) – Lauren Alaina
But if anybody can break the guy stranglehold, it's going to be Lauren. Young girls vote for their own (at least they seem to on this show) and she's the only one left. Plus, the judges love her (even more than the average) so she's at least got a shot.
6 (8) – Stefano Langone
Just like Stefano. He's got a shot, but he seems very capable of delivering an absolute dud one week and going  home as a result. Unless of course the judges say he's still the greatest thing ever afterwards.
7 (2) – Jacob Lusk
Though I doubt any amount of praise will help Jacob. He's the most talented performer left, but landed in the bottom three this week after really blowing a song away. I don't think he quite has the voting contingent to move on.
8 (9) – Haley Reinhart
But Haley still has the least chance. I still contend she's the only one with no chance of winning.
What did everyone else think of last night's show?