'American Idol' Recap: Paul McDonald Goes Home On An Entertaining Results Show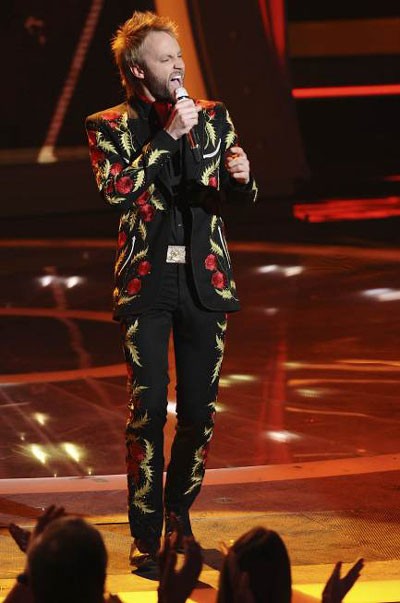 After a year of curses, one of my favorites finally goes home.
I've had terrible trouble with my favorite American Idol contestants this year. First, there was my favorite contestant of all time (Molly Dewolf Swenson) being cruelly cast away before I even got a chance to see her sing again. Then there was my hastily thrown together favoritism of Tim Halperin (really, just a rebound favorite) that sent him packing the next week. With all this, I decided to keep my two favorites in the top 13 a secret, lest I doom them again. But now it doesn't matter for one of them, as Paul is gone.
I really liked Paul. I thought he had a ton of charisma and the ability to put his own spin on songs in a way that nobody seems to want to do on the show this season. His rendition of 'Rocket Man' was the highlight of the season top 13 until Jacob Lusk's performance last week. He was just good and made me want to root for him.
It seemed America shared my enjoyment for Paul, at least for awhile. But he never really had the right chops to win this show. He could pull of the cute guy with the guitar thing, but he was too offbeat to really fall into that Lee Dewyze/Kris Allen mold. And his raspy voice left him unable to really kill a song. It's too bad. I looked forward to him each week. I guess now I'll have to look forward to seeing him at some dingy club in Silverlake. Hopefully with Molly Dewolf Swenson as his opening act.
That leaves me with one more favorite who I'll keep a secret until they go. And if you read my column regularly, I'm sure you'll be surprised to discover who it is.
Thoughts on the Rest of the Show:
Thankfully, the format returned to segmenting the performances and breaking down the individual results to follow those small groups. This is just a perfect way to break up the show, and all the pairings really worked well. I even managed to tolerate Casey for once.
Rob Reiner officially passes Quentin Tarantino as the most asinine mentor ever. It was worth it to hear his boffo lyrics to "Chariots of Fire" (which half the Idols understood as a joke) and to see 'The Bucket List' on the rundown of 'classics'. Plus, it was pretty clear Scotty McCreery had no idea who he was and had never seen any of his movies.
Tonight also gave us the obligatory Rihanna performance of the 'Idol' season. Sadly, she didn't sing 'S&M' which caused a friend of mine to wonder if Rihanna is like Ron Burgundy – in that she'll just sing whatever you put in front of her. Seriously, do we have any evidence that chains and whips actually excite Rihanna? Don't you think somebody just gave her the sheet music with the lyrics and she sight-sang it while lining up her next fragrance line and not paying attention at all? That wouldn't surprise me one bit.
This song wasn't half bad – a bit dreary, but a solid ballad nonetheless. Wish she'd sung "Only Girl in the World" which should win Record of the Year in my opinion.
And coming full circle on the subject of my 'Idol' favorites, I have to mention my original favorite contestant (and the only person for whom I ever cast a vote) Kelly Clarkson's umpteenth return. I prefer her anthemic rock/pop to this alt-country stuff, but she's still got that killer smoky voice and is clearly making music on her own terms right now. I gotta respect that from my original favorite, even if I'd prefer it if she just sang "Since U Been Gone" every time she came on.
As always, before we get to the Power Rankings, I must remind you to follow me on Twitter @paynehumor.
Power Rankings:
1 (1)  Scotty McCreery
I've been saying it long enough that I think I've almost made up for putting him in the basement of my first power rankings: Scotty is going to win.
2 (5)  Lauren Alaina
There's a chance that Pia's getting voted off last week means a rallying cry to vote for girls. She's got that vote all to herself, and the young girls like to vote for their own. Plus, the judges absolutely adore her.
3 (2)  James Durbin
I just have no idea about this guy. I never know what grade to give him. I never know how popular he is. He's a total mystery to me. He could win or go out next week. I have no clue.
4 (7)  Jacob Lusk
I may have overreacted to his bottom three visit last week (which happened out of the dreaded lead-off spot) and dropped him way too far. I think he's by far the best contestant left, and, hopefully, that will be good enough for him to take a run at the title.
5 (3)  Casey Abrams
I swear, if the judges would just stop slobbering all over him for one week, he'd be gone. He's not good and the judges seem to be the only ones who don't realize that. Voters are just waiting for an excuse to drop him again.
6 (6)  Stefano Langone
Stefano has really let the constant trips to the bottom three get to him and it shows in his performances every week. He's bound to let his brain get in his way soon and just choke on a performance night. Then he'll be gone.
7 (8)  Haley Reinhart
She seems to be gaining some traction, including managing to stick around after a bad night, but she still has no shot at actually winning.