'American Idol' Recap: Paul Jolley Goes Home + Power Rankings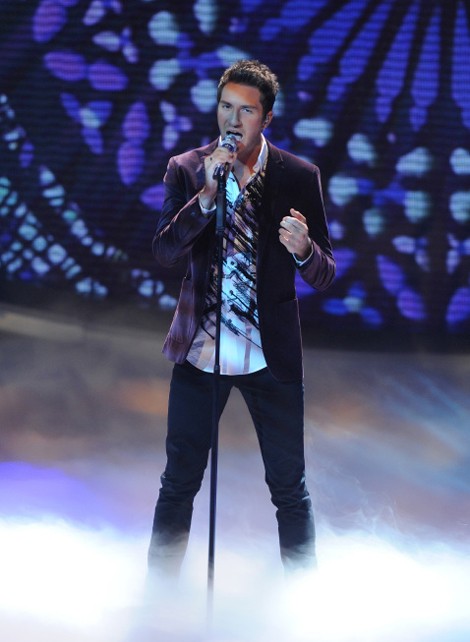 At what point do we, as a nation, collective rise up in one voice and loudly proclaim, "Enough with The Beatles on 'American Idol'"?
Every year they bring out the Lennon/McCartney catalog (more so the producers can show off their coup of a rights-holding than anything else) and every year the whole bloody thing gets slugged through the dreck more so than when Michael Jackson bought it and licensed it at will.
It's never quite so bad on the actual performance night, mostly because ignoring the garbage performances is easy in favor of the few gems the contestants are able to wring out of an evening that shouldn't be taking place at all. Not only because these aren't singers songs, but because they're mostly impossible to improve upon and the whole point of a show like this is kind of to improve upon the original record as best the contestant can.
But that's just the performance night, and it's mainly excusable. After all, it provides a break from Bruno Mars vs. Adele vs. Carrie Underwood for at least one evening. What can't be forgiven is the imminent results show that follows.
Rather than give us just some cool retrospective about the Beatles or a spot of archival footage, the producers always prefer to have the contestants attempt to sing some inane choreographed medley of Beatles music. It always comes off like a terrible high school show choir's second rehearsal and more painful considering the source material. Even worse was last night's all-ladies "Here, There and Everywhere" where they changed all the "she's" to "he's" and all other gender switches. You're singing a song! Just sing the original lyrics! Nobody cares what gender you're singing about! It's just a song!
Of course none of that was nearly as bad as Casey Abrams coming out in a beard that resembled Jason Segel's in 'The Five Year Engagement' and a ponytail that resembled nothing a sane man would wear and completely desecrating "I Saw Her Standing There". It's hard to figure out what to hate most about Casey Abrams. The intentionally goofy appearance? The horrible bass playing that people assume is good because he's doing it on a doghouse standup bass? The ridiculous growls in his singing? The 14-year-old stoner character he's still playing at 22 and presumably thinks is amusing? Or the fact people actually think he's talented? Take your pick, it's all correct. At least we won't have to worry about seeing him anymore this season. And hopefully no more joke Beatles performances either.
Oh yeah, also Paul Jolley went home. To the surprise of not even Paul Jolley it seems as he was essentially walking off the stage in the middle of his save-me performance. Hard to not like a guy who's that humble and just seems thrilled to be a part of the show.
However, there are still eight with a chance to win. Yes, it's time for…
Power Rankings:
1 (Rank Last Week: 1) – Angie Miller
Jimmy hit her with the truth: She oversings and over dramatizes things too much. That's the only thing that has her trailing Candice for best overall singer and she's already destroying her biggest challenger in terms of stage presence, the piano and likeability. It's hard to see her losing if Jimmy can just correct her over-singing.
2 (2) – Candice Glover
She's clearly the best singer, but the best singer never wins on this show. Especially when it's coming down to their big voice. She's the biggest threat, but still has substantial ground to close.
3 (3) – Kree Harrison
Yes, there's a clear top three and it's all female this year. Kree has the country thing in her favor, but it's not a full on country thing so that's going to prevent her from using that to topple the top two. She's also much less likeable than the two ladies she's trailing so that's another strike against her. She's in it for a deep run, but is a clear third among the top three.
4 (8) – Janelle Arthur
The country girl isn't going to beat the big three, but if she keeps improving, she's the best bet to challenge them.
5 (5) – Amber Holcomb
Five girls. Top five positions on the power rankings. This is likely unprecedented and speaks to how shamelessly the judges stacked the field this year. With a bottom three after her best performance, it's clear Amber hasn't caught on and will likely be the first girl out, but she still has a better shot at winning than any of the boys, even if one outlasts her.
6 (6) – Lazaro Arbos
He avoided the bottom three after a crater of a performance this week, but that's likely due to one final run from Vote for the Worst as his champion. As the field shallows, that won't help as much and Lazaro will be out, but if there is some other fan base rallying him, maybe he has a shot.
7 (4) – Devin Velez
So much for the bottom-two worst performance theory last week. He was there again after a good performance in a late slot. He's clearly got no following and now no chance to win.
8 (9) – Burnell Taylor
It's always a surprise when he sings each week. Mostly because nobody remembers he's on the show at all.