'American Idol Recap': Not Many Classics On Rock Night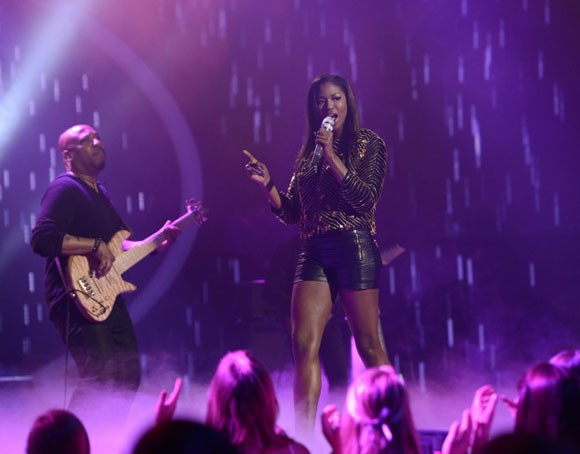 Amber Holcomb Sang "What About Love" by Heart
Keith Said: That was a really good song choice. I thought that was really great.
Nicki Said: I think this was my favorite of the night, to be honest.
Randy Said: You really found yourself in that song.
The Verdict:
Finally, finally somebody picks a good song. Finally a song that's about the vocal. How hard was that? How freaking hard was that everybody else? It's so easy. Pick a Heart song and you're set. It's corking your bat.
Unfortunately, Amber only hits a weak single with her weapon of choice. Her voice just is off. She normally owns songs and performances like this with the poise and stature of a veteran pro.
Here it just seems weak. She never gets on top of the song and really dominates it. It was 80% there when everything was in place for her to go 100%.
Disappointing performance, but a brilliant song choice.
Grade: C
Prediction: A standing O from the judges this late is a ticket to next week.
Angie Miller Sang "Bring Me To Life" by Evanescence
Keith Said: You need to lose yourself in the song more.
Nicki Said: I thought this was a perfect choice for you. Kudos. Congrats.
Randy Said: Great dynamics you had going on with this.
The Verdict:
I may be showing my age here, but I was a freshman in college when this song was released. I don't know how anything from my college days can already qualify as Classic Rock, but perhaps I'm just over the hill.
If we ignore the category fraud here, this is a brilliant song choice and what could have been a brilliant performance. Had Angie stayed at the piano and kept it slow, she would have killed it. Perfect score. She showed that for the first minute and then stood up and fell into the very good zone.
So half-brilliant + half-very good = the best of the night easily.
Grade: B+
Prediction: Very, very safe.
Final Thoughts:
Simple. Burnell is done.