'American Idol' Recap: New Season, New Judges, New Fighting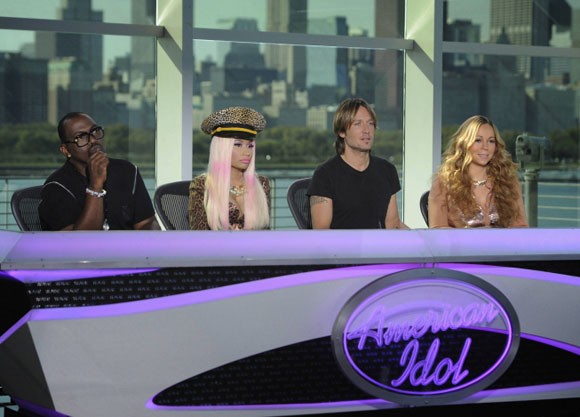 This year's 'Idol' is going to be a battle of the producers vs. the publicists.
The constant bickering and fighting between Nicki Minaj and Mariah Carey is likely to cause both parties to emit fluids. While the publicists sweat, hoping that their clients will stop making themselves look bad and possibly alienate an America that doesn't want to see rich people fight for no reason and be unpleasant, the producers are salivating. Their mouths watering at the prospect of a season that renews a judge rivalry extinct since Simon and Paula stopped yelling at each other almost five years ago.
The premiere teased us with that possibility. It seemed that no matter what Nicki did, Mariah was annoyed by it. No matter what Mariah said, Nicki had either a snide remark or a confused response. They just couldn't stay away from each other. Like a set of twin brothers hell-bent on showing their superiority in wrestling every day.
We can only hope the producers win out so we can bear witness to a live show melee of fake British accents and compliments that really meant as the harshest insults. As a sniping duo, this could be the best pair we've ever seen on this show.
The judging, though, was not there yet. A lot of dismissing people whose voices sounded like they may be used as the torture methods on the Zero Dark Thirty sequel by telling them that "It's just not their thing." Or suggesting alternate career paths like Deejaying for reasons that will forever be unclear.
That's why we still have Randy. While he's destined to reduces himself to saying, "I dunno. It was just a'ight for me." and "In it to win it!," he did bring the heat on auditions – continuing to be the de facto Simon Cowell since his former colleague's departure and the only judge with anything truly vicious or entertaining to say.
And Keith Urban. If he were deported to Australia tomorrow or disappeared completely off the face of the Earth, would anybody notice?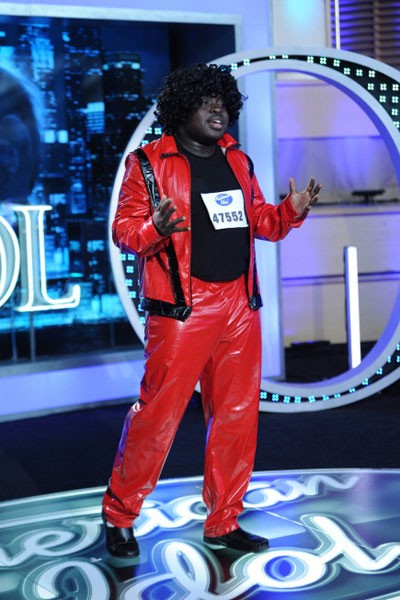 The Three Worst Auditions
Michael
This is the guy who led off the show by bursting into the middle of a Nicki/Mariah fight by singing his own nonsensical version of "We Will Rock You." With lyrics about the 'Idol' judges!
This served only as his introduction. His actual audition was far more foul. His grand idea was: Why sing one song when I can flick around a radio in my head to a bunch of different musical styles? Especially when they're all songs that I've invented?
I'd say that was the most offensive part of his audition, but that prize clearly went to his massive pit stains.
Benjamin
This was the guy who came in wearing a weird wig full of curls that he both refused to admit was a wig and continually told the judges was a wig. The most confusing hair misidentification since John Travolta's life.
He sang a bizarre version of "I'll Make Love To You" directed at each of the female judges. It was bizarre in both his backed-up garbage disposal method of singing and his gestures toward Minaj and Carey, complete with a punctuating hip thrust.
Benjamin also provided his own backup band in the presence of his fire truck red vinyl suit that squeaked to the beat like a flatulent chorus.
Albert
This is the guy who didn't know who the judges were. He had no idea who he was going to impress. All he knew was that he had the voice to do it.
Well, that didn't really turn out to be true. He opted to sing 'The Phantom of the Opera' which is famously a duet between a man and a woman.
How did one man sing a multi-gender duet, you ask? Quite simple! Well, not really a falsetto. More of a squeak that two dog whistle companies are already in a bidding war over. They think it will corner the market. Look for more on CNBC this afternoon.
Best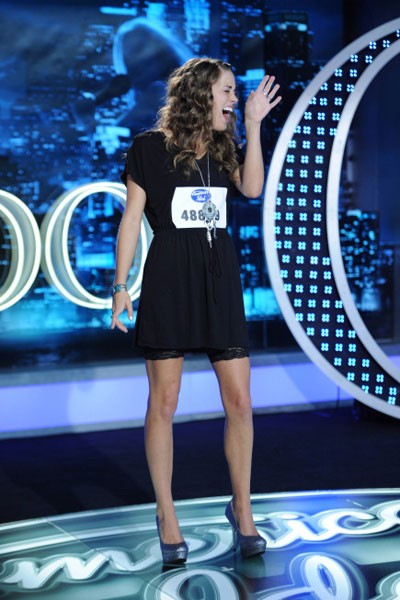 Christina
This is the girl who struggled with her weight and lost 50 pounds (I did that once, you don't see me asking for trophies). She came out with a smooth and powerful jazz voice. Not a blowaway performance by any meanys, but definitely enough to qualify in the top three in what was a pretty weak night.
I really wouldn't put anybody else through. A lot of oversinging and people who just weren't ready.
Despite that, the judges did seem tougher than the last few years. A few auditions that I thought were destined to get a golden ticket got a "no" in unanimity. Maybe we'll have a more solid block of talent this season.
Anyway, Christina. Did you know she lost 50 pounds!?
Angela
The 18-year-old goddess with hearing problems and a voice that makes it the cruelest disability imaginable: She's missing her own wonderful gift.
That gift gave us a searing rendition of Jessie J's "Mama Knows Best" which is apparently Mariah Carey's favorite song right now.
After hearing Angela's performance, it just might be my favorite too.
Ashlee
This was the show's closer from the gigantic foster family of medically complex children. She sang Corinne Bailey Rae's "Put Your Records On" in a way Rae wishes she could sing her own song. A big fully soulful voice that sounded like a miniature choir had exploded into the audition room.
It's rare to see that tone and that richness at the audition stage, but this was a girl who sounded ready to hit the main stage tomorrow. Her voice is ideal for that arena and I think she deserves a bye into at least the top 24.
Now there's an idea…byes in 'American Idol.' Maybe I should be a producer on this show. There'd be even more fighting. That's for sure.
Best of Randy…
"What Nicki was trying to say to you…is that the voice is terrible."
"You're not even close to being right for this show."
" Obviously, it was terrible."
What did everybody else think of the new judges?