'American Idol' Recap: New Judges Means A New Show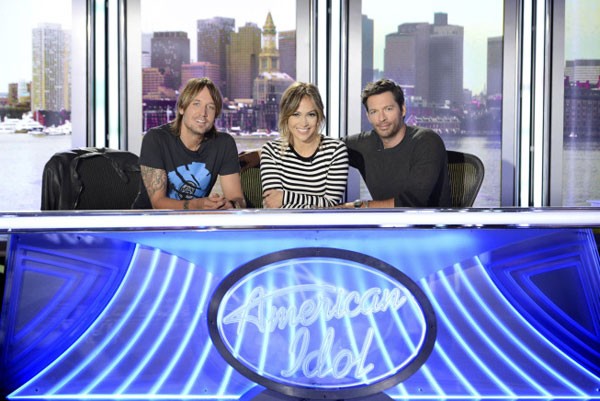 13 Years in and suddenly 'Idol' seems like it's playing catch-up.
In what it's hoping isn't its unlucky thirteenth season, 'American Idol' attempted yet another reinvention last night, veering farther away from the snide formula that made it such a breakout success all those summers ago. Gone is the ridicule, the delight at disaster and general amateur nature of the show. Instead, it's mostly good contestants and enough sob/inspiration stories to fill a week's worth of Olympics coverage.
Even worse than that, we're getting to know the contestants before they even sing a bar. Banter abounds, pathos erupts, it's like they're people rather than potential trainwrecks. A total swerve for this franchise and one that threatens to ruin the fun.
There just wasn't a single contestant from whom we didn't receive a backstory. Even the quick hit-and-run contestants got short video packages while they were singing. Yes, while they were singing. It seems the producers are more concerned with the audience hearing the voiceover from the contestants than they are their singing voices. Strange, this is supposed to be a competition for crooners at last check.
The judges inhabited a new role last night too. No longer are they there to either heap praise upon the good or lambaste the terrible hopefuls as soon as they've finished their sixteen bars. Now it's more about them joshing around and making pals with eachother than even paying attention to the singers.
That's not what this show is. 'Idol' is supposed to be about long stretches of ridicule with brief interruptions of praise for the lone good singer in this part of the show. Now we're just all their to have fun and enjoy the forced chemistry between the panel.
It's not 'Idol'. It's 'The Voice'. It's the godfather of singing shows getting passed by an upstart and now trying to flip its format to catch the new show on the dial. All it needs now is to have the judges sit in swivel chairs and generally mock each other in front of a bunch of semi-professional singers. That's apparently where this show is going.
So yes, there are a lot of changes just beyond the rebooted panel. There's a "chamber" which appeared to be an elevator with tin foil on it. Ryan Seacrest is barely present, seems strange. The graphics package is totally different too. It's really a brand new show with more gloss, positivity and production than we've ever seen in these early shows.
It's just not the same type of fun.
The judges though, just might work. J-Lo is mercifully back and seems ready to make Mariah Carey look even worse by comparison and establish her legacy as the second-best judge ever on this show. Keith Urban looks reinvigorated without the Nicki Minaj/Mariah Carey nuthouse next to him and may actually show some signs of life this year.
Then there's Harry Connick, Jr. He may be the first person in the history of reality television to really try to be funny and actually succeed in doing so. His moments were the only memorable ones of the first episode and included him hitting on Keith, bemoaning the size of his celebrity compared to the rest of the panel and rocking a contestant like a baby as he auditioned.
More than that, he actually brought a lot more musical know-how than we're used to seeing from judges on reality shows. When the produces actually allowed brief seconds of insight to air, Harry was giving a singing clinic on national television. After a several year's courtship, he may be as good as the producers were hoping he'd be.
Now if only the rest of the show could follow suit.
Check back tomorrow for a traditional recap of the second audition round.