'American Idol' Recap: Looks Like A Girls Year – A Complete Rundown Of Sudden Death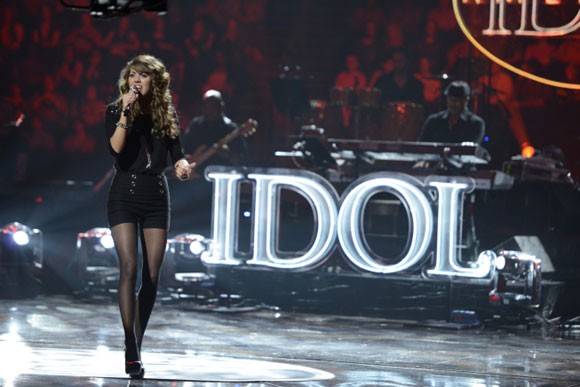 Angela Miller Sang "Nobody's Perfect" by Jessie J
Keith Said: You have huge talent. I have a feeling I'll have more chances to give you more compliments.
Nicki Said: You're a top contender in this competition. Don't overdo it.
Randy Said: I think America's witnessing the building of a superstar right there.
Mariah Said: Your potential is just limitless.
The Verdict:
Earlier we had the classic cookie-cutter bad 'Idol' performance. This was the cookie-cutter good 'Idol' performance.
At the beginning, it kind of sagged. Angela seemed a bit overwhelmed with the stage and totally disconnect from the song. She was smiling like a spokesmodel for crissakes. This from the girl who obliterated her final Hollywood week performance.
Then it built. And built beautiful. Angela fell into her own and by the end, you couldn't even remember the shaky beginning as she matched the fervor of the orchestra with that same gigantic voice we heard last week. With the buzz she's building, she definitely seems like the favorite right now.
Grade: A-
Result: SAFE
Isabelle Sang "God Bless the Child" by Billie Holliday
Keith Said: To every guy who never invited you to prom, let that be a key to the side of his car.
Nicki Said: You're up here shining.
Randy Said: You have a big voice and huge talent, but it was a bit old-fashioned for me.
Mariah Said: Your vocal could have been over any song.
The Verdict:
I refuse to use more than fifty words on an egomaniac who goes by one name (when it isn't even unusual) and has such poor enunciation of a classic that I couldn't even tell what song it was that she was making a pitchy mess of until about half-way in.
Grade: C-
Result: GONE
Amber Holcomb Sang "My Funny Valentine" by Rodgers and Hart
Keith Said: It was just so great to watch. You made that old song timeless.
Nicki Said: That vocal was at the top of the class.
Randy Said: You made the most important run the greatest.
Mariah Said: I love your interpretation of that song.
The Verdict:
If Isabelle was old-fashioned, this was a dinosaur. This was the type of performance that they should have turned the screen black and white for and shown in through an old top-load projector. Why in the world would you sing this song? And if you're going to, why would you put an elevator music arrangement on it? It was just an entirely confusing choice every step of the way.
The vocal wasn't horrible. It was pretty solid despite some major enunciation issues that made it seem a bit dreary, but I just can't get over the song choice. She'll have the chance to match her vocal ability to the right song next time.
Grade: C
Result: SAFE
Paul Jolley Sang "Tonight I Want to Cry" by Keith Urban
Keith Said: Don't underestimate the quality in your voice. Don't overcompensate with other performing.
Nicki Said: It seems like you're in your head so much that we're not feeling that raw emotion.
Randy Said: You have the potential to do it all in the country world. You've got great potential.
Mariah Said: It's nice to see you're able to have flexibility with the genre.
The Verdict:
I'll take my Paul Jolley with a side of sitting on a stool and some soft spotlighting, please. Wait, you mean that's going to come out really creepy? Send it back! Send it back!
The recipe didn't come out right for Mr. Jolley here. A really weird song choice. I'd never heard it before, but it sounded like a strange mix of Bette Midler and somebody you want to punch out a college party. Paul sang it like the latter with a touch of over-achieving High School musical kid thrown in for good measure.
A very cabaret performance that was over-trained and overdone by Jolley. His voice was in the okay-good range, but everything else about the performance just didn't work at all.
Grade: C-
Result: SAFE
Johnny Keyser Sang "I Won't Give Up" by Jason Mraz
Keith Said: It was good. That's the best you've sung I think.
Nicki Said: You look real sexy tonight. You don't have the greatest vocal in the world.
Randy Said: That a felt a little bit kind of just an okay performance for me.
Mariah Said: You really brought the masculinity.
The Verdict:
It's pretty amazing when you choose a song that has a total of about four notes in it and you can't hit any of them. Not only that, you can't come close to hitting any of them. That you sound completely flat the entire song when we can actually hear you over the backup singers and the band.
At least he made up for it with a compelling performance. Oh wait, he just stood there in an unbuttoned dress shirt and sang the song terribly. That wasn't compelling at all. At least he almost forgot the words at the end. So there's always that.
Grade: F
Result: GONE
JDA Sang "Rumour Has It" by Adele
Keith Said: I wish I would have felt a little less counting steps.
Nicki Said: You are a superstar performer, but your vocal was a little whiny.
Randy Said: You need to think a little bit more about the vocal. I felt no originality.
Mariah Said: I felt like your confidence level was major.
The Verdict:
JDA has been the big enigma throughout the competition. We've always seen him lurking in the background of the performances, but I can't remember ever hearing him sing. It's exciting to finally have the mystery revealed.
And, in true drag queen fashion, our luxurious French cosmetic salesman (who looked more like a cross between a pirate and 1,001 Arabian Nights for his performance than he did a drag queen) delivered a complete and utter burlesque performance. Complete with the stripping, over-stylized choreography and singing what amounts to a gay anthem, JDA didn't leave any burlesque out of his performance.
Though, keep in mind, this is a pop-singing competition, not a drag musical and as good a burlesque performance as that was, this is about becoming a pop star, and that was a performance you can see in about fifteen different drag clubs in West Hollywood on any given night not a transcendent vocal performance that's meant to stand out.
Grade: C+
Result: GONE
Kevin Harris Sang "(Everything I Do) I Do it for You" by Bryan Adams
Keith Said: I think tonight was very good.
Nicki Said: Every single solitary musical choice you made tonight was perfection.
Randy Said: It was a total karaoke performance.
Mariah Said: I would have loved to hear you sing a song where you could do what you know you can do.
The Verdict:
Nothing can be said about this performance of any consequence without mentioning the outfit. Kevin decided that a patterned bow tie and vest was the best ensemble to make his national TV debut. It definitely made him look like a backup singer in a bad 70s R & B group. Or a singing waiter.
I hope he never attempts the latter because there will be a lot of people unable to keep their food down with Kevin's off-pitch warbling in their ears. His falsetto sounded like he was mid torsion and his main register was wobblier than somebody drunkenly serenading his high school girlfriend.
He matched that with the energy of a shower curtain and the personality of a bathroom door. Soggy and bogged down without an ounce of fun. When you're boring that's impossible to overcome on this show. When you're bad and boring, that's just a nightmare.
Grade: D
Result: GONE
Chris Watson Sang "(Sittin' On) The Dock of the Bay" by Otis Redding
Keith Said: The voice wasn't the best it could have been and that wasn't the best song to show off your voice.
Nicki Said: I want to marry your vibrato. I love everything about you.
Randy Said: The song goes nowhere for you. You don't take it anywhere or do anything. I was bored
Mariah Said: For me it wasn't your best vocally, but certain things have overridden that.
The Verdict:
I'm going to let my real-time thoughts do the talking here:
What the hell is this?
What is he doing to this song?
Why is wearing a sparkly biker outfit?
Seriously, what is he doing to this song?
Why is there so much twirling?
He must be dizzy.
Maybe that's why he sounds drunk.
Why does he have a weird attitude all of the sudden? This is a song about relaxing?
Did he just forget the words? It's the same refrain over and over?
Seriously, what did he do to that song?
Grade: F
Result: GONE
Devin Velez Sang "Listen" by Beyonce
Keith Said: You were in the song and showed me Devin.
Nicki Said: You made a good choice to sing in Spanish. I'm proud of you.
Randy Said: I love you. I thought it was amazing.
Mariah Said: I feel like at the end of the performance you were critiquing yourself on certain things.
The Verdict:
I'm not sure if I should start with the bathrobe sweater or the fact that this is the definition of a high school show choir cabaret performance.
Let's go to the performance. So over-trained. So little connection to the song. He's just singing notes. That's all he's doing. 900,000 people in this country can just sing the notes. It's so disconnected that he slips into a different language, which to me just shows that he doesn't care what he's singing about – that he's so far off the words don't matter. Just the notes.
And he comes out with the classic performers pose, like he should be on the end of a ship or something while he's singing a sad and soulful song. It's just so wrong. I don't care how nice his voice is. Sing the song. Don't sing the notes – it's so dull and so uninspired.
Oh, and he was wearing a bathrobe sweater.
Grade: C-
Result: SAFE
Elijah Liu Sang "Talking to the Moon" by Bruno Mars
Keith Said: It was a fairly shaky performance, but you look like a pop star.
Nicki Said: You are a super-duper star. I would sign you today.
Randy Said: This was not a great vocal. You had no moments in that song.
Mariah Said: You're extremely marketable.
The Verdict:
Wow. This kid flat can't sing. Like at all. Every year it seems like there's a performance in the top 20 or 40 that seems like it would be suspect to just get through to Hollywood, or even wind up on the blooper real.
Well, here's this year's. Complete with this youngster dressed like a mine Bruno Mars for some reason. Like he's trying to fool people.
Well, when you fail to hit any note, have absolutely no sense of the pitch and forget a few lyrics, you don't need to worry about fooling anyone. Just making them want to run away from you.
Grade: F
Result: SAFE