'American Idol' Recap: Looks Like A Girls Year – A Complete Rundown Of Sudden Death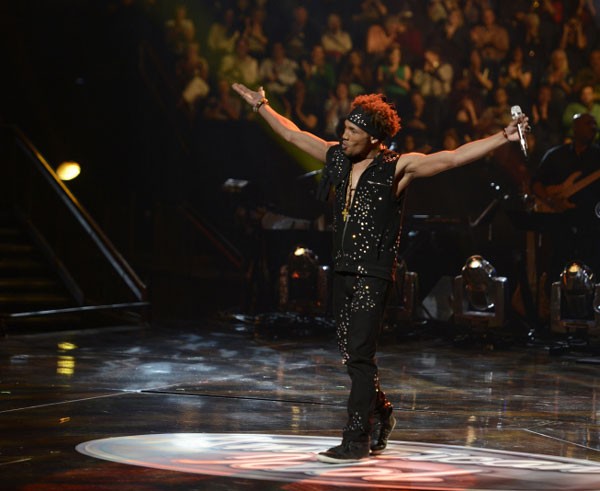 10 Guys. 10 Girls. 20 Performances. One technical glitch that put all of it onto one post the next day. This mammoth 'American Idol' recap can suffer no further delays or it may burst the 5,000-word bubble. So let's get to it.
Jenny Beth Willis Sang "Heaven, Heartache and the Power of Love" by Trisha Yearwood
Keith Said: Great way to start the show, but not thinking that was the best song for you.
Nicki Said: I liked your voice, but I didn't feel like you came alive until the end.
Randy Said: Felt jerky. You never got in sync with the band.
Mariah Said: You could be more dynamic vocally during the verses.
The Verdict:
Just absolutely nothing compelling about Ms. Jenny Beth. She's got no voice, no stage presence and bores her way through a country tune with fire of somebody you wish would stop interrupting your meal at a country-themed restaurant where you weren't expecting there to be live music.
This was as cookie-cutter bad as it gets. She did nothing with the song, showed no vocal range whatsoever and muddled through to the predictable big belting note that didn't make any sense at the end and didn't fit the song.
This is the type of performance that always failed in the top 24 shows. And now it fails in this sudden death round.
Grade: D-
Result: GONE
Tenna Torres Sang "Soulmate" by Natasha Bedingfield
Keith Said: I thought it was really good. I like the diversity in your voice.
Nicki Said: There's just no tone like that in the business right now. I loved your performance. But lose the hair.
Randy Said: This is the start of the night! This is how you do it!
Mariah Said: You could be more dynamic vocally during the verses.
The Verdict:
Yes, she's at the top of the 'Idol' age limit (28), but it didn't feel like it. It felt like she was about 65-years-old. In a good way. In a way that she'd been dominating Motown stages and recording studios for the last forty years and just decided to stumble onto the 'Idol' stage after a bad divorce.
She put an insane soul spin on this Natasha Bedingfield song and was so deeply connected to it that it felt not only like she wrote it, but like she lived it. And maybe she did.
No matter what – this was a stalwart-level performance from somebody just starting out. Fortunately, she hasn't met her end yet either.
Grade: A-
Result: SAFE
Adrianna Latonio Sang "Ain't No Way" by Aretha Franklin
Keith Said: It was so damn good.
Nicki Said: Tiny little thing that commands the stage.
Randy Said: This girl's a pro!
Mariah Said: A-plus
The Verdict: SAFE
I have to question the song choice here. It's clear Adrianna has a good voice and she sang it well, but when you're tackling such a longing soul song, you need to put a little stank on it and make a bit of a mess – striving for technical perfection just sucks the life out of it and leaves it feeling flat.
That's not to say it was altogether bad, it was extremely well-sung, but it just wasn't the type of performance that song required.
Grade: B-
Result:
Brandy Hotard Sang "Anymore" by Travis Tritt
Keith Said: Your voice is good, but there was an emotional connection inconsistency.
Nicki Said: Why are you smiling when singing about your tears? That was a pageant delivery of a song.
Randy Said: It didn't tell me enough about who you are.
Mariah Said: I would do more songs focusing on your vibrato.
The Verdict:
I don't know what's going on with the country singers tonight, but through four performances, they're being obliterated by the R&B ladies.
This was not quite as bad as Jenny's performance as Brandy at least delivered an interesting vocal, but it was very similar in that she was totally disconnected from the song and just sang along with the record in an incredibly dull and predictable performance. Absolutely no originality and absolutely no reason for the judges to keep her. So they didn't.
Grade: D+
Result: GONE
Shubha Vedula Sang "Born This Way" by Lady Gaga
Keith Said: On one hand it was confusing, but I love your voice.
Nicki Said: There's something comical about your performances. It's like a mash-up of Christina Aguilera and the Gangnam Style guy.
Randy Said: There were way too many runs. I wish you'd stayed at the piano. But you have a lot of potential.
Mariah Said: It was too forced.
The Verdict:
Shubha put an interesting spin on this song, I think I even heard a sitar. Well, she did for the first fifteen seconds that is. After that…Well I have no idea what happened.
Shubha got up from the piano where she was delivering a cool and slow performance of this dance-pop hit and got up to shift the song into a twitchy and boring classic rock version of the song that fell in between the beauty of her slowed-down version and the fun of the original in a befuddling mix of about nineteen different genres and tempos that just became…weird.
Grade: D+
Result: GONE
Kamaria Ousley Sang "Mr. Know-It-All" by Kelly Clarkson
Keith Said: It was unnecessarily theatrical.
Nicki Said: You put a throaty twangy thing on it that didn't work.
Randy Said: It just never caught on. There's nothing redeemable I can say about it.
Mariah Said: You're marketable, but I don't feel it was the right song choice.
The Verdict:
Ugh. The thing I hate about 'The Voice' is that everybody on the show is a ringer: They're all actually professional singers that you just haven't heard of. They're either session singers or backup singers. It's basically rigged from the beginning while this show is all about undiscovered talent.
Well, Kamaria blew that out by highlighting her career as a backup singer for a number of top 40 groups. She doesn't need to win and after that boring and pitchy performance she doesn't deserve to either.
I expect a lot more from a pro. If she'd told me in her intro that this was her first performance ever, I'd have found it a lot more believable because she was so far off the pitch and so confused by the rhythm it felt like she'd never sung before.
Grade: D
Result: GONE
Kree Harrison Sang "Up to the Mountain" by Patty Griffin
Keith Said: You embodied the soul and blues of country music so purely.
Nicki Said: I'd be very scared if I were the other girls.
Randy Said: Here is another natural-born singer.
Mariah Said: You sang the hell out of that song.
The Verdict:
Another country girl goes down. Though they keep climbing a few inches at a time up that mountain to being tolerable.
Kree actually had some very solid vocal moments in this tune, but they were lost in a manic performance that felt like she was fighting against the song and just desperate to find her next moment of brilliance. Those moments did come, but they weren't consistently there and the performance just lacked that overall control that it needed to really soar.
It's clear she has massive vocal talent, but this performance just didn't have the cohesion you'd expect from a real pro. Hopefully she can put it together in the next rounds.
Grade: C+
Result: SAFE