'American Idol' Recap: Less Fighting, More Singing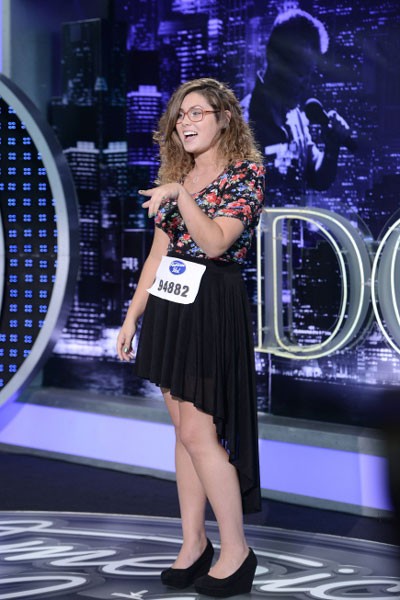 Finally, a night that was just about the singing.
So much of this season's drama has come from a focus on the spats between the judges that it's been easy to forget that this show is actually a singing competition. Sure, the singers have been there with their mish-mash of good and bad auditions, but they've mainly served as the side dish to the judge-fight main course.
Last night, it was all about the singing in Baton Rouge. A tight hour of mostly good auditions devoid of the drama, danger and fun of previous episodes.
Wait. Did I say finally in the lead line? I meant, sadly.
The Three Best Auditions
Megan
This was the girl who led off the show with her knee braced-up like an injured running back on the sidelines. Sadly, the closest thing to football we're going to get during this Bye Week (And yes, I'm aware The Pro Bowl is being played on Sunday). She burst out with a soul/jazz voice that seemed like it was springing out of a silver microphone in a Prohibition Era Jazz Club by a singer who went back in time from a Stax Records recording session. So much raw soul in a pop container that it seemed impossible to fit that sexy-jazz flow inside, but she pulled it off. Though maybe it was overflowing.
Maddie
This was the girl who was plucked out of her New Orleans café vacation and scooped into the 'American Idol' audition room with glasses that seemed sized for a giant. She went with "Oh Darling!" by the Beatles, though it was hard to discern that given the fact that she didn't appear to be singing actual lyrics, but rather making odd syllables that vaguely resembled words. Lucky for Maddie, her voice was so spectacular with and rife with down-home southern soul, that being intelligible didn't matter. Maybe that's because her biggest influence is Haley Reinhart. No. That doesn't seem like a valid reason.
Calvin
All right. We have an early favorite alert. Look out, Molly Dewolf Swenson Scale, we got a chart-topper in our midst. This was the physical rehabilitation doctor who may as well call the Ken Jeong of this competition. Why does an actual doctor really need to even get into the entertainment biz? Nevertheless, he showed major stones by taking on Maxwell and out flowed a butter soul as soothing as a morphine drip without the hangover. But more than that, this guy has the personality to beat anybody on that alone. I think we know who I'll be in the tank for all season. Let's just hope he doesn't suffer a similar fate to Ms. Molly.
The Only Bad Audition
Chris
This was the American Dream Dusty Rhodes clone who came in saying that he performed as an alter ego, but did not have a name for that alter ego. Yet, despite being nameless, he was very insistent on his alter ego's existence. Nicki named him Mushroom, though I think Spastic Cabaret Performer Who Just Drank An Urn Of Coffee would have been a more apt name. He sang something by Adam Lambert though he could have told me it was any song