'American Idol' Recap: Lazaro's Merciful Exit + Power Rankings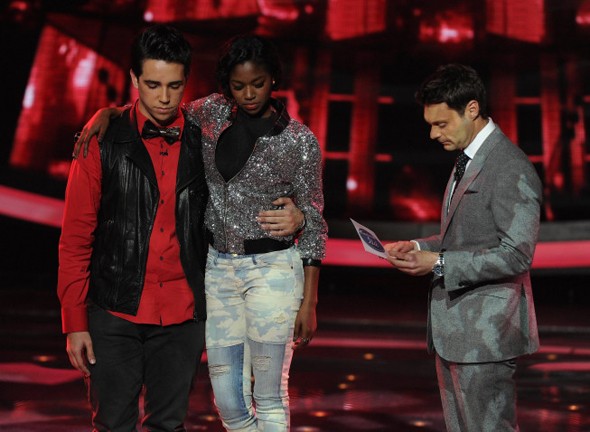 The producers finally got exactly what they wanted, and now the show gets duller.
From the opening auditions and the initial press releases about this season, the show's been hyping the ladies, and after the dudes have settled they're all that's left: The five best girls in a historic estrogen fest for the title.
So why is this boring? Because the guys were so bad it was fun to pick on them! What are we going to do without Lazaro forgetting lyrics or Burnell's gesticulating or Charlie Askew wearing only a vest and singing prog rock? We need our exciting lame dude to distract from the quality ladies. Without that, who are we going to pick on? Kree for being smug? Janelle for not being very good? Amber for...no reason? It's just no fun anymore without the guys.
Lazaro being the most fun to hate. The performance show was the most vitriolic attack on a contestant before Simon basically told Sanjaya he had to leave all those seasons ago. Now it's just going to be a praise party for five more weeks as we watch the judges love all the girls equally and we wait for one of the ladies to end up on top. Y'know, just what the producers wanted.
So long fun. So long Nicki's crazy nicknames preceding insults. So long Mariah's rambles that mask her just wanting to obliterate the contestant. Instead, welcome five mediocre song choices by five solid singers as we wait for them to go home one at a time.
Oh well, let's figure out who's going to win...
Power Rankings:
1 (Rank Last Week: 1) - Angie Miller
If she takes the judges' advice and sticks behind the piano for one performance each week, I don't see how she loses. she's just that good behind the piano.
2 (3) - Kree Harrison
A top two finish this week for the girl who's locked down the country demographic all to herself. I still think she's unlikable, but if anybody's going to topple Angie, it's going to be Kree.
3 (4) - Candice Glover
This week? That performance? The unbelievable judges' praise? That's what we call peaking too soon. She's gonna shoot her way out a bit too soon.
4 (2) - Janelle Arthur
She's fallen off the mark set by Kree and is now just counting time until she goes home. This last week proves she just can't compete in the arena with these big-singing girls and if it weren't for her genre, she might have actually lost to a guy. Nah... that wasn't happening this year.
5 (5) - Amber Holcomb
She just seems forgotten each week. She'll be the next one out unless she gets the pimp spot. There's just something about her that makes her forgettable. I don't know why, but she just doesn't carry the votes like the other ladies.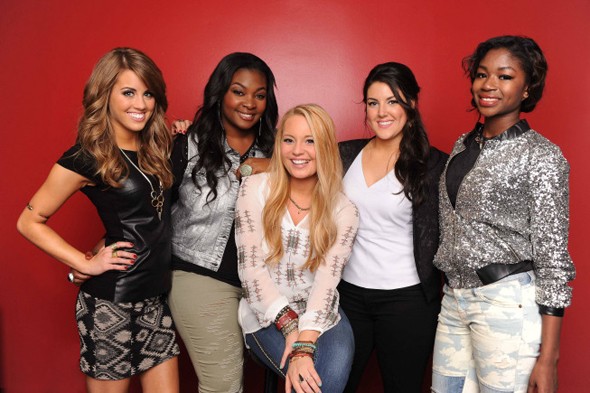 AMERICAN IDOL: TOP 5: L-R: Angie Miller, Candice Glover, Janelle Arthur, Kree Harrison and Amber Holcomb.