'American Idol' Recap: Lazaro Arbos Bottoms Out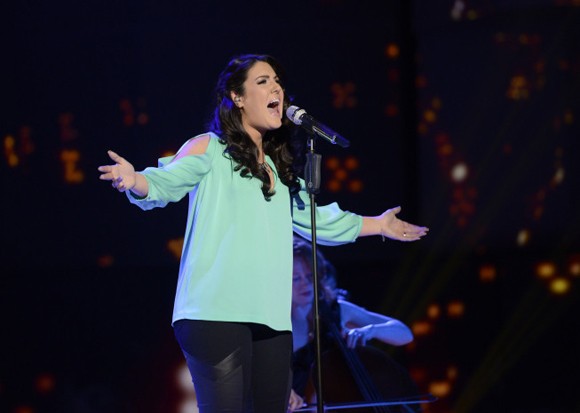 Kree Harrison's First Song: "What the World Needs Now is Love" by Jackie DeShannon
Keith Said: You can feel your real genuine compassion for people when you sing.
Nicki Said: Your voice is sweet and humble, but at the same time it's Hella cocky.
Randy Said: This is singing. This is a singing show. That girl can sing!
The Verdict:
Look, it's easy to just sit there and praise Kree for having a great voice. Of course she does, she's in the final six of the competition. Everybody not named Lazaro has an excellent voice.
What matters is how you use that voice and Kree here turns out a garbage self-indulgent pat on the back that might as well have not had any lyrics at all. She's supposed to be singing a pleasant song of hope and she turns it into a "Look at the notes I can hit!" "Look at the runs I can sing!" "Aren't I just the greatest!"
No care is paid to connecting to the song. No thought is put into how to make this song her own or how to improve upon it. All she wanted to do was come out, hit her notes and try to wow people. Why even bother singing a song at that point? Why not just do vocal warm up exercises so everyone can sing your range.
This is the kind of self-indulgent nonsense that needs the old Simon to put in its place. Instead, everyone will just think it was great when it was anything but.
Grade: D
Kree Harrison's Second Song: "Help Me Make it Through the Night" by Kris Kristofferson
Keith Said: I can't wait for Kris to hear how good that was.
Nicki Said: I just think that you are something very very special and you're going to be around for a very long time in the industry.
Randy Said: You are what I call a natural natural singer.
The Verdict:
After the self-indulgent garbage fire of her first performance, Kree settles nicely into a sweet country range and forges a beautiful connection with this song in a way that I absolutely would want to see this in a music video involving a back porch.
There's a level of major authenticity here as Kree puts a stranglehold on the country demographic in this competition after Janelle had been wrestling it away slowly the last few weeks.
This proved Kree can dominate in this competition and especially in her genre when she isn't trying to do too much. Here she relies on the song to carry her through and gives a brilliant performance without a single spot on it.
Instead it was spot on.
Grade: A-
Prediction: Taking back the country demo is a sure way to go through to the next week and weeks to come.
Janelle Arthur's First Song: "I'll Never Fall in Love Again" from the musical Promises, Promises
Keith Said: That was good. There was another side to you with that song.
Nicki Said: I thought that was really boring.
Randy Said: At the end you found some bright spots, but find songs where you can still be Janelle.
The Verdict:
Picking a song from a musical is always a bad choice on this show because you always come off as being in a bad High School musical with an out-of-context performance.
Janelle hit every note of that with a borderline embarrassing performance that saw her sing-acting the song in a boring and awkward manner as she strolled around the stage like a drunk sorority girl trying to remember where her dorm is.
This was also one of her worst vocals in the competition so far. If not the worst. A lot of bad notes and major pitch issues throughout. Her voice nearly cracked a few times which is strange because it was such a bland that didn't really challenge her vocally.
Just an absolute dud.
Grade: D-
Janelle Arthur's Second Song: "The Dance" by Garth Brooks
Keith Said: You should have done the song with the guitar.
Nicki Said: I thought you stepped it up vocally, but I don't think it's enough to get a leg up over the other girls.
Randy Said: I don't know that this was your best performance.
The Verdict:
Janelle has now slipped back into doing her "Impression of a Country Singer" thing. She's got the twang, she's got the delivery, she's got the personality, but she just isn't good enough on this song. It's a kid singing along to a country record rather than a real singer making a country record.
The result is boring and awkward. And, again, she had a ton of bad notes and pitch problems here just like her first performance. This is Janelle's worst night in quite a long time and put her right back to where she started: a kid with a country dream who can't compete with the four major girls on this show.
Grade: D
Prediction: If it's not going to be Lazaro going home, it's going to be Janelle.
Candice Glover's First Song: "Don't Make Me Over" by Dionne Warwick
Keith Said: You set the bar really high. You just became in my top three.
Nicki Said: That thing in your voice made me feel like I wanted to have a woman's revival in here.
Randy Said: This was one of your best performances ever. So crazy good.
The Verdict:
Just a nice easy breeze of a soul song. Pure effortless class from Candice who sang this with such ease that she could have been doing her taxes at the same time. It's like it came out of her like a reflex – she's that good.
And she owned it. Totally owned it. When she got intense at the end just smothered the song and did away with it. Put it down to never be heard from again. It's amazing how quickly she went from cool and smooth to just a fiery diva, but she did and made it look not only natural but necessary.
That's what killing is on this show.
Grade: A
Candice Glover's Second Song: "Love Song" by The Cure
Keith Said: (Standing Ovation)
Nicki Said: (Standing Ovation)
Randy Said: One of the greatest performances in the history of 'American Idol'!
The Verdict:
Scroll up. Read everything I wrote about Kree's performance and multiply it by two.
Yes, Candice can sing. She can absolutely blow. But this was just a ridiculously self-indulgent jazz take on this song that didn't need it.
It's a weird performance to review because she obviously delivered a killer a vocal. A killer vocal. But what was she singing? Where was the connection to the song? Why didn't she just sing an actual jazz song?
But at the same time, I'm the guy who loves when people turn songs on their heads, I just don't agree with the way she did this. It just turns into vocal showmanship rather than actually singing the song.
And something just doesn't sit right with that type of performance.
Grade: C
Prediction: According to everyone but me, she killed it in the pimp spot, that means she goes on without a doubt.
Final Thoughts:
It's a referendum on Vote for the Worst after last night's show.
Not since Simon was on the show have the judges so ruthlessly trashed a contestant as they did Lazaro last night. He's clearly the one who deserves to go. He's clearly the one they want to go. On merit, he should be gone.
That's been the case for several weeks; however, and he hasn't gone anywhere yet. In fact, he made the top three last week after Jimmy called him out as being the only one who deserves to go.
So what's it going to be, another win for Vote for the Worst? Another triumph for the pity of voters? Or is merit going to prevail?
I say VFTW and Pity trump merit and Amber goes home. What a pity.