'American Idol' Recap: Kristen Goes Home Plus The Top 12 Power Rankings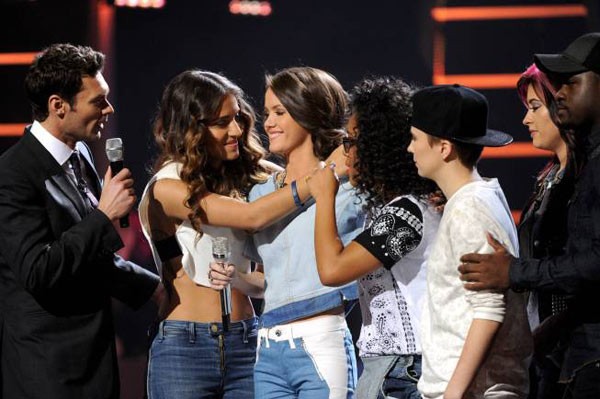 Last night's 'Idol' results show was, well...and 'Idol' results show.
Yes, it doesn't seem that in a season of change the producers want to do much to the results show. We still have stools, we still have Seacrest and we still have plenty of time to fill.
Last night we got a few musical acts. First, there was Candice Glover singing a "Medley of Her Hits" - I'm amazed that was said with a straight face. I'd never heard either of these songs before and I don't think I ever will again.
Then it was Jake Bugg. Cheer up, dude, you're on 'American Idol'. Nice of him to put on a smile or any sort of charisma after Keith handpicked him to come on a show that tens of millions still watch. No thank you, Jake.
Then there were the results and, to nobody's surprise, Kristen went home. I'd like to eulogize her but I have no idea who she is and have nothing to take away from her time on 'Idol'. I just wish when they showed the Facebook pictures of people who voted for her that it would have been the same three over and over.
Probably more accurate.
Anyway, time for the first edition of this year's 'Idol' Power Rankings. As always, this is in order of who will ultimately win with no regard paid to who deserves to win.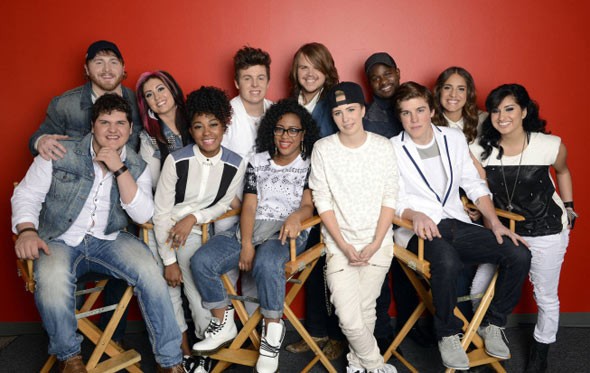 L-R: Ben Briley, Dexter Roberts, Jessica Meuse, Majesty Rose, Alex Preston, Malaya Watson, Caleb Johnson, MK Nobillette, C. J. Harris, Alex Preston, Emily Piriz and Jena Irene on AMERICAN IDOL XIII airing Thursday, Feb. 27
Power Rankings
1 - Sam Woolf
The tweeny girls have spoken and it seems like Woolf is the cute guy with a guitar of choice this season. He's not very good and may start to suffer the wrath of judges, but if he stays in the middle of the road and continues to be non-threatening, he'll be hard to knock of the top.
2 - Alex Preston
If Alex looked like Sam, this competition would be all over. Since he's a weirder-looking lead singer of Harvey Danger, he's going to have to hope talent wins out and he can beat the guy the girl's love. Or maybe he can make them love him.
3 - Ben Briley
This could be a stretch here, but he's got a blend of country and being a dude with a guitar going for him. He's also a bit too frat boy. He could ultimately win. He could go home next week. He's a wildcard.
4 - Dexter Roberts
Here's your pure country guy playing a guitar. Noticing a trend here? One of these four dudes with a guitar is going to win. Dexter's running last for right now, but he just got through a leadoff without ending up in the bottom three, so maybe I'm underrating him.
5 - Caleb Johnson
The pretend rocker is going to need to improve and stay on top of his game to have a real shot. He's one shouty week and judges' reaming away from going home.
6 - Pink Hair (Jessica Meuse)
Our first girl on the list grabs the default country spot. She really should stay there if she wants to have a chance at winning. If she veers into goth rock the way she did this week, she won't be around long.
7 - Majesty Rose
She seems like the best pure singer of all the girls, but it doesn't really matter. We're getting into a zone here where it's just a bunch of people hoping to beat just one of the dudes with the guitars.
8 - Malaya Watson
I think this week was a blip for Malaya who started out with what will be her worst performance of the year. She's got a big personality and will start to win people over in the next few weeks as she improves and gets back to the singer we saw earlier in the show.
She's not beating the dudes with guitars, though.
9 - CJ Harris
The next time a blues guy makes a run on this show will be the first. CJ isn't sticking around long.
10 - MK Nobilette
After a solid performance last week, she ended up in the bottom three. I don't think America is going to get MK and she won't be around long. A shame.
11 - Emily Piriz
Pretty girls who can sing haven't won on this show since Carrie Underwood. Next.
12 - Jena Irene
See above.